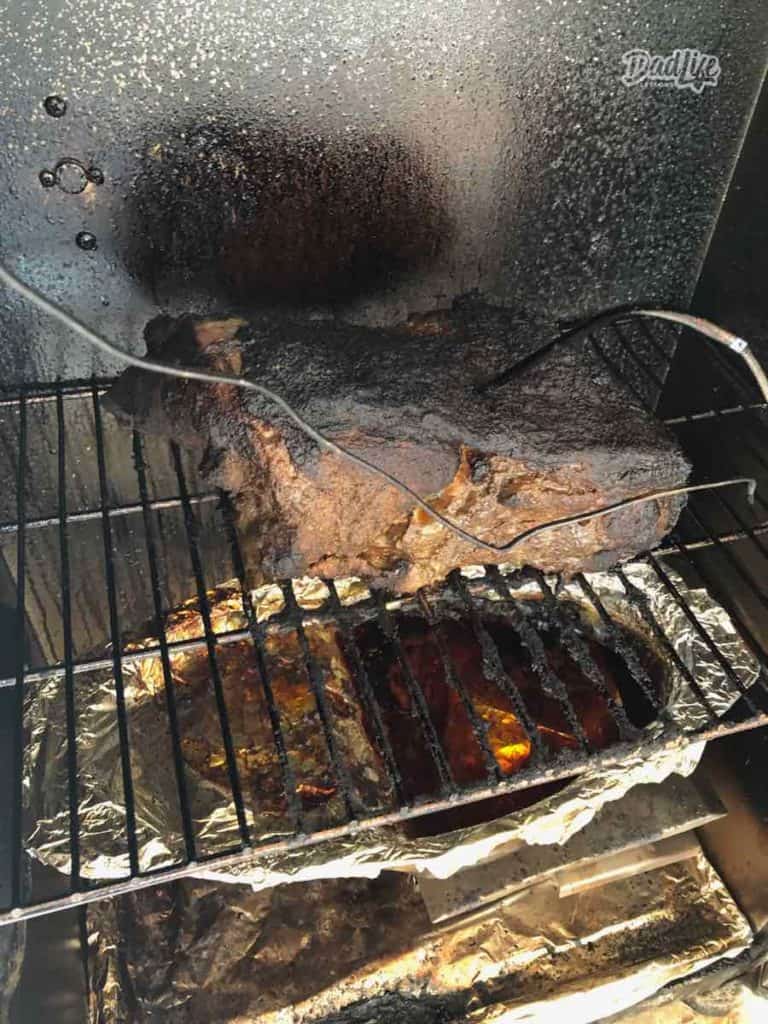 Picture this, you and the misses are dressed up in your finest, the babysitter is on her way, and you've made reservations at your favorite restaurant. Your mouth has been watering about this all day just thinking about it. You get to the restaurant and the chefs special of smoked brisket is sold out! You have to settle on the roasted chicken instead. Now imagine if you could go back and simply walk out onto your back porch where your brisket has been cooking all day! Now you can and we are going to break down the 3 Best Electric Smokers For Your Meats. Maybe you have never smoked your own meat. That is alright as there are some for beginners and some for experienced smokers. So grab your favorite drink, kick back, and see if you can find just the smoker you have been looking for!
First off let us talk for a bit about what an electric smoker is. Have you ever tried to smoke your meats in a charcoal smoker but they just did not come out right? Well, with electric smokers you have a controlled temperature setting so you can literally set your meat in the smoker and walk away. You do not have to worry about whether you have enough smoke or if your coals are still hot enough. There is a piece of mind with having an electric smoker but do not worry if you think you will miss out on that smokey taste you get using charcoal because there will still be the same bold smoky flavors in your meats.
Which Electric Smoker

Is Best?
When it comes to the Electric smokers with the best reviews, these are the 3 best electric smokers to choose from. All are great units and very affordable. (compare these 3 electric smokers here)
Electric Smoker – Best Choices:
Masterbuilt Front Controller Electric Smoker with Window and RF Controller, with 730 Square inches of smoking space

(20077515) –
info page

Cuisinart Electric Smoker

with 548 Square inches of smoking space

(

COS-330

) –
info page

Char-Broil Deluxe Digital Electric Smoker

with 725 Square inches of smoking space

(17402004-A1) –
info page
At Amazon, they have their own list of Best Electric Smokers, with many on sale.

3 Best Electric Smokers For Your Meats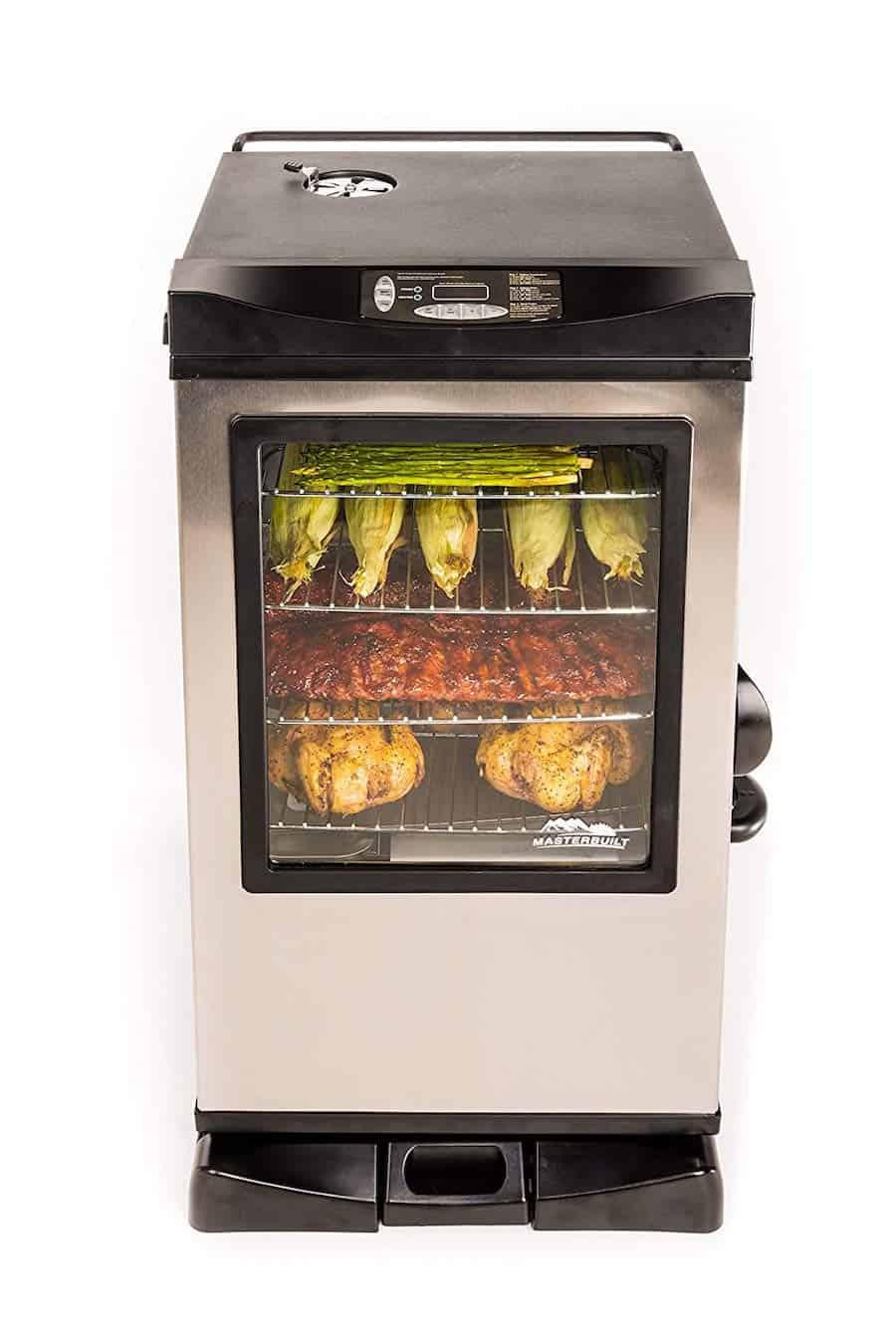 1. Masterbuilt Electric Smoker with Window and RF Controller, 30-Inch. Smoking your own meat is serious business but honestly, anyone can do it. One of the good things about smoking your own meat at home is that you get to control the temperature, cooking time, flavor, and most importantly the quality of the food you are smoking. Smokers come in all different shapes and sizes as well as many features that are particular to each model. The Masterbuilt 20077515 Front Controller Electric Smoker with Window and RF Controller, 30-Inch has a huge capacity at 730 square inches of cooking space. To give you an idea of how big that is you can cook 12 whole chickens, two whole turkeys (Hello Thanksgiving!), four racks of ribs, 48 sausages, 24 burgers, or four pork butts! Talk about a party! You could have a block party and not have to fire up your grill! I just love the smokey flavor in meats when they are smoked. The Masterbuilt also comes with an Rf remote that controls and monitors temperature, time, and much more. Need it moved easy? Simply grab the handle and wheel it away.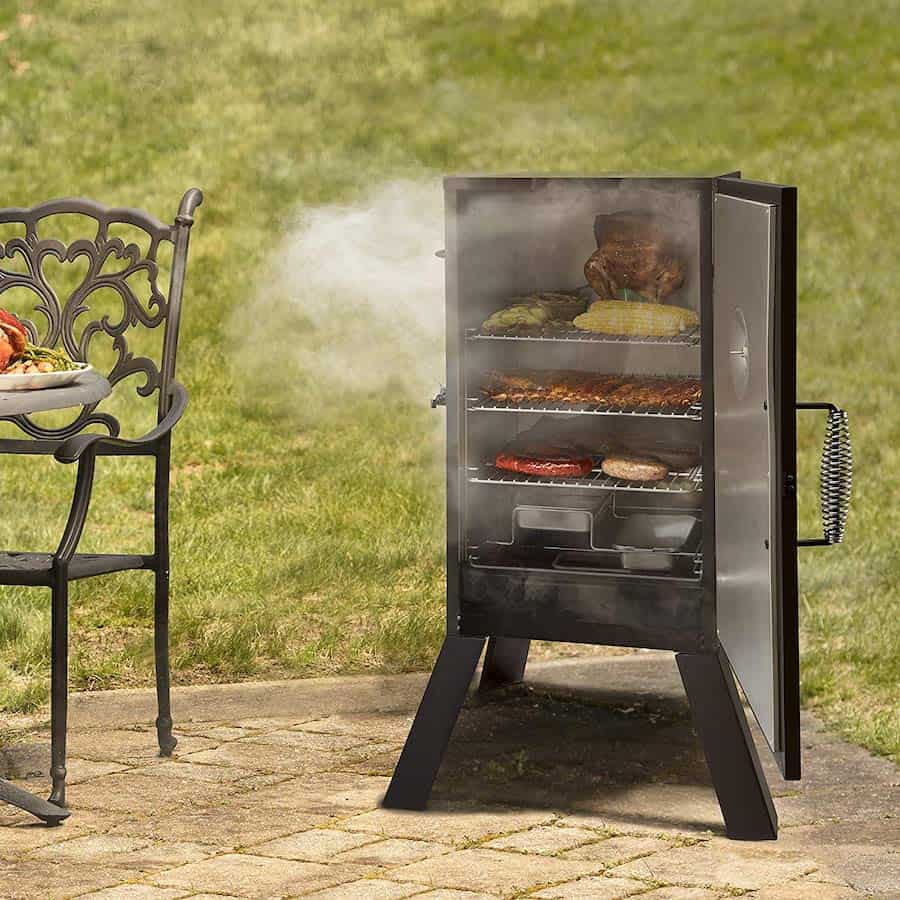 2. Cuisinart COS-330 Electric Smoker Moving right along in our with number two on our best electric smokers for your meats is one of the easiest to use for smoking meats. The Cuisinart COS-330 Electric Smoker is easy to use and convenient and great for beginners, but don't be fooled with this one is also loved by seasoned smokers as well. Cuisinart is a trusted brand and has been around for many many years. It is no wonder they broke into the electric smoker game. Simply add your meats, wood chips, some water, the designated trays, shut the door, set the temperature from 100 – 400 degrees, and forget it. Within hours you will have deliciously flavored food delivered to your plate and you did not have to go anywhere! Personally, I think food cooked at home tastes much better than in our favorite food joints. The Cuisinart electric smoker is easy to take along with you to the park, campground, or simply keep it on your back porch.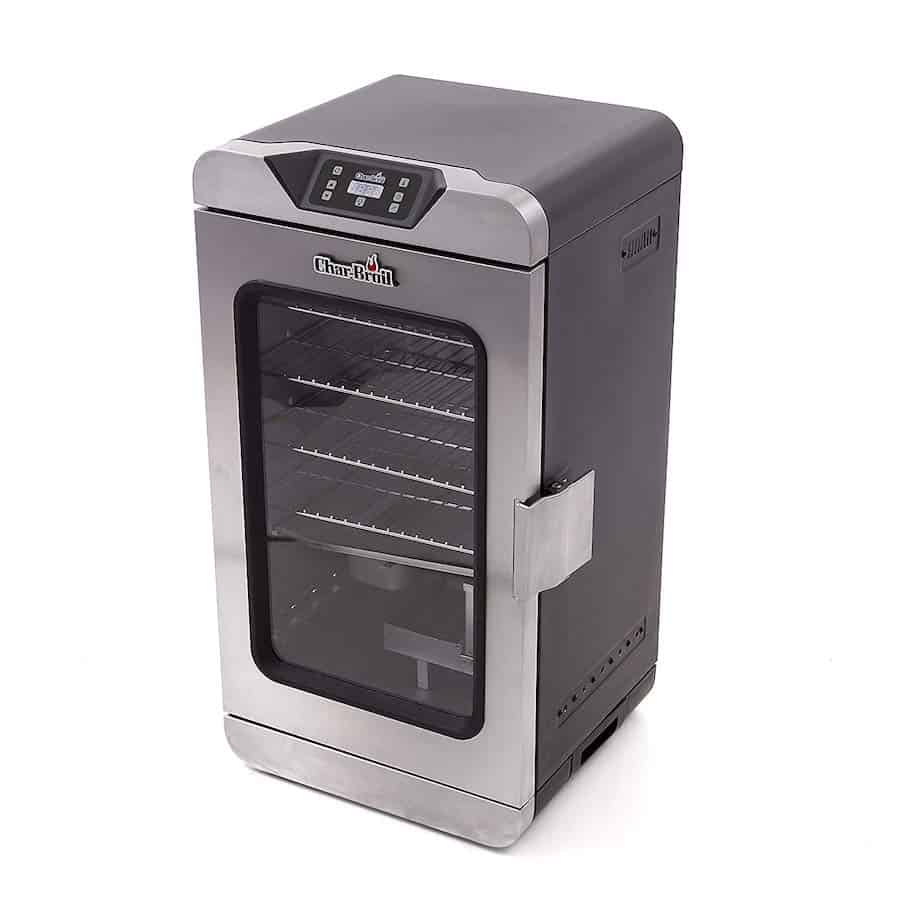 3. Char-Broil Deluxe Digital Electric Smoker There are a wide variety of electric smokers out on the market for you to choose from but this one stands out above most others. The Char-Broil Deluxe Digital Electric Smoker, has 725 square inches of great smoking space, which gives you plenty of cooking space for even your large parties. Think about all the chicken, fish, beef, and pork you can smoke not including the beautiful arrangement of vegetables you can smoke in this as well! Just beware as the neighborhoods might smell the smoke and mosey on over to join in your delicious smoked dinner. Not only does this pack the space to cook a large amount of meats, but it also has a removable thermometer, a warming feature, and has digital programmable controls. There is nothing better than being able to serve your food when you are ready and not feel rushed when it is done because guests are not quite ready to eat. Keeps your meats tender and juicy with this great electric smoker. You will be the envy of your buddies.
So, forget the fancy dinners, expensive sitters, and date nights out. Change up the way you do things and have those dates at home. If you want to switch it up for dinner or breakfast checkout out top choices for Electric Griddles or mix it up with some creative Taco Tuesday ideas. There is no need to work harder, just smarter when it comes to smoking your meats. Maybe you don't like to smoke meats, that is not a problem as all of these smokers will smoke vegetable too! Just imagine the good sweet summertime corn that has been smoking for a few hours. Those flavors have infused in the vegetable to give your mouth a burst of amazing flavors. I bet you can not get that at your local restaurant in town. Do not take my word for it, check out the links above and read all the specs on each of the
3 Best Electric Smokers For Your Meats
we have showcased for you. Let us know what you thought and how good your meat turned out! We can just taste it already! Hey, we might just show up at your dinner table too!