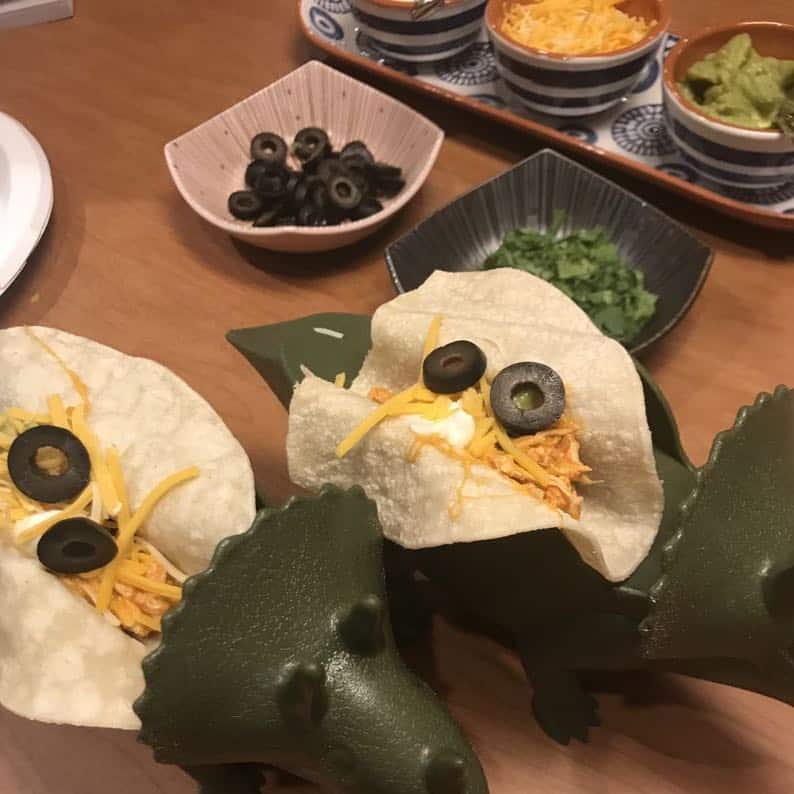 Who doesn't love Taco Tuesday at home with the family? It's a memory both you and the kids will look back on fondly and the good news is, it's pretty easy to pull off! To ensure your taco night goes off without a hitch, we've put together 10 Easy Taco Tuesday Tips for Success. Although taco Tuesday is a straight forward idea, we know life gets hectic and dinner time can feel stagnant, so there is always room to spice it up a bit, so to speak. Of course, don't feel like you have to stick to our tips add in your own family flair or flavor to make it fun and festive.
10 Easy Taco Tuesday Tips for Success
1. Have a few great recipes on hand. Sure, the standard ground beef flavored with a taco seasoning packet usually goes over well, but don't be afraid to mix it up. If you normally find yourself reaching for flour tortillas, give corn tortillas a try one week. Check out 52 Tasty Taco Recipes cookbook for easy street tacos, short rib tacos, or go vegetarian for the night. You may even decide to ditch the tortilla all together and have a Taco Salad Tuesday. It's okay if there are some recipe flops here or there, but trying new things with the family can be half the fun. And once you find a handful of favorites for your Taco Tuesday rotation, you can prepare dinner confidently.
2. Make it a family affair. Is Tuesday night soccer practice? Do you try to eat early in order to have time for homework later that evening? Don't sweat it and let this easy taco Tuesday tip take the pressure off taco Friday works just as well! And eating later than normal to ensure you have sports and schoolwork out of the way is totally fine, too. The best family dinners are those without an empty seat, so whatever night and time gets the whole family around the table, go for that one.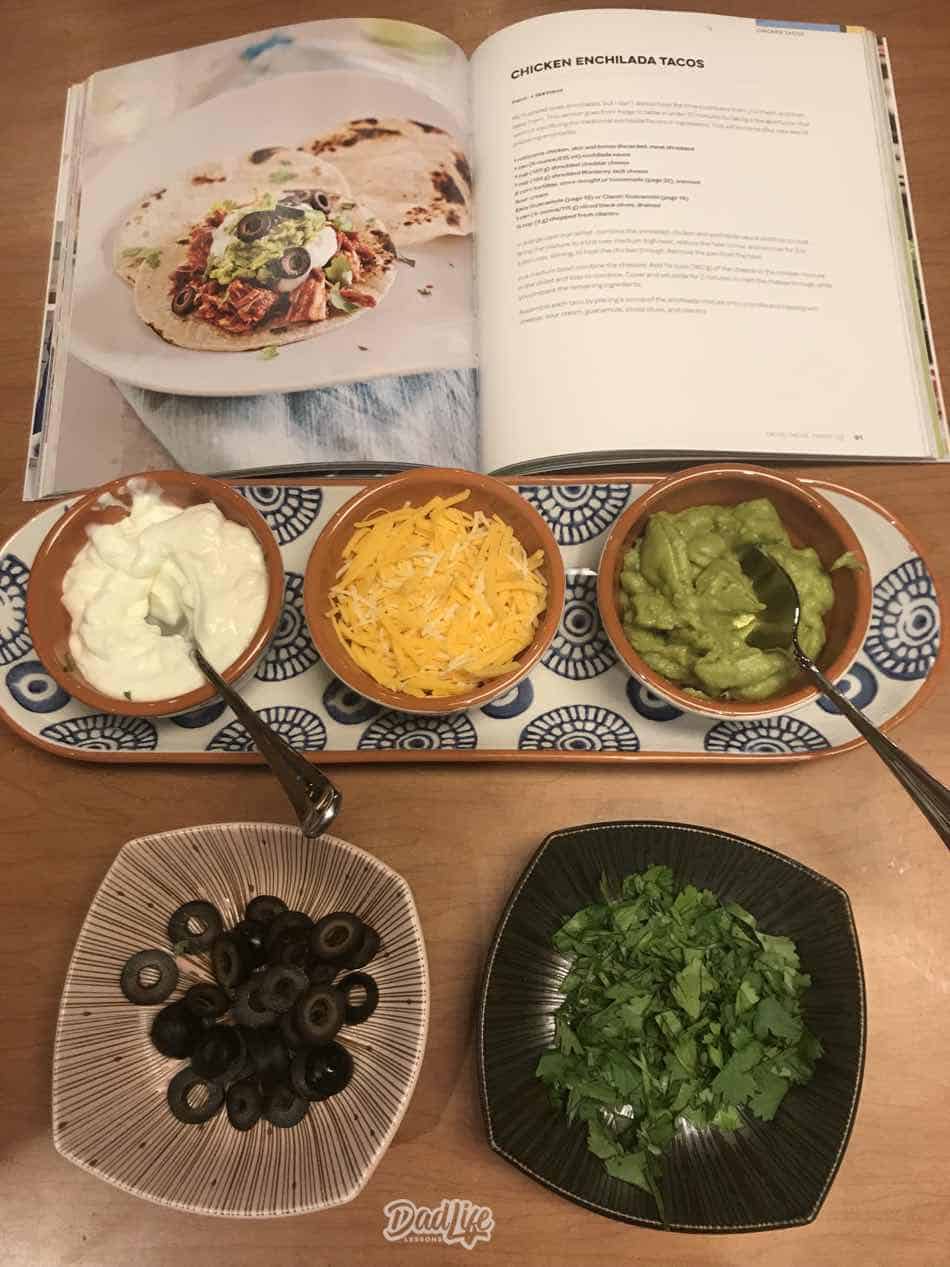 3. Rely on the slow cooker. If your designated taco night rolls around and it feels like the family is being pulled in a hundred directions, lean on this easy Taco Tuesday tip for success. Chicken breasts, a jar of salsa, and a taco seasoning packet take only 4 hours to cook in the crockpot. After that, it's ready to shred and use as a delicious stand-alone taco filler or can be spruced up with additional toppings. Don't let limited time keep you from enjoying a great meal. Dump those ingredients in the slow cooker yourself if you really want to impress your wife! While it all cooks make use of those Amazon boxes and use our easy steps to make a family dollhouse for the kids to play with.
4. Put out chips and salsa. Take a cue from your favorite Mexican restaurant and set out baskets of chips and little bowls of salsa. Or, if you want to go all out, add in bean dip, guacamole, or cheese dip, and so on. Appetizers are more often seen as a perk of going out to eat, but they don't have to be. Plus, there is nothing easier than opening up a bag of chips and a jar of salsa. You could also whip up some Texas caviar dip. After all, is it really Taco Tuesday without chips and dip?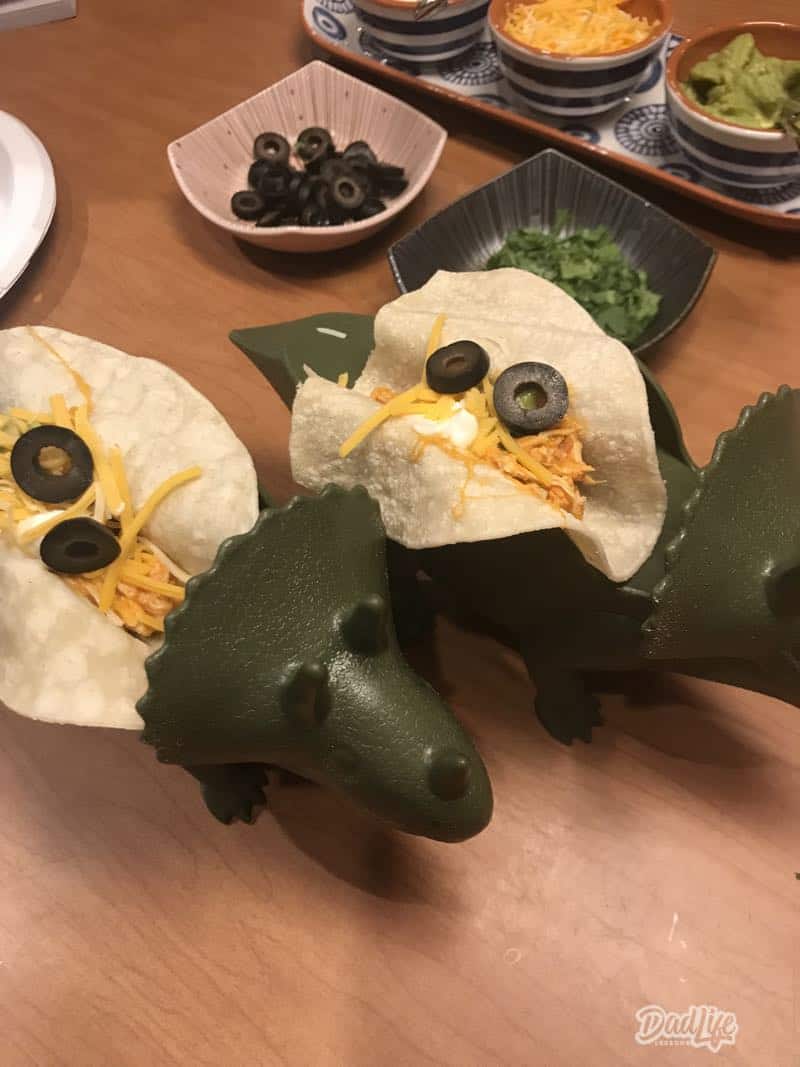 5. Play with your food. Okay, all the moms out there may not appreciate where we're going with this one, but hear us out. They make dinosaur taco stands and your kids are going to love them! Heck, the dads would probably love them. And if dinos aren't your thing, there are several options including the more adult-geared taco stands as well. This little touch makes Taco Tuesday feel extra special and memorable.
6. Go with a buffet style or lazy Susan set up. Taco Tuesday often comes with a ton of little bowls, thanks to all the available topping choices. Here's a Taco Tuesday tip for success: don't even worry about carrying all of it over to the table in several trips. Instead, set up a buffet line in the kitchen for each person to make their own unique taco. This leaves plenty of room on the table for the chips and salsa! Or, if there is enough space, consider loading all the toppings onto a lazy Susan that you can simple carry over to the table in one trip. It will be fun for everyone to access their toppings of choice right from their chair. Either option will make taco night stand out from your regular family dinner.
7. Keep it screen free. If you have a busy home life and your family doesn't always get to sit down together, you'll really want to make the most out of your family taco night. Be sure the phones and tablets are out of sight and out of mind. Try a basket in another room and have everyone check in their device. This is especially important as your kids get older and have phones of their own. Once the distractions are gone, talk to each other about your day or about anything upcoming and exciting for your family. This would also be the time to bust out a few dad jokes!
8. Don't forget dessert! You may not feel like there is any room for dessert after chips and salsa and the main course, but if you do, don't forget about some fun Mexican style desserts like fried ice cream. There are some recipes out there that don't even require any frying! Instead, you can crush up cornflakes and add some cinnamon, sugar, and a little butter and bake this crunchy mixture for about 5 minutes. Roll a frozen ice cream scoop around and you now have fried ice cream without the work! Of course, there is nothing wrong with the occasional prepackaged Choco Taco either.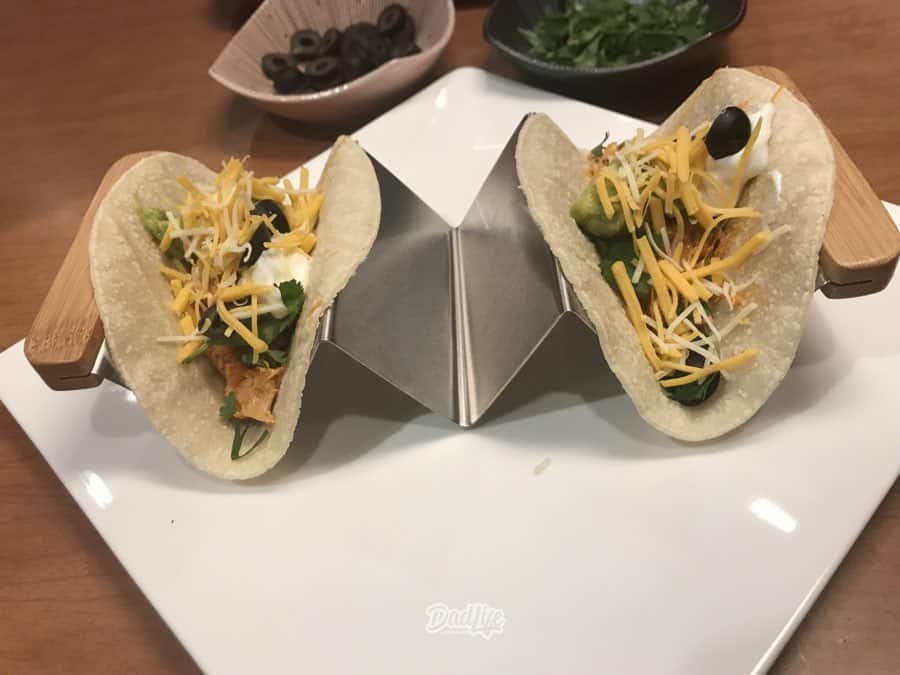 9. Share the love. What better night to invite a few additional faces over for dinner than on Taco Tuesday? The kids may love having their grandparents stop by for dinner. Or maybe your family has wanted to reach out to someone new to the neighborhood to welcome them. The kids may have school friends come over to work on a group project or carpool to practice. The possibilities are endless—so, every now and then, don't forget those people who would love an invite to your family's famous taco night.
10. Make a whole night out of it. So you've enjoyed delicious tacos and great conversation with your family….why stop there? Make the whole night one to remember and get out a board game. In today's high tech world we often forget the simple joy of a family game night. So clear the plates, the dishes can wait, and get out a game the whole family will love. Depending on everyone's age, you may like anything from Apples to Apples, Rummikub, Uno, or Sorry just to name a few.
The possibilities for taco Tuesday really are endless. If you've found yourself looking for new ways to spruce up dinner time, you can now go back to your family armed with fresh new ideas! Remember it's all about having a fun meal as a family. Follow just one or many of these 10 easy taco Tuesday tips for success and we know you'll look forward to this weekly tradition.