Do you and your family have fun little traditions that you follow? On Friday nights our family has Family Movie Night, but Tuesdays are by far our favorite. Tuesday nights are made for Taco Tuesday! We all love to get in the kitchen and everyone has a job to do, even the littlest of the bunch. I prep the ground meat while my wife and kids take care of setting the table and prepping all the great toppings like diced tomatoes, shredded lettuce, fresh onions, sour cream, guacamole, cheese, and even cilantro. I love that the kids are now old enough to help get things ready for dinner. We used to just by the premade tortillas, but now we have found fun little appliances that take Taco Tuesday to a whole new level. Nothing beats a piping hot fresh tortilla. We searched high and low and found the 3 Best Tortilla Makers for Taco Tuesday. You can't go wrong with any of these to help you make those fresh tortillas. Enough talk as it's making me hungry.
Which Tortilla Maker

Is Best?
When it comes to the tortilla maker with the best reviews, these are the 3 best tortilla makers to choose from. All are great units and very affordable. (compare these 3 tortilla makers here)
Tortilla Makers – Best Choices:
Norpro 6″ Tortilla Maker –
info page
D-Ice Tortilla 8″ Press Pre-seasoned –
info page
CorcinaPro 10″ Tortilla Maker (1443)–
info page
At Amazon, they have their own list of best tortilla makers, with many on sale.

3 Best Tortilla Makers for Taco Tuesday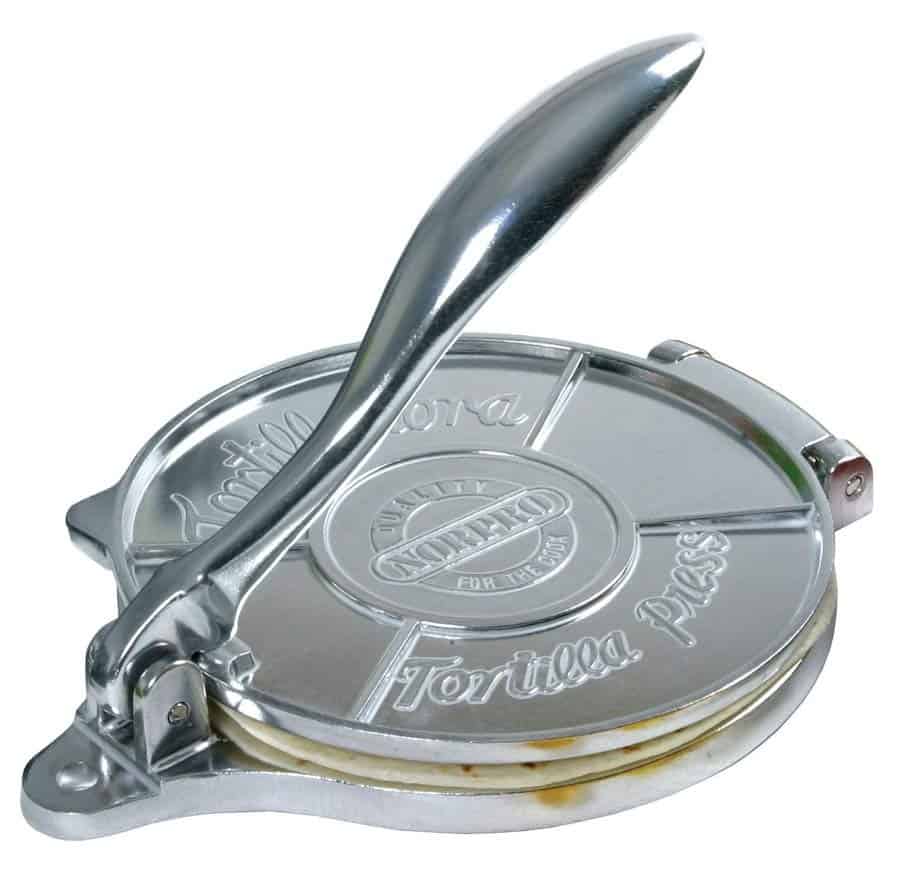 First on our list is this fun little compact tortilla maker which is perfect for those times you need to save on space! If you have never had a homemade tortilla then you are in for a delicious treat. There is nothing that compares to a hot fresh made tortilla right off the press. Quite literally! Do not be fooled by its size as even though it is little it still makes a killer tortilla! This tortilla maker is a manual maker as you have to press down the handle in order to make the dough flat. This tortilla maker is made of cast iron which makes this tortilla maker super easy to clean. Just simply wipe with a damp or wet paper towel and you are done! It makes clean up a breeze. Whether you want to make just a couple of homemade tortillas for yourself or you need to make them for a crowd, this is definitely going to make your Taco Tuesday even more memorable!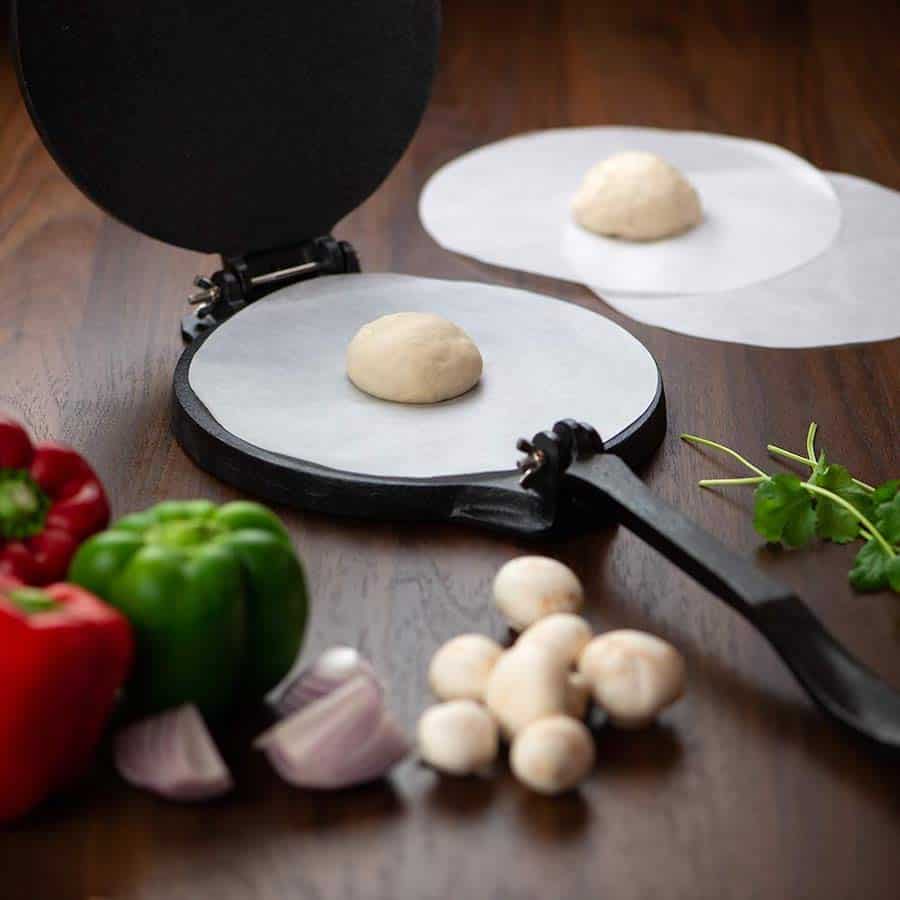 Next, up on our list, we come to an 8-inch heavy duty cast iron manual press. These are great to use to ensure that you get even pressing surface and even cooking spaces for those perfect homemade tortillas. Just like the other products we have discussed you can make dumplings, empanadas, mini pie shells, chapati, and so much more. I guarantee that you will never want to buy premade tortillas again. Homemade ones are that good! I love this versatile tortilla press for our family as we have many options in what we can make. Even with all the options, our go to is the good old fashioned tortillas! This brings back the memories of home as we used to have tacos on a fairly regular basis. So if you are looking for a good tortilla maker that is easy to use and clean then look no further. Grab one today and add fresh tortillas to your next dinner.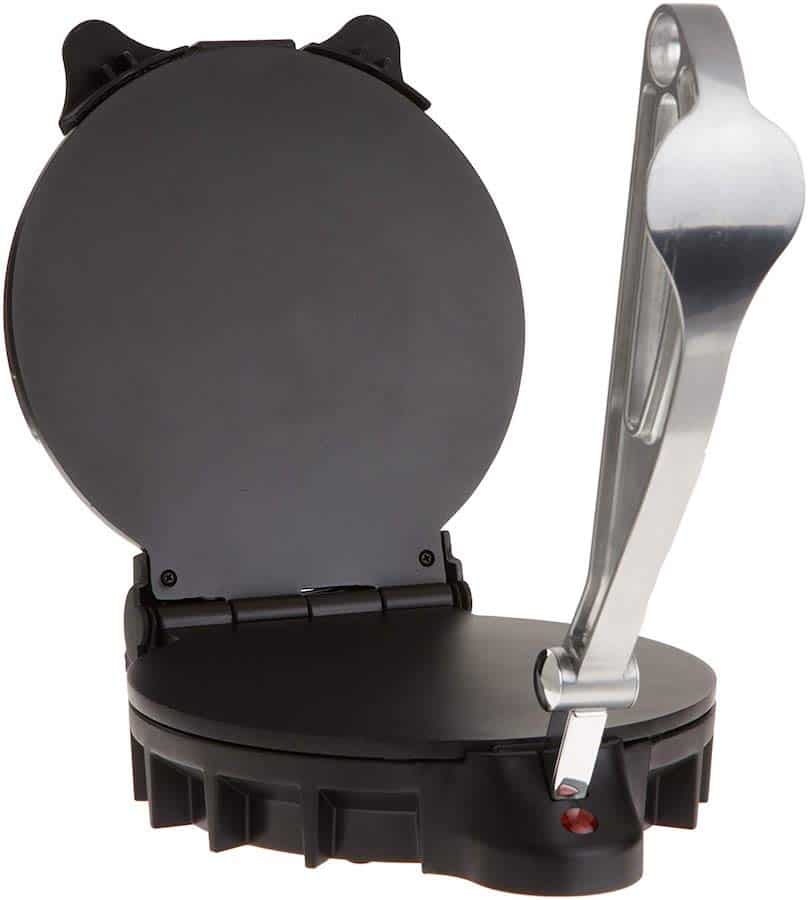 Last but definitely not least, we move on to the biggest tortilla maker on our list. This tortilla maker is an electric maker so it takes the manual labor and guesswork out of it! These tortilla makers are made for more than just Taco Tuesdays. In addition to tortillas, you can also make pita bread and flatbread. You can enjoy your maker for more meals than you ever imagined. Just call this one the swiss army knife of tortilla makers. These are great for those burritos that you stuff full of rice, beans, choice of meat, lettuce, cheese, guacamole, salsa, and anything else you want to put in it. My children love to help mix up the tortilla dough roll it into the balls that go into the tortilla maker. Getting the kids involved will help them to make healthier choices in the future. They are only in our house for so long to it is a great idea to spend time with them. Some of my best conversations with my children have been in the kitchen while we prepare meals for our family. With this killer tortilla maker, there will be plenty of conversations as we prepare for dinner.
Ok, is anyone else getting hungry and ready for Taco Tuesday? I know I am and can not wait! As parents, we try our best to make sure they are involved in sports, doing good in school, have a good group of friends, and just being all around well-rounded individuals. They are only little for a little while so let's make sure we wring out all the family time we can before they grow up, graduate college, and start family traditions on their own. If you have not started a family tradition then how about you make Taco Tuesday just the one you start with. We have to eat dinner anyways! Add a little fun to your dinner by making it a card game night, but once you do it your family may ask for it every time. I hope you enjoyed our break down of the
3 best tortilla Makers for Taco Tuesday
. Let us know if you have any fun family traditions! We love to hear from our readers! Looks like I need to make a run to the grocery store to pick up our ingredients for dinner tomorrow! I can not wait to enjoy some yummy tacos, burritos or anything else I decide to throw in my fresh tortillas.