Do you ever remember playing card games when you were little? There's a certain nostalgia with playing games now as an adult. The games that we grew up with as kids we now turn around and teach our kids the same ones and bring back so many memories. There's nothing I wanted more when I was younger than to sit around the table with the older kids and play card games. So I decided to make a list of 10 Card Games to Play with Kids. It is so fun watching their faces light up when the rules of the games click and they start winning! I mean come on it's a proud yet sad moment that first game of cards that you lose to your kids because they actually beat you! Remember you can always combine card game night with Taco Tuesday for a family fun night.
10 Card Games to Play with Kids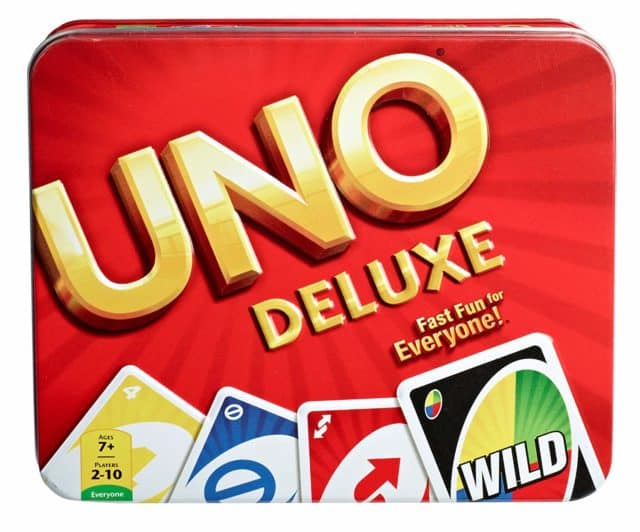 1. UNO. First up is the one and only UNO! This was one of my favorite card games to play as a kid. The rules were pretty easy to catch onto, even my 5 year old can play. You know you had a good hand when you were down to your last three cards, a reverse, a draw 2, and a WILD card! Man, the feeling you get when you get rid of your next to the last card, yell UNO, and place your WILD card down! Such a thrill that is sure to bring hours of family fun.
2. WAR. Second, on our list of 10 card games to play with kids is War. The game of War is played with a simple deck of cards. The rules are easy to follow and the game can go on for hours. In general, you divide up the deck and start by playing your top card. The person with the highest card wins that round and gets both cards. I used to play this game with my brother a lot growing up. We didn't have cell phones, Netflix, Hulu, or YouTube. If you had a deck of cards then you were golden. We always had multiple decks of cards since my parents would have friends over occasionally and play other games.
3. Go Fish. This is another classic card game that kids love. This game is easy that even toddlers that know their numbers can play. The best part of the game is when you ask for a card, your opponent did not have it, and you have to draw one from the deck only to pull what you asked for! If that happened then you got to go again. This game, unlike war, usually can be played within a few minutes. This way your kids get a quick game of fun that doesn't have you as a parent wondering when it will be over. Remember to have fun while playing, not everything is a competition. You can watch the video below for the full rules breakdown.
4.
Old Maid.
Old Maid is still a classic that is played often in our home. Present day there are colorful decks that make the game a bit more fun, but you can play with a normal deck of cards. To play with a normal deck of cards just make the joker the Old Maid. This card game is a race against opponents especially when you didn't have the Old Maid card. It was always a tense game, which is probably why my siblings loved it!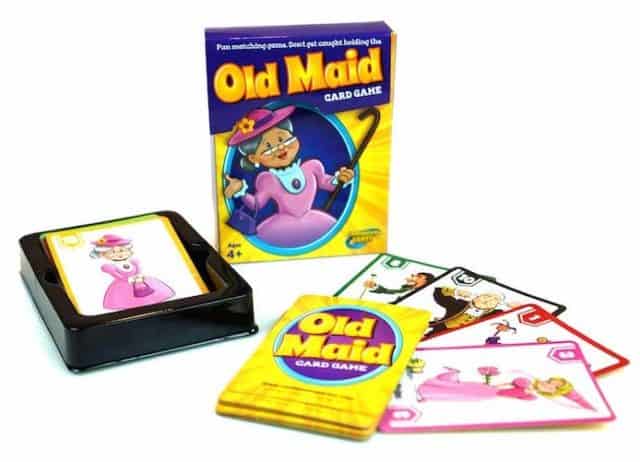 5. Crazy Eights. Does your child need a bit of help with their math? Crazy Eights is the one game you need, but do not tell them it is educational too! The race is to get rid of all your cards before the other players. To win you collect your opponent's cards and add them up and the highest score wins! I was a wiz at this game! I can also say that I never knew my parents were teaching us math at the same time! Shhh…your kids don't have to know unless you tell them. Crazy eights is just one of the great card games to play with kids. If you need the full instructions on how to play you can watch the video below.
6. Memory.
The rules to memory are super simple, you just shuffle cards, lay them face down, and take turns flipping two cards over at a time. This is a great cards game that helps with memorization. My brother and I used to play Memory for hours and I would always win. It is probably why I can remember where I put my car keys. Depending on how good your kids' memory is this game can take a little bit of time, but the good news it is growing their mind while they play. If you are looking to take a break from being inside and playing cards check out the 20 activities you can do with your kids!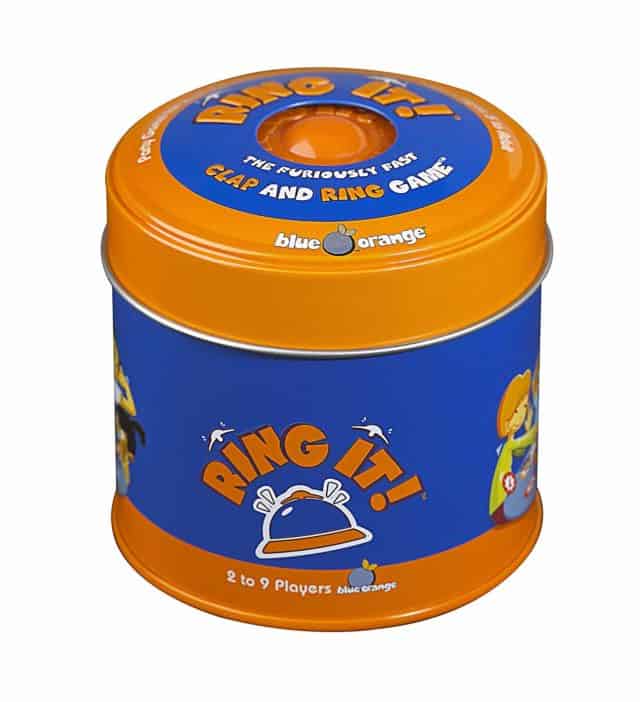 7. Ring It. This card game is one of my children's favorite games, partly because you have to hit a bell! Sometimes this game will get so intense trying to find matches and then my son will ring the bell out of blue and startle us all! We all get a good laugh and remember we are playing just to have fun! This is a great game to add to your travels to entertain the family while on the go!
8. Pit. Parker Brothers started the card game called Pit started way back in 1904. It is currently being produced by Winning Moves. It's a fast-paced game of collecting commodities. Be the first to collect nine cards of the same suit and win! Does your family love a good competition? If so, then Pit is the game for you! Just make sure you keep it family friendly as you can get excited when you are close to getting your last commodity.
9. Twenty-One. I know kids are too young for gambling, but this is another great game for counting numbers. Twenty-One, also known as Blackjack, was a family favorite growing up. My dad was good at being the dealer and my brother and I would play against each other. Twenty-One is played with a regular deck of cards, so no special playing cards here. If you are bored and have a deck of cards, make sure to pull them out, grab your family, and spend hours enjoying this old favorite.
10. Solitaire. The last game on our list of 10 Card Games to Play with Kids is the old reliable game of Solitaire. This is a single player game and I played this a lot growing up. My siblings did not always want to play with me so Solitaire was my choice. I also liked to play it at the kitchen counter while my mom cooked dinner. This game can also be turned into a race too! Some nights my mom would grab a deck of cards and we would see who could finish first! So much fun and great memories I have as a kid!
As dads, we are always trying to find good ways to create lasting memories with our kids. Keep those kids laughing by telling them some Dad Jokes. You might be a dad who has to travel for work, so finding something to do with your kids that does not include screen time can be tricky. I bet once you introduce these 10 Card Games to Play with Kids they will not miss their electronics. Also, what is great about card games is that you do not have to have electricity to play. These are great for road trips, camping, visits to see family, and they can even take them to summer camp. Pick up a deck of cards today and teach your kids how to play these timeless games that will guarantee to keep them entertained!