Who doesn't love a simple, crowd-pleasing recipe that is easily portable to your next neighborhood barbecue or potluck dinner? It's nice to have that one dish you are confident you can prepare and that you know everyone will love. This is that recipe! Today we're sharing with you one of our favorite dips, Texas Caviar. The default is to think this is only for Mexican meals and boy would you be wrong, this dip is good for any occasion or gathering.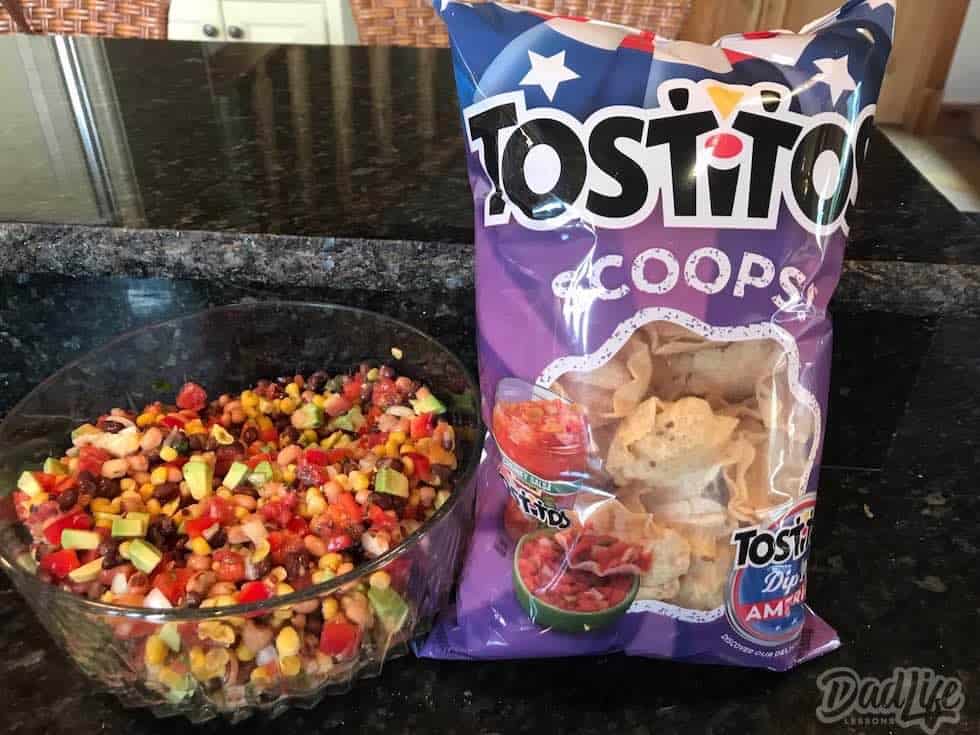 This recipe is a go-to and the variety of fresh ingredients make it a perfect appetizer or addition to any summer meal or gathering. We love it because it only takes a few minutes to prepare and many of the items you will already have on hand. We guarantee someone will be asking you for this Texas caviar recipe! You can try it on chips, crackers, tortilla's or as a topper to a dish like fajitas or tacos. Speaking of tacos, this recipe makes for a perfect addition to a taco night with the family. Read on to see how you can make this delicious dip.
Texas Caviar Recipe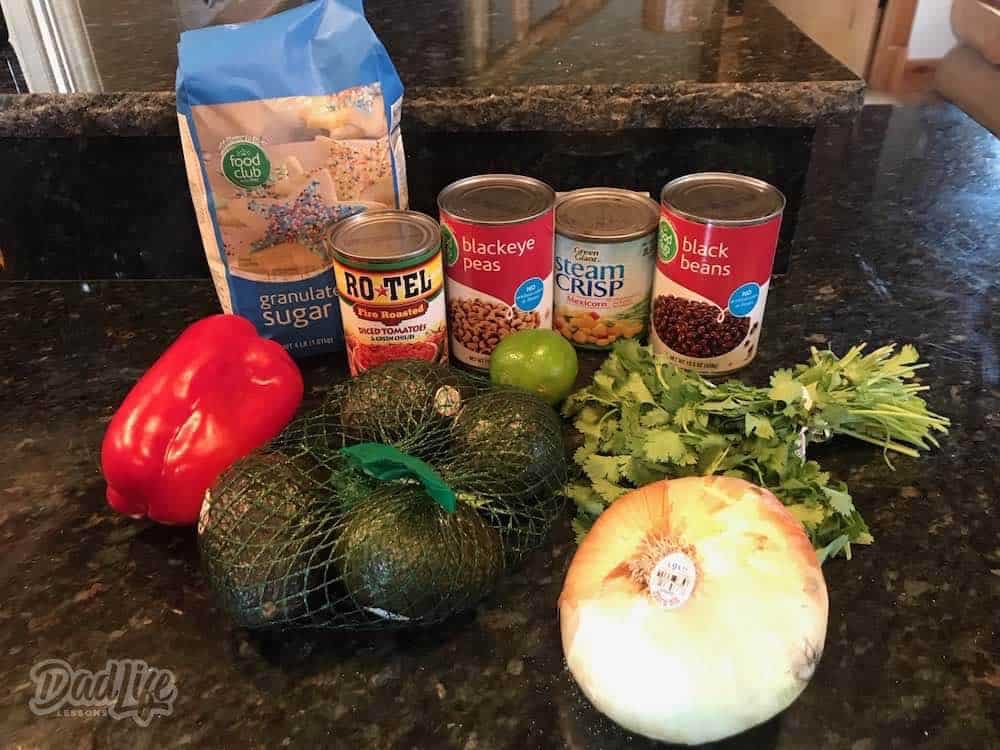 Ingredients:
1 avocado
1 sweet onion
Fresh cilantro
1 red bell pepper
1 can black-eyed peas
1 can black beans
1 can diced tomatoes with green chiles (Rotel)
1 can mexi-corn
1 lime
2 teaspoons of sugar
Seasoning options – Italian dressing or dry Italian seasoning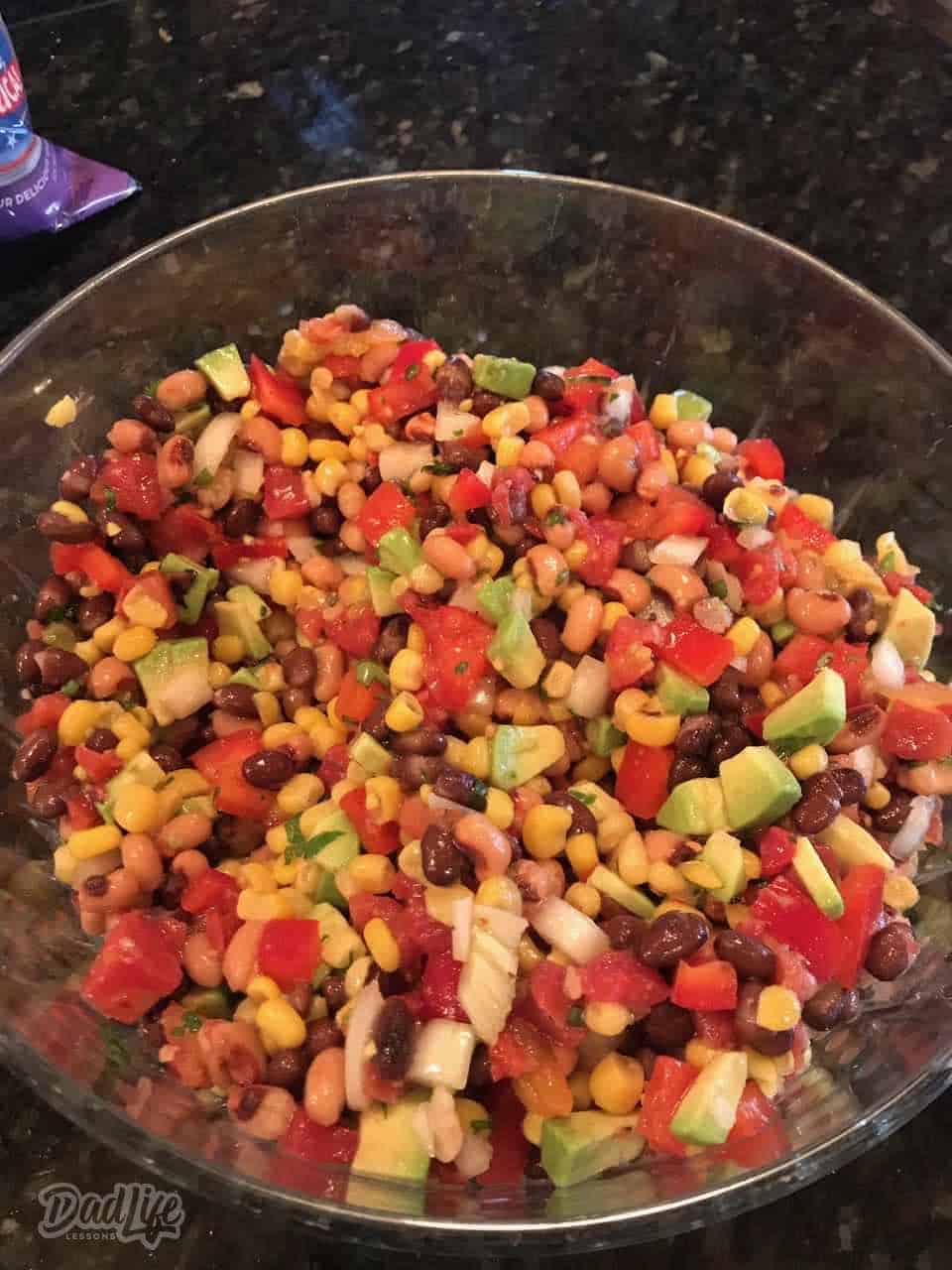 Directions:
With this Texas caviar receipe you will be taste testing in no time, so get your work area prepped with a mixing spoon, a large bowl (just use the one you plan to serve it in!), a cutting board, a sharp knife, and a can opener. That's really all you'll need to prep this easy dip.
Start out by opening and rinsing all of your canned ingredients to get this step out of the way now. Then, simply dump them all into a large bowl.
Next, you'll need to begin work on the fresh ingredients. Chop up the red pepper, the onion (use as much as you want here but about half a large onion is best so the onion flavor isn't too over-powering), avocado, and a good handful of cilantro.
Just like with the onion, you can eyeball the ingredients and add in more or less depending on taste. We know some people love cilantro while others may not care to include it at all! That's okay! If your favorite way to make Texas Caviar is with three avocados instead of one, then go for it! This recipe is customizable to your parties tastes.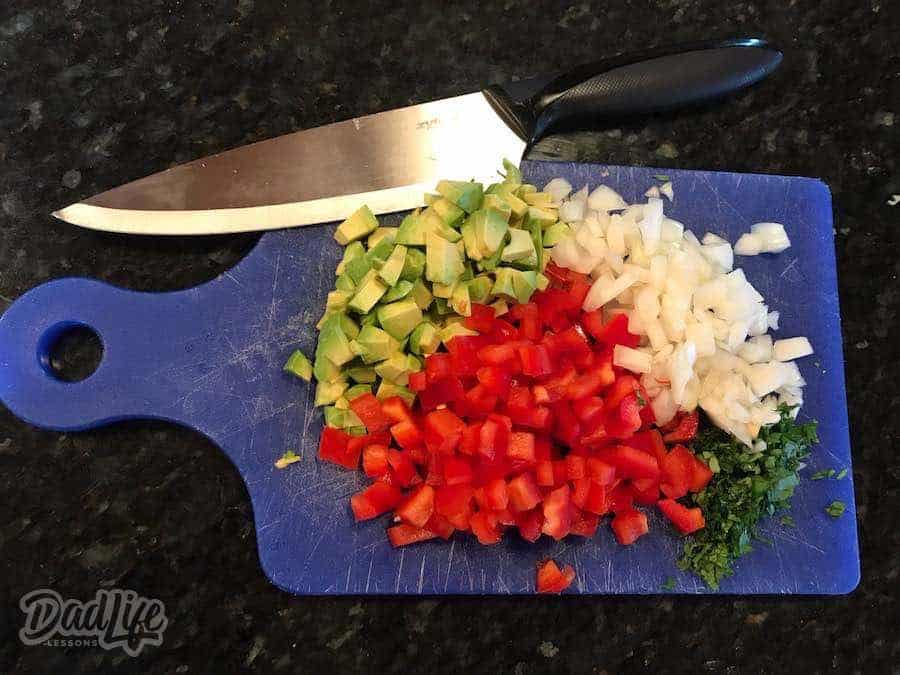 Enjoying this Recipe then check out 12 side dishes men love to mix things up! 
Add these freshly chopped ingredients in with the canned items (black-eyed peas, mexi-corn, Rotel, and black beans.) in your large bowl and mix it all together. Be sure to stir well for an even mix.
Use your lime to add in a few squeezes of fresh lime juice and sprinkle in two spoonfuls of sugar. Although this recipe calls for it, if you'd rather not have any sugar at all you can skip this step. The light sweetness of the dip is good, in our opinion, but certainly not required for a tasty dish. You'll find this is a very versatile recipe and you can substitute ingredients or leave one thing out if you forget it at the store!
Depending on what you have on hand or which option you prefer, you can add in your Italian dressing (as much as needed to coat everything) or a dry packet of Italian dressing mix. You can even use the spices in your cabinet to create your own version of dry Italian dressing mix.
Once all the ingredients and spices are in, stir the mixture up very well and you're ready to enjoy with chips! Keep in mind this dip always turns out better if it has time to sit in the refrigerator a while (even overnight) before serving. This option to make this one up ahead of time is great if you have a busy day planned and need to grab your contribution for dinner and run out the door! It also means that leftovers of the dip are sometimes even better than the day you made it.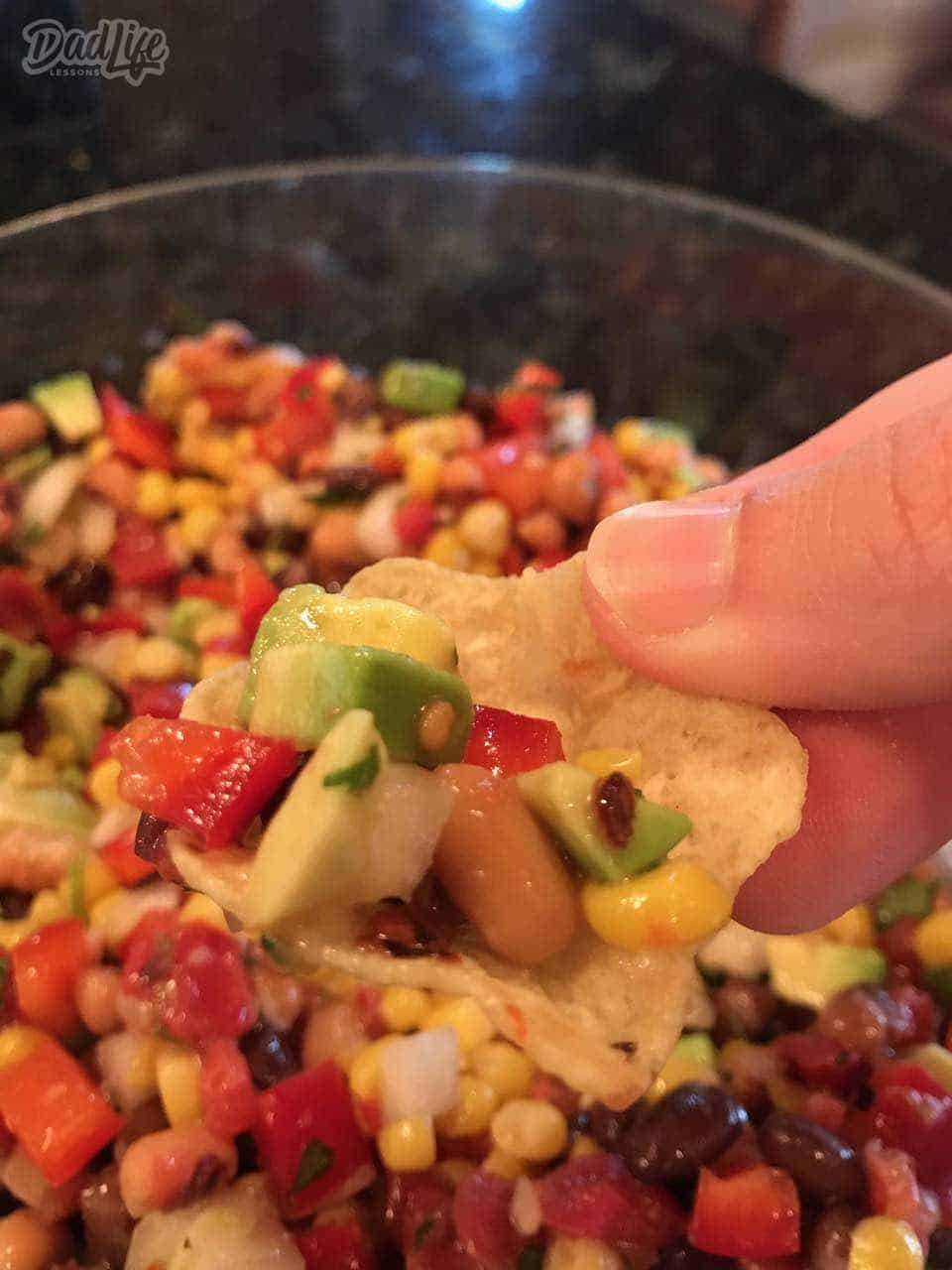 If you are anything like us this dish becomes a must-have at just about every gathering. We hope you give this easy and delicious Texas caviar recipe a try otherwise you won't know what you are missing out on. It's perfect for so many occasions and it's always a hit. The best part is this can be served as an appetizer or a side dish, either way, the crowd will be pleased. We love to have this dip on game nights with the kids. Let us know in the comments how it goes over with your friends and family. Is there another veggie or item you add that you found makes it even better, then share it with us in the comments below. When your friends ask for the recipe you can tell them it's a family secret or just send them our way!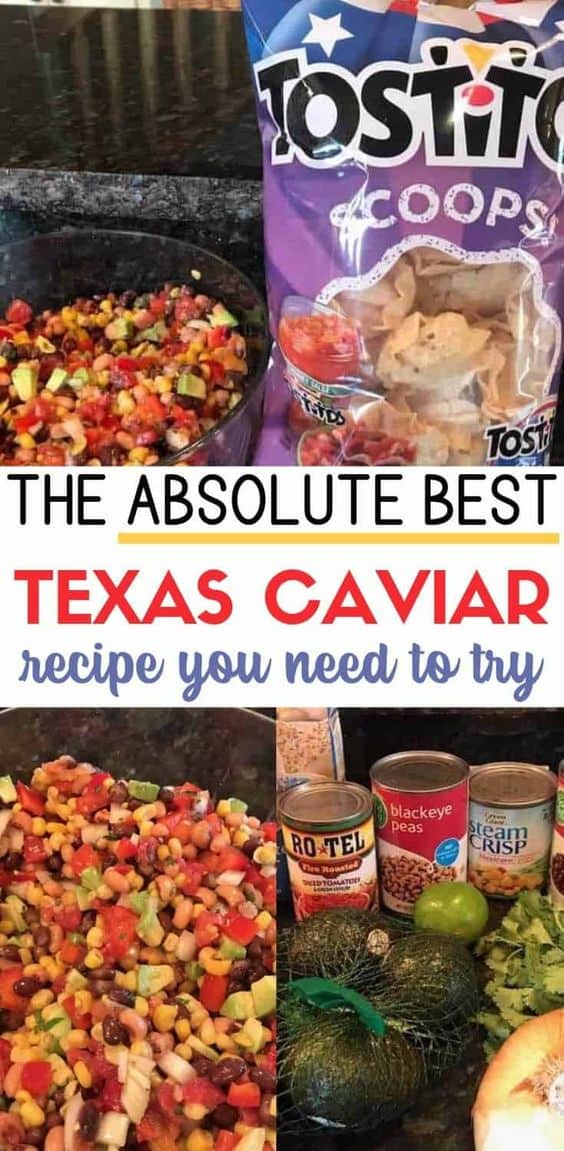 If you loved this Texas Caviar Recipe be sure to pin this to your favorite recipe board on Pinterest so you can find it again. Post a photo of your creation and tag us social media @DadLifeLessons. We love seeing people use our recipe ideas!