Summertime will be here before you know it, bringing with it longer days and no school. What will you do with all those extra hours with the kids at home? We've taken the time to round up 15 Summer Crafts for Preschoolers packed with ideas for creative projects to enjoy with your kids. Not only are these ideas fun for little ones, they also help keep them engaged in colors, texture, fine motor skills such as cutting and gluing, and they'll be that much more prepared come back to school time. So whether you need to come inside to beat the heat or hide out from a summer thunderstorm or you're planning to take the crafting outside, these ideas are sure to make for great summertime fun! Mix it up with crafts during the day and have a fun kid-friendly card game time at night.
15 Summer Crafts for Preschoolers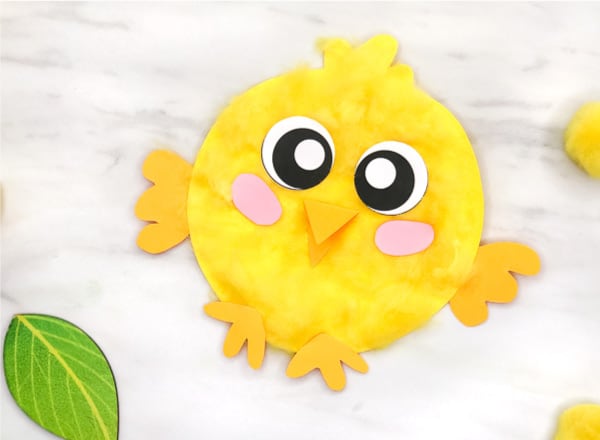 Fluffy Chick Craft – by Simple Everyday Mom
Summer is a great time to learn about farm animals and this cute and easy fluffy chick craft goes perfectly with that lesson. A template is provided so all you need to do is supervise or help your child cut and then let them go to town gluing eyes, ears, and beak in place. Last but not least—let them have a ball gluing on the fuzz to make this fluffy chick more lifelike!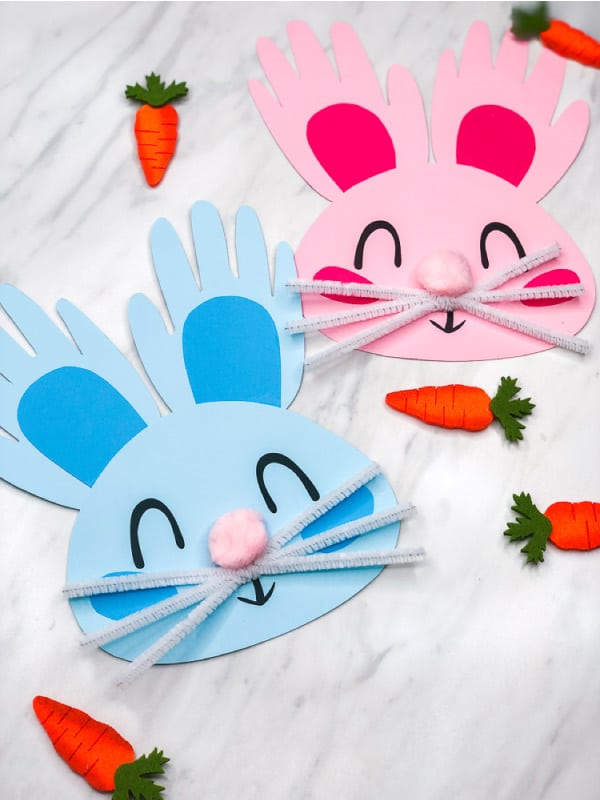 Handprint Bunny – by Simple Everyday Mom
If there's one thing that's certain about kids, it's that they are always growing. Handprint crafts are an excellent way to create a keepsake from a moment in time. This bunny craft uses cut out handprints for ears and is the perfect way to freeze a snapshot in time of when their hands are small. Get creative with different color ideas for this cute bunny rabbit craft.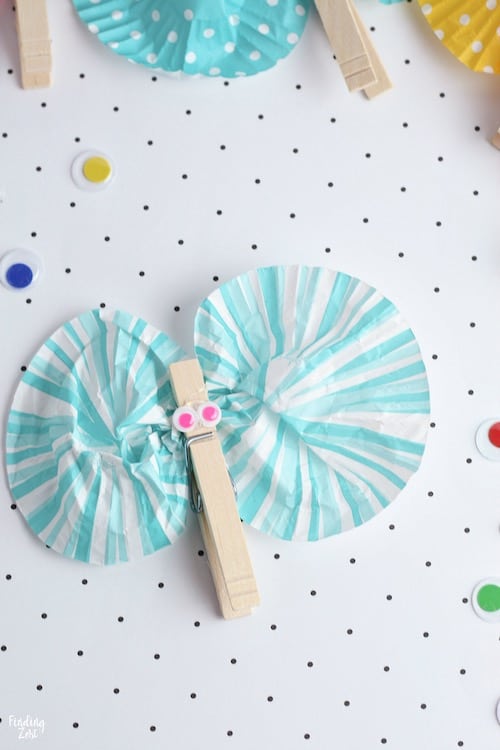 Clothespin Butterfly – by Finding Zest
These adorable clothespin butterflies are so simple and charming. It's a great way to upcycle leftover cupcake wrappers you already had on hand. If you don't have any, they are an affordable baking and craft material to stock up on–let the kids pick out cupcake wrappers in bright colors and fun patterns. Aside from the hot glue, this craft is very toddler-friendly so young kids will feel proud of their happy butterfly creations!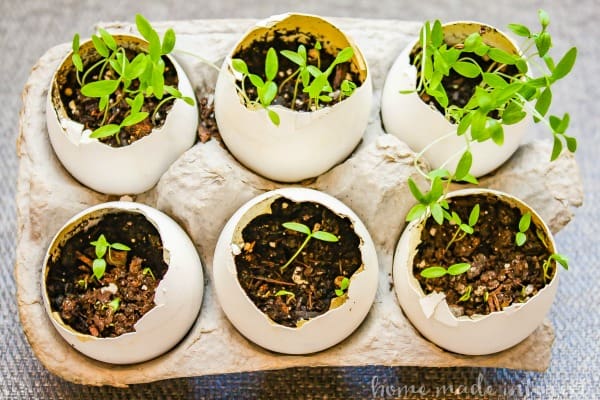 Eggshell Herb Garden – by Home Made Interest
Planting seeds with the kids is a great way to foster a green thumb, and what better way to teach the kids about being green than to recycle eggshells into mini seed starter planters. This is a craft that will keep them captivated for weeks as they learn to water and care for the plants and watch their very own seedlings emerge!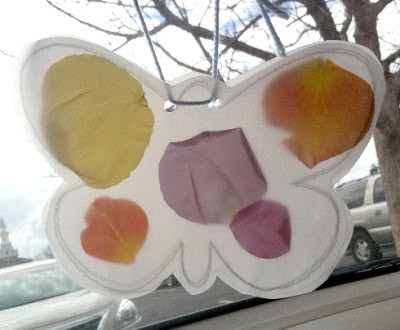 Sun Catchers – by Imaginative Homeschool
No need to run out and buy a ton of craft supplies to keep the kids entertained, this nature-inspired suncatcher uses flower petals and/or leaves right from your own yard! Once the treasures from the yard are sandwiched between two pieces of wax paper, they can be hung up in the window to catch the light. This versatile and easy craft is one to try each season!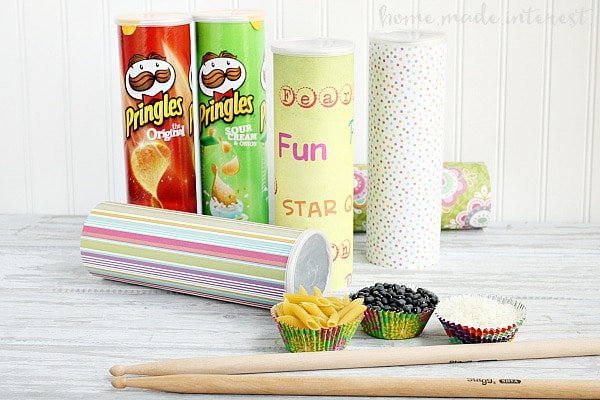 Sensory Music Shakers – by Homemade Interest
This activity combines sensory play and music making in these handy shakers made out of Pringles cans. Using items already on hand such as uncooked pasta noodles, beans, and rice, kids can experiment and discover a range of sounds for their own personal music shaker! Have them decorate the can as well to personalize the instrument to their own liking. You may want to send them outside once the band is ready for music shaker practice!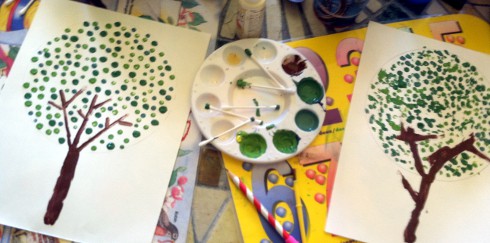 Seasons of a Tree – by Imaginative Homeschool
The changing colors of the leaves on a tree can be fascinating to kids. Let them create unique pieces of artwork to show what each season looks like with this simple and educational tree craft. Using spring pinks and purples, summer greens, and fall reds, oranges, and yellows, they can depict how the same tree changes over the seasons. This is a great craft to start in one season and then revisit as the leaves change to make a compilation of tree artwork.
If you need a break from crafting and want to get the kids active then check out our 20 Summer Activities for Kids that are sure to keep them occupied and having fun.
Q-Tip Painted Dragonflies – by Projects with Kids
Use the provided dragonfly printables in this tutorial for some truly stunning painted dragonfly art. This craft uses q-tips to apply the detailed dotted designs on the wings– it's noted in the tutorial as a great technique for fine motor skill development. This is a perfect summer craft for preschool aged kids and older kids alike.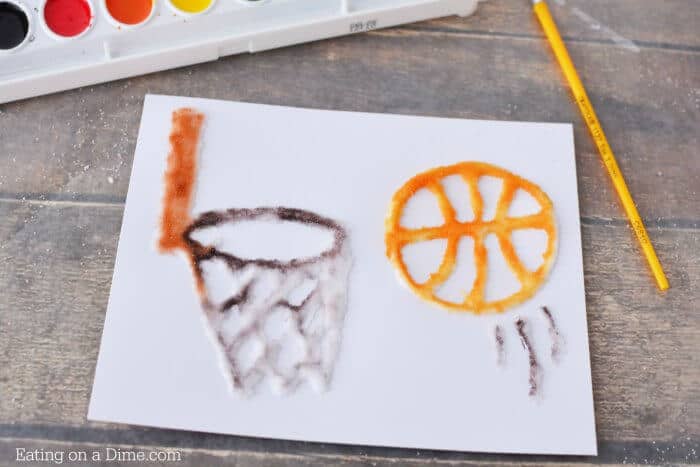 Salt Painting – by One Crazy Mom
Salt painting can be a very versatile craft, as shown in this tutorial, and you most likely already have many of the needed materials on hand for this project. The possibilities are endless with this one, so let your children pick any subject they are interested in and go to town transforming it into a three-dimensional work of art.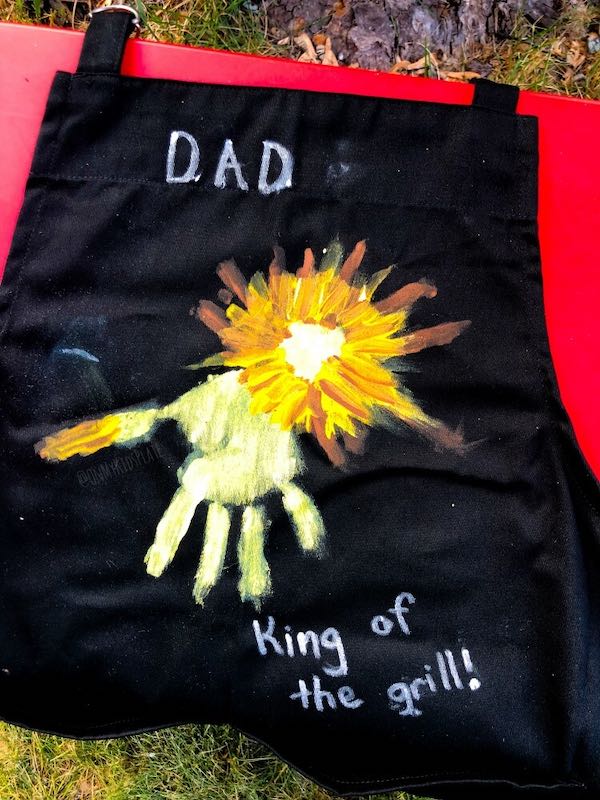 Dad Apron – by On My Kids Plate
Don't forget dad during your summer of crafts! This DIY handprint apron is the perfect Father's Day gift and keepsake that he is sure to treasure for years to come. A simple black apron is completely transformed with endearing children's drawings and a handprint in this great tutorial.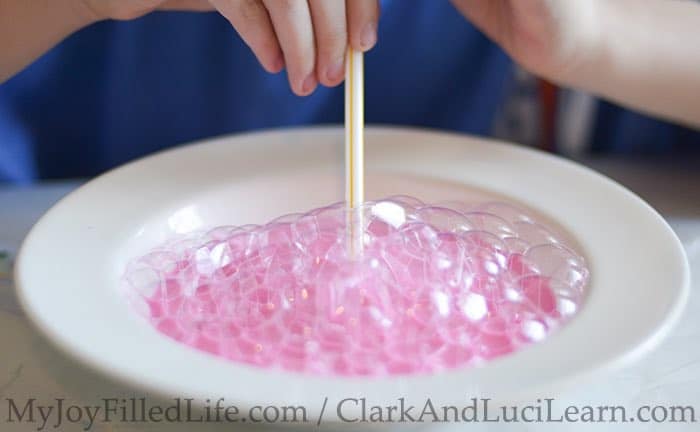 Bubble Paint Flower Craft – by My Joy FIlled Life
Bubble paint makes for a different and interactive craft that kids are sure to enjoy! Not only is the final product a beautiful and fridge-worthy work of art, but the process of blowing bubbles in the paint is a fun activity in itself. This is a great project to take outside on a pretty summer day and let the kids get messy while creating this striking hydrangea flower art.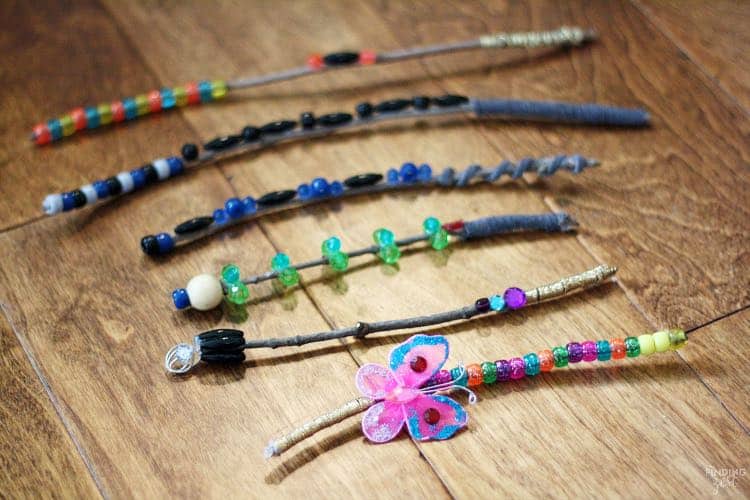 Friendship Wands – by Finding Zest
Inspire hours of creative play with this new twist on a friendship bracelet–the friendship wand. This tutorial shows how something as simple as a stick can be transformed with mixed media such as leather cording, beads, and/or wire. These are such unique wands, there are sure to be no two alike. Gather up your kids and their friends and send them hunting for the perfect stick to use for this one of a kind summer craft.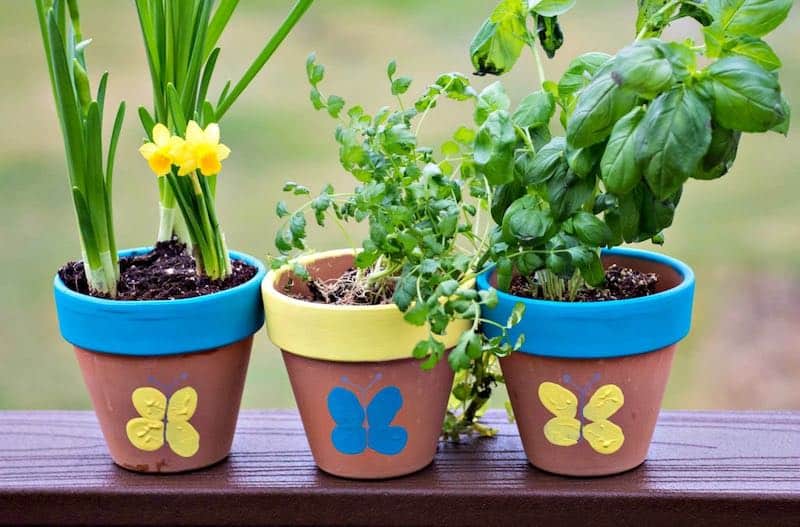 Thumbprint Flower Pot – by Upstate Ramblings
How adorable are these custom terracotta thumbprint flower pots? Whether you inspire your kids to work on their green thumb from a young age or give these flower pots away as gifts, they are sure to bring joy to any space. These are a perfect pot for the plants from the eggshell seedling project earlier in the list to be transferred to once they are a little bigger.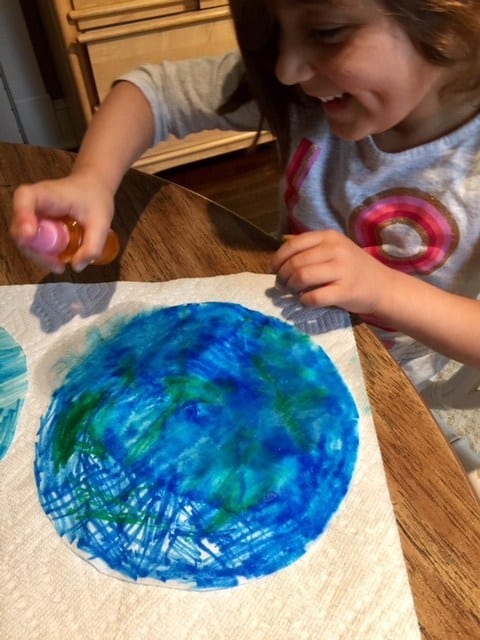 Sun and Earth Art – by Real Mom Recs
Who knew how easy it could be to transform your child's marker scribbles into the sun and earth works of art. The best part of about this project is that the kids can color on a coffee filter to their heart's desire but when they spray water, the colors bleed into truly stunning sun and earth likenesses. Spraying on the water is sure to be a hit with the kids!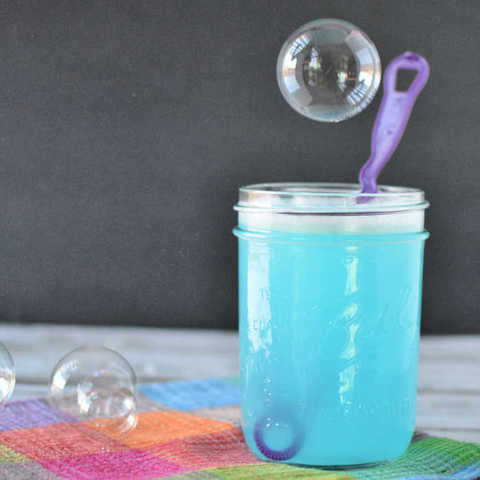 Homemade Bubbles – by One Crazy Mom
Is it even summer time if your kids don't mow through one thousand containers of bubbles? This is such a simple project that is not only fun for the kids to help make, but also something they will use all summer. Once you check out how easy this tutorial for making your own bubble solution is, you'll never go back to buying the store bought kind!
A bonus craft that will involve a good bit of parenting help is to create a Dollhouse out of all those Amazon boxes. This will be fun creating the Dollhouse, then give them hours of play time afterward with their dolls or super hero's or favorite toys.
Hopefully, these 15 Summer Crafts for Preschoolers keep the boredom at bay this summer. From one of a kind handmade gifts to crafts they can play with to easy refrigerator art, this list will keep you and your kids busy and engaged for a creative and educational summer. Don't forget to have fun with it and let the kids be kids–no preschooler's craft is perfect but the more of it they can do on the own, the more sense of accomplishment they will feel.