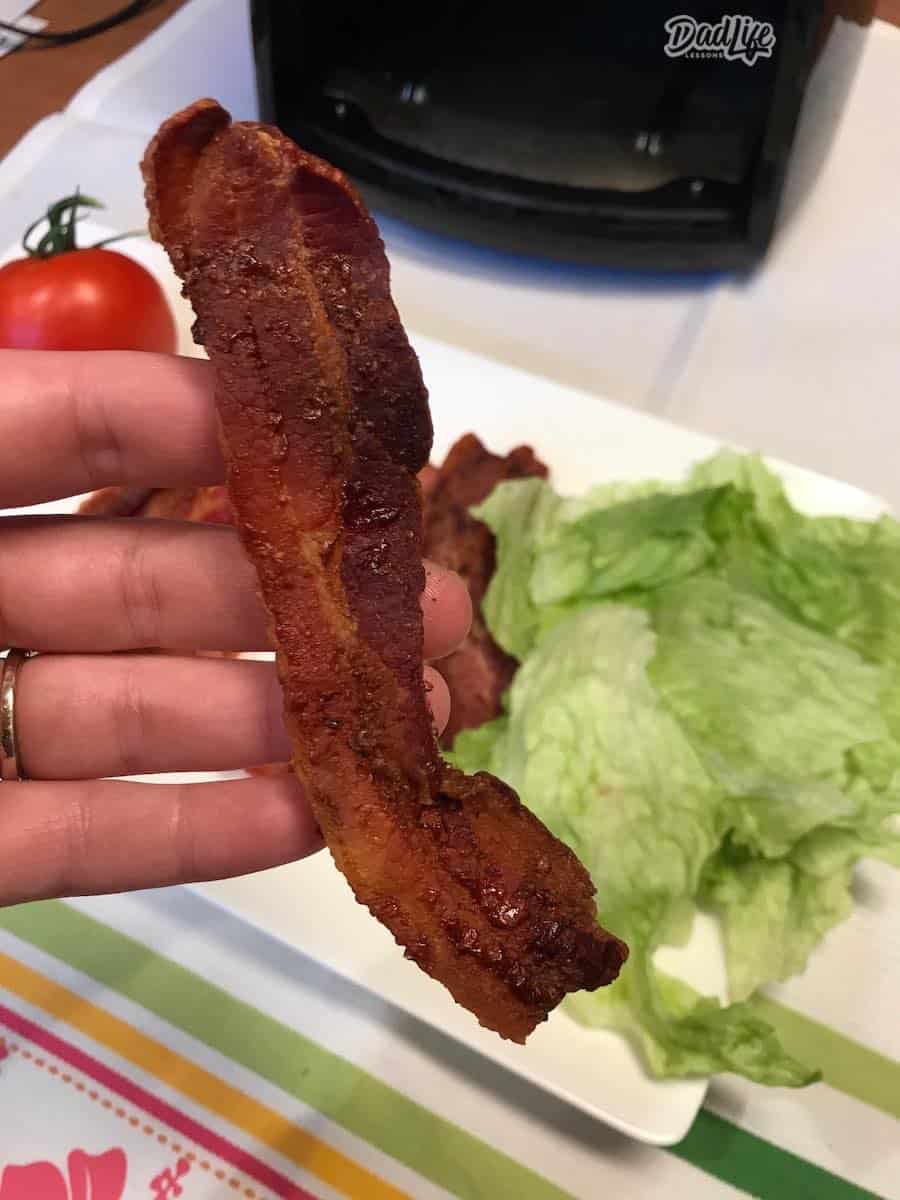 What dad out there doesn't enjoy bacon? It's the quintessential manly breakfast food. Not only is bacon perfect for breakfast alongside bacon and eggs, but it's an easy lunch or dinner as a BLT sandwich. Bacon is even great chopped or crumbled to spruce up a salad or mixed with green beans. Finally, who could deny how delicious bacon is wrapped around an assortment of foods. Bacon wrapped peppers, bacon wrapped chicken, bacon wrapped smokies. It's even great intertwined with cinnamon rolls for a savory and sweet take. Really, we could go on and on about bacon, but this talk is making me want to cook some bacon.
The only downside to the favorite food might be the cooking process. The first issue is just the time that it takes. You end up standing over the stove and can't really leave the bacon's side for all the flipping and monitoring to ensure you don't end up with burnt bacon. Eventually, your clothes and hair take on the smell of bacon. While smelling like bacon grease all day may not be a problem for the biggest bacon lovers, we'd like the option to avoid it if possible. You can avoid this if you use our tips for cooking bacon in the air fryer below.
Take your cooking to the Next Level with one of our 3 Best Electric Smokers to make any meat delicious.
Then there are the inevitable grease pops when cooking bacon. No matter how far away you stand and how you try to sneak your arm in for flipping each piece it happens. You know some grease is going to jump out at you either stinging your skin, staining your clothes, or making it hazardous for the kids to be in the kitchen. If you've ever tried cooking bacon in hot grease with young kids who seem to always be underfoot, you know the feeling. One wrong move around the skillet or one wayward grease splatter can sting those inquisitive kids. So, you may end up like many of us banning the kids from the kitchen all-together while you work alone, cooking the bacon. Tell them to go enjoy one of these summer activities while you cook.
What if we told you there is a way to get perfect bacon every time with no popping grease, no need to flip, and really no need to even stand in the kitchen at all? All it takes is an air fryer and applying our tips. Then you can truly walk away while the bacon cooks to perfection!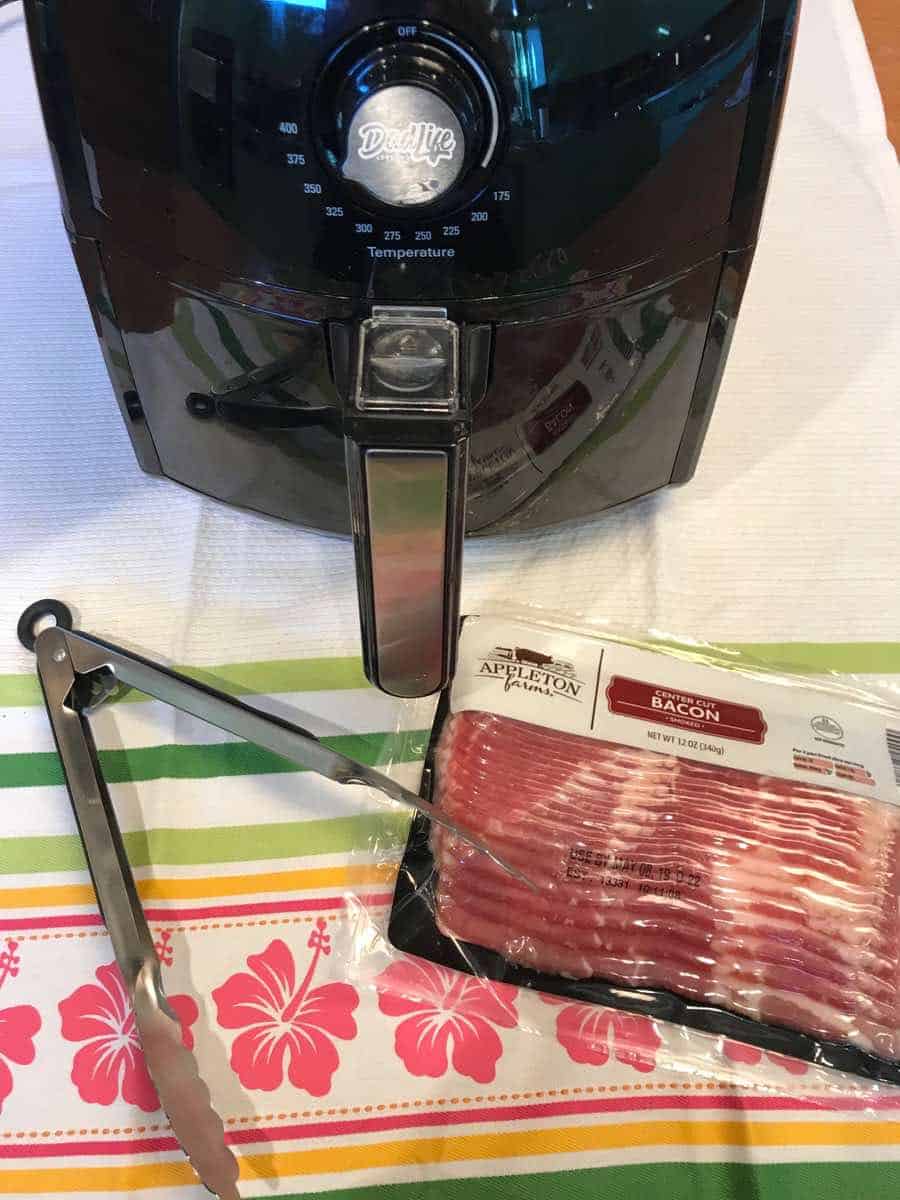 Best Tips for Cooking Bacon in the Air Fryer.
Start with a good air fryer. There are dozens of air fryers available on the market, but to achieve our exact results, you'll want to try this top rated air fryer (BELLA TXG-DS14-14538 14538 2.5 Liter Air Fryer 2.6 QUART). It's a very affordable option as well as a good size and has proven to be perfect for cooking bacon in ten minutes flat. A huge perk is that the frying basket is dishwasher safe, doesn't get any easier than that!
One of the Best Air Fryers on the market is on Sale. Order it today before the price goes back to normal retail.
Add a splash of water before you cook. Before adding your bacon into the air fryer, pour about ¼ cup of water down into the lower area, underneath the frying basket. Many people say they have experienced their air fryers putting off smoke when cooking bacon. So, this tip for cooking bacon in the air fryer is one to remember if you want to avoid fanning away at the smoke detectors while you could be enjoying delicious bacon!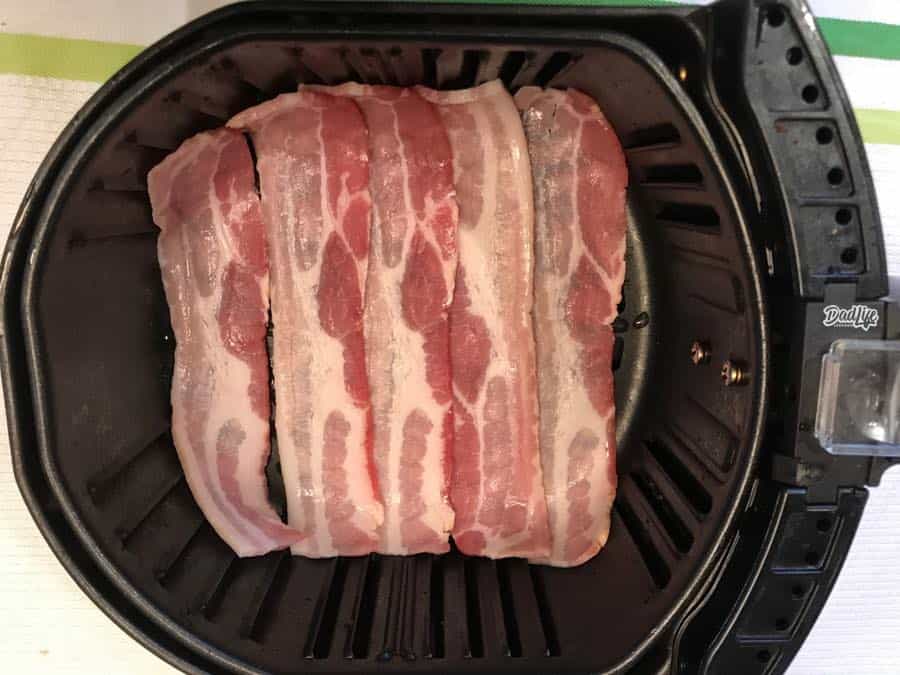 Don't overfill the air fryer basket. We wish there was a way to cook heaps and heaps of bacon all at once with zero effort, but the truth is you can't overload the air fryer. Just like with a skillet, you'll need to take a few turns to cook a whole package. Most air fryers should be fine to accommodate around 5-6 slices per 10-minute cooking session. It's okay to overlap the bacon a little bit. Since there's no preheating to worry about and no flipping with tongs, you'll find this hands-off cooking time goes by very quickly!
Cook at 400 degrees for 10 minutes, but don't be afraid to experiment. We have found that exactly 10 minutes at 400 degrees produces a piece of perfectly crispy bacon that isn't overcooked. But, there are so many different opinions about what qualifies for perfectly cooked bacon, so jump in there and figure out what temp and time makes your perfect air fryer bacon. Try reducing the temperature slightly (around 375 degrees) if you prefer a piece of juicier bacon. Or, try adding on cook time slowly, in 30 second to one-minute increments if you prefer the bacon on the crispier side.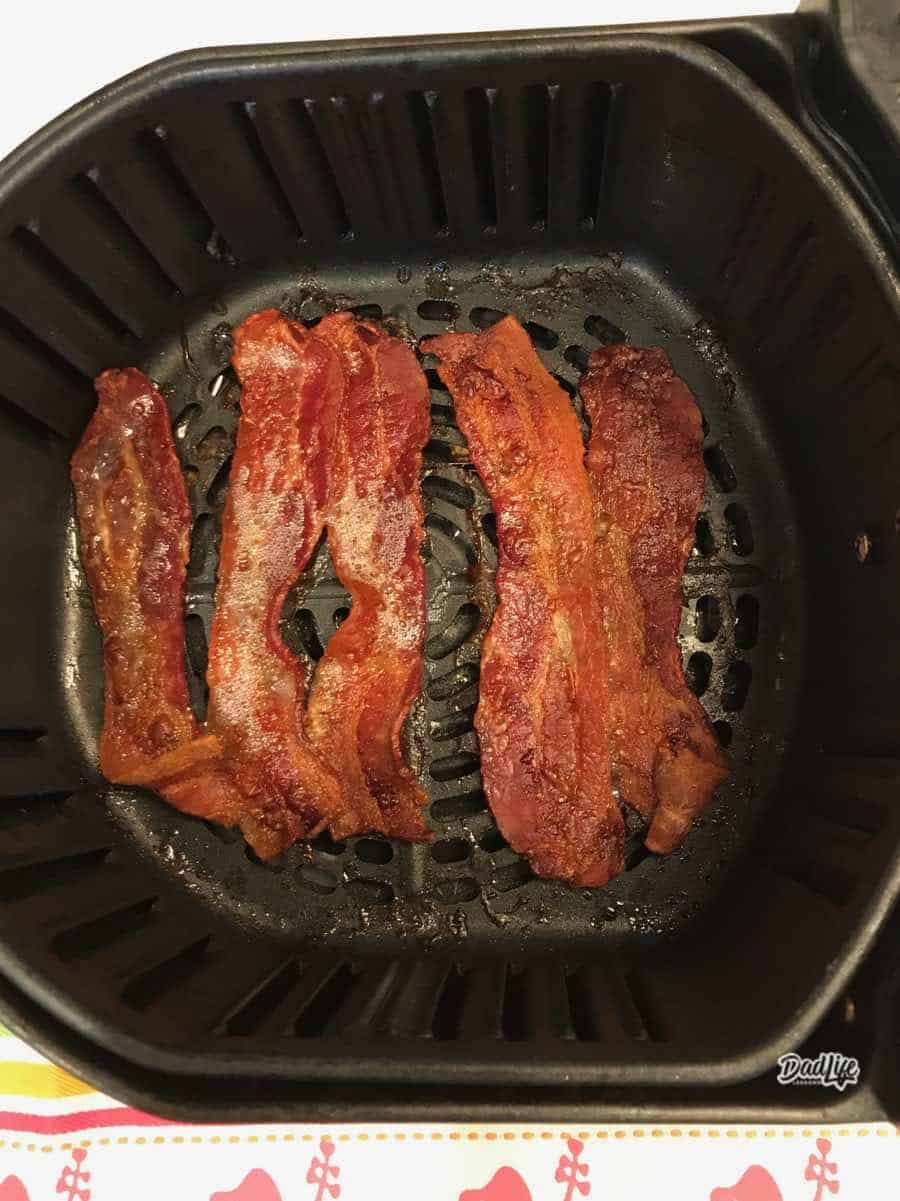 And that's really all there is to it, making this the easiest bacon cooking method around! If it's just you it's time to dig in. If cooking for the family, you will need to knock out a few batches, but at least this way you aren't stuck standing over the stove. In fact, you can even leave the kitchen with no fears of the bacon burning! You may need to dump out the grease every few batches, but otherwise, you will appreciate just how simple this air fryer bacon method is.
Of course, when you are finished cooking be sure to wash out your air fryer basket. Check the specifications on your model, because you may be able to lean on the dishwasher for much of the cleanup. Score!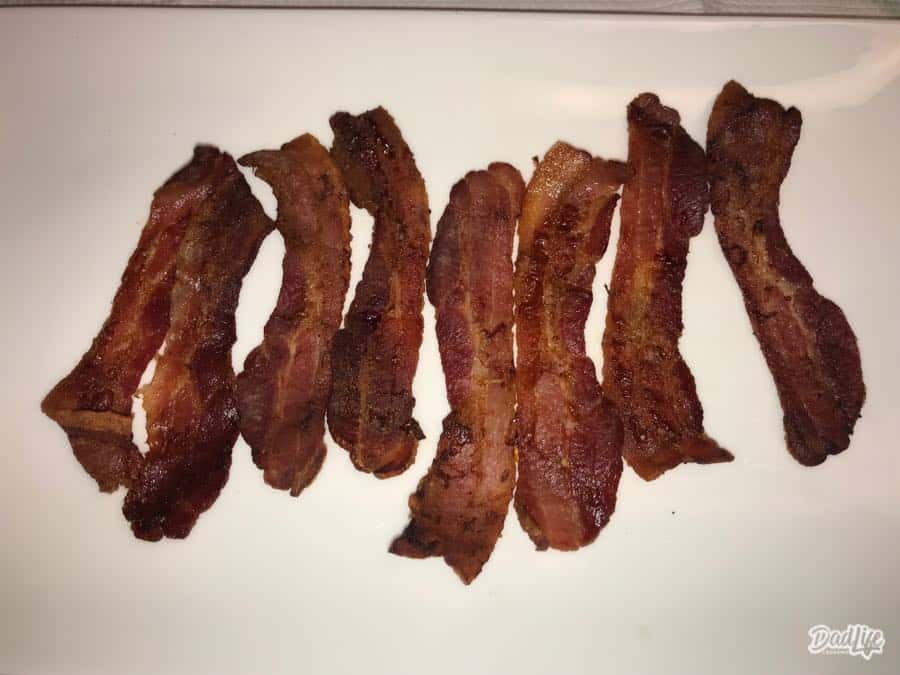 The time it takes to cook a full package of bacon is the perfect amount of time for tending to your eggs or waffles, slicing up some lettuce or tomatoes, or just relaxing. The air fryer is saving you all that time you'd be spending standing over a hot stove. We hope you'll put our tips for cooking bacon in the air fryer to good use! Now if only we had a simple method to keep the rest of the family from roaming in the kitchen and swiping your freshly cooked bacon. The good news is with our tips for cooking bacon in the air fryer you can make more bacon almost as quick as they eat it. Bacon is my favorite thing only second to anything that's free, so make sure to check out the list I compiled of over 100 free food and discounts you get on your Birthday!