Chicken is one of the most versatile and most used meats on the dinner table today. There are a ton of amazing flavor-packed recipes you could choose from, but who has the time to sift through them all? We took the leg work out of it and came up with 10 Easy Meals with Chicken. They range from BBQ, baked, seasoned, and more! I guarantee you will find your families next favorite chicken dish below! What are you waiting for? Read all about it, just don't drool too much on yourself in the process!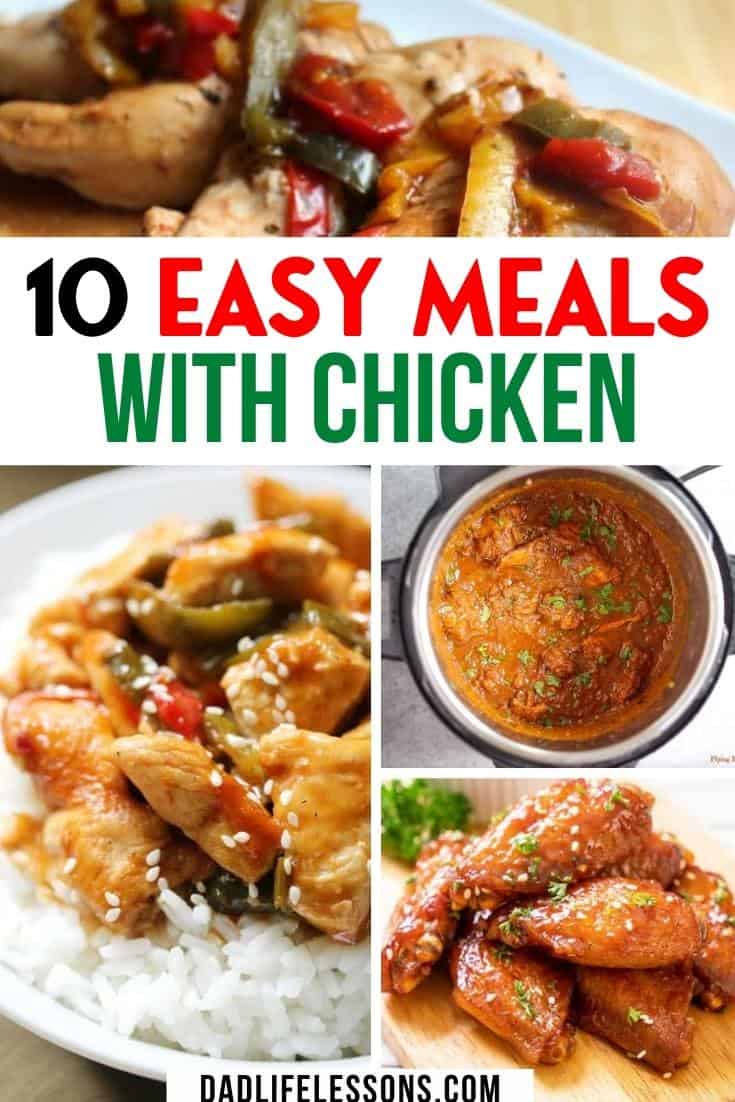 10 Easy Meals with Chicken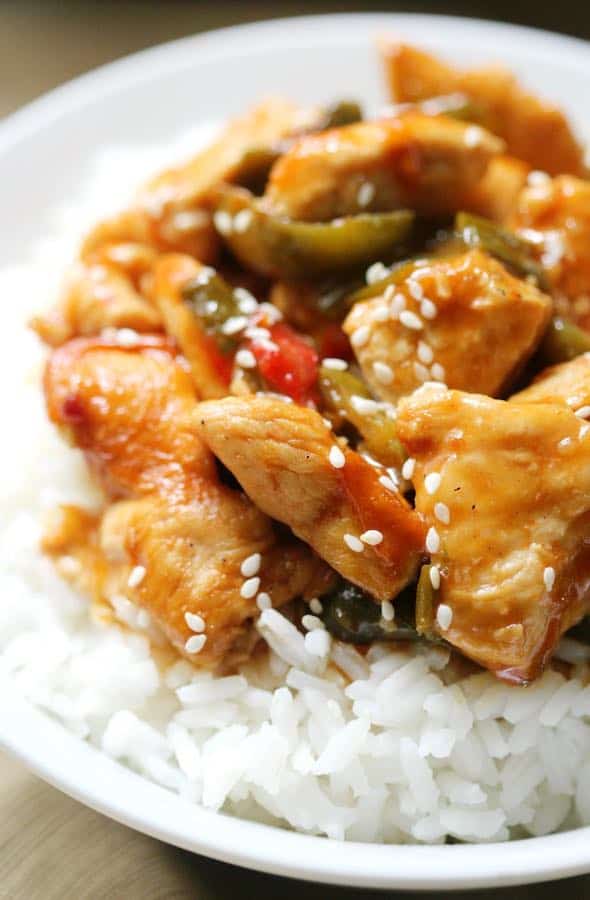 Gluten-Free General Tso's Chicken by Strength & Sunshine
Got a hankering for some Chinese food? Cooking at home is always better than eating out, in my opinion. My children love when we do homemade Chinese night and this is a big hit with them. Check out this easy to follow the recipe for some delicious Gluten-Free General Tso's Chicken. Serve with a side of rice or riced cauliflower for a healthier version.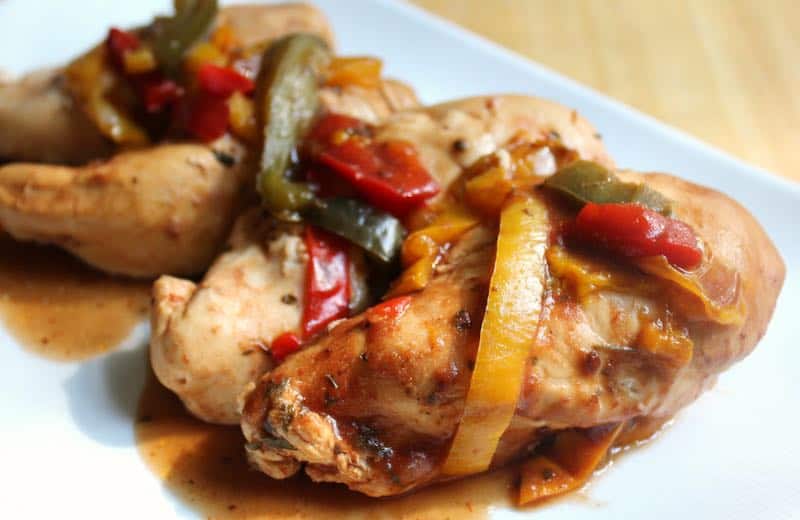 Slow Cooker BBQ Chicken by Strength & Sunshine
BBQ is one of our families go to food when the weather starts to warm up. I found this amazing recipe for Slow Cooker BBQ Chicken, I just knew I had to share it with you guys! There is nothing I love more than spending time with my family while enjoying a delicious meal. What I like about this BBQ chicken recipe is that it is made in the slow cooker which gives you more family time. So put the ingredients together, grab a board game, and make some memories all while your dinner is cooking!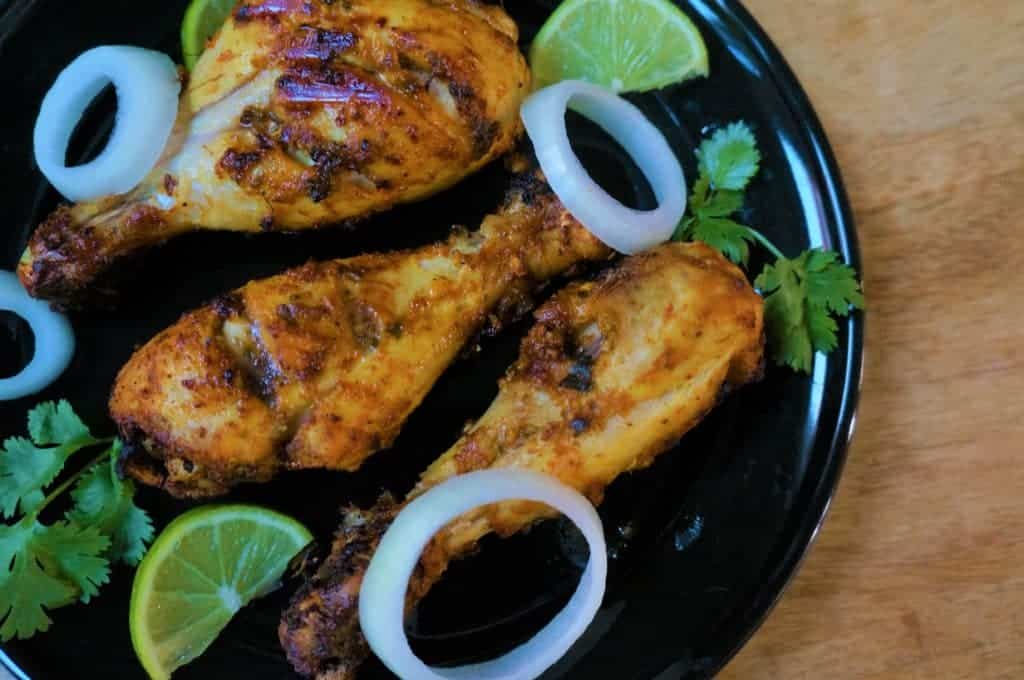 Low Carb Tandori Chicken by Piping Pot Curry
One of the things about chicken is that it is very versatile. You can add any arrangement of flavors and spices and create a completely different dish. Enjoy this delicious low carb tandori chicken in the Air Fryer. This dish is great served with a side salad for a complete meal. Check out this recipe today and see if it is a new family favorite.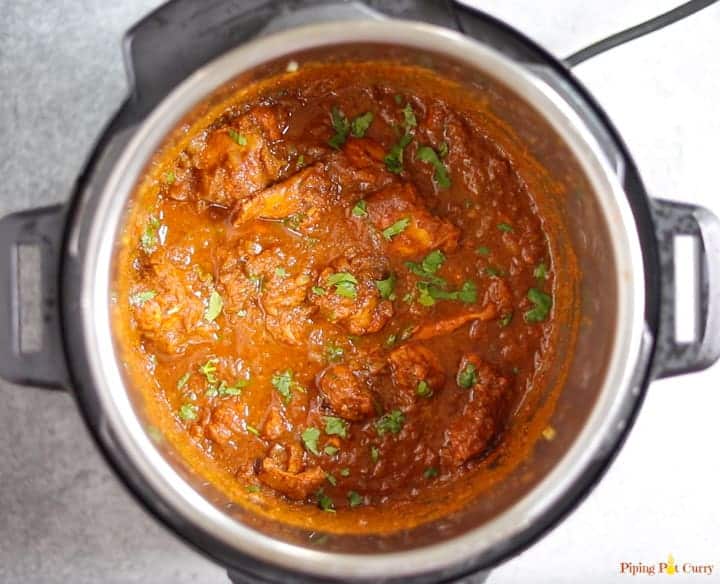 Chicken Vindaloo by Piping Pot Curry
Continuing on in our 10 Easy Meals with Chicken we have our next recipe for Chicken Vindaloo. If you love the aromatics of good Indian cuisine then you should give this one a try. We just recently got a pressure cooker and we love it! Throw your ingredients in, close the lid, and hit start. It is finished in no time and cleans up in a breeze since it is cooked all in one pot. Serve this at your next family dinner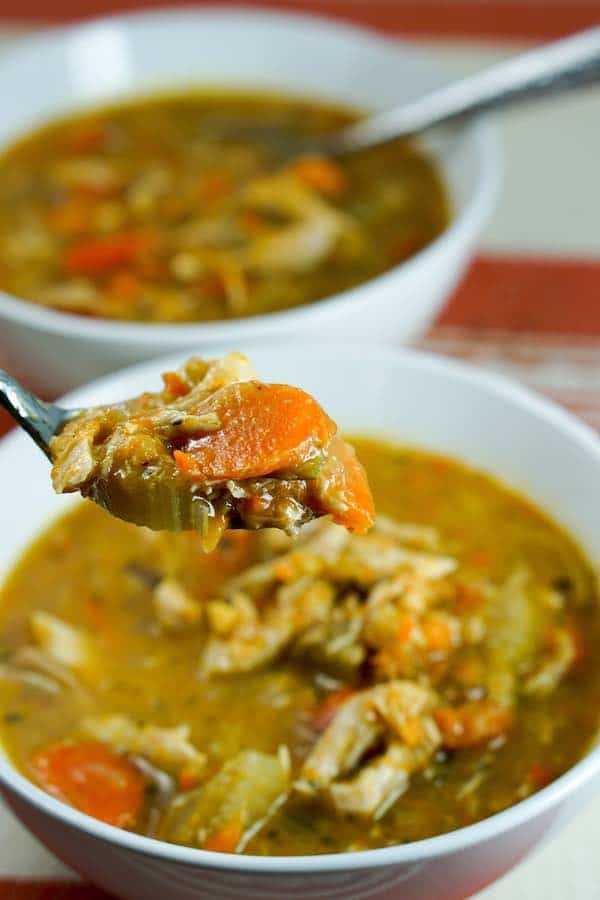 Immune Boosting Chicken Vegetable Soup by Eat Your Way Clean
Feeling a little under the weather? When my kids are sick I know just the right thing to help them feel better faster. We found a new health-boosting and delicious take on an old classic. Immune Boosting Chicken Vegetable Soup is packed with some great vegetables and tons of flavor. I promise you will not miss the lack of noodles in this dish! Let us know what you thought!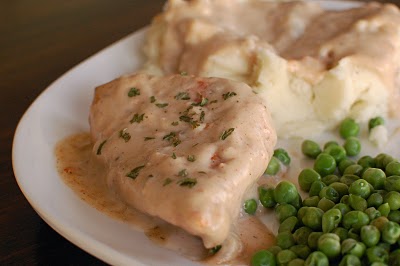 Saturday Chicken – A Favorite Family Dinner! by Or So She Says
Don't let the name confuse you. Saturday Chicken can be made any day of the week. There is something comforting about a creamy chicken dish, even the pickiest of eaters will not turn this dish down. With the exception of the raw chicken, invite your children to come and help you prepare this recipe. It is super simple with minimal ingredients that don't skimp on flavor. Try this one out next time you are in a pinch for time or it is a Saturday!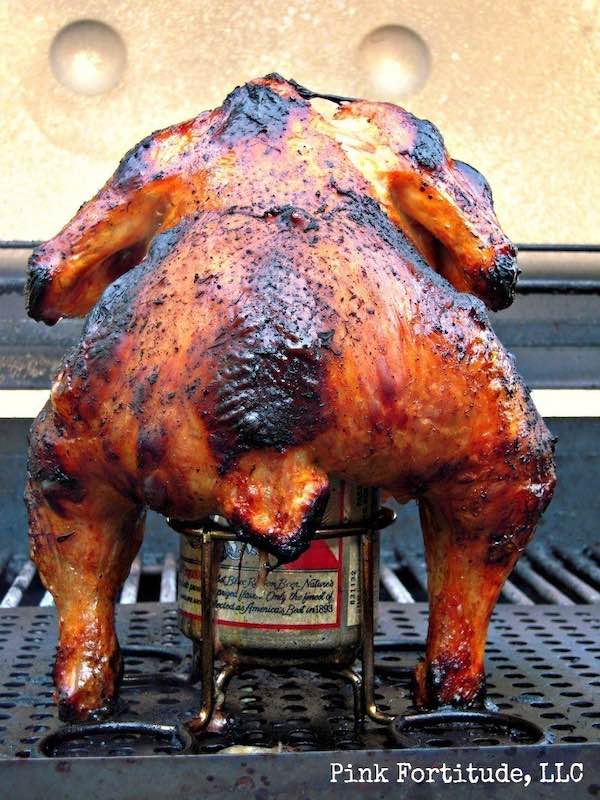 Beer Can Chicken by Pink Fortitude
Imagine that the weather is warm, the sun is shining, and you have some friends coming over for a get-together. Quick, what are you going to make that will feed a crowd that is not your regular hamburger and hotdogs? Beer Can Chicken is what you are looking for to please the crowd! Grilling a chicken gives it amazing flavor on the outside while infusing the flavors of the beer on the inside. Try out different beers for a wider range of flavors!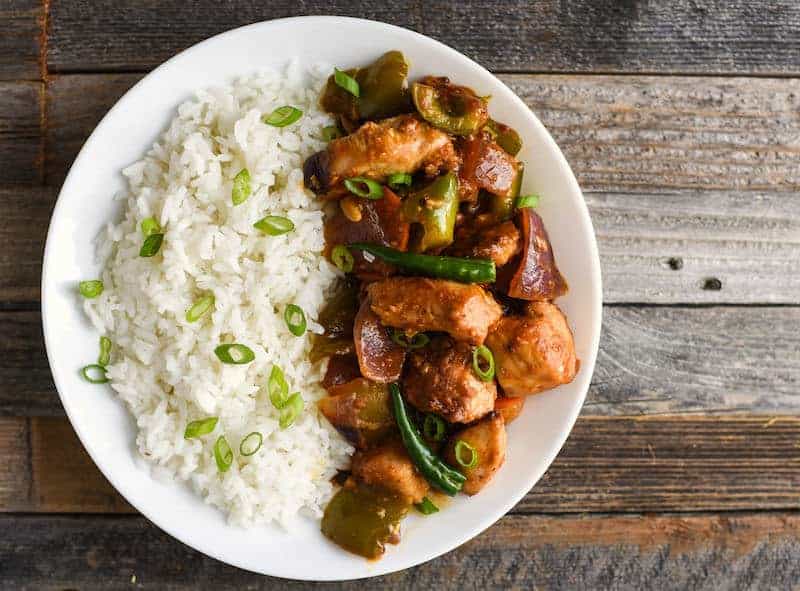 Melt In Your Mouth Chili Chicken by DIY Candy
If you love chili then you will love this twist on a classic comfort food. Melt In Your Mouth Chili Chicken infuses this dish with flavors of Asian cuisine by using soy sauce, ginger, garlic, and more. You are going to want to add this to your next chili cook-off repertoire. Serve with rice or some freshly made cornbread!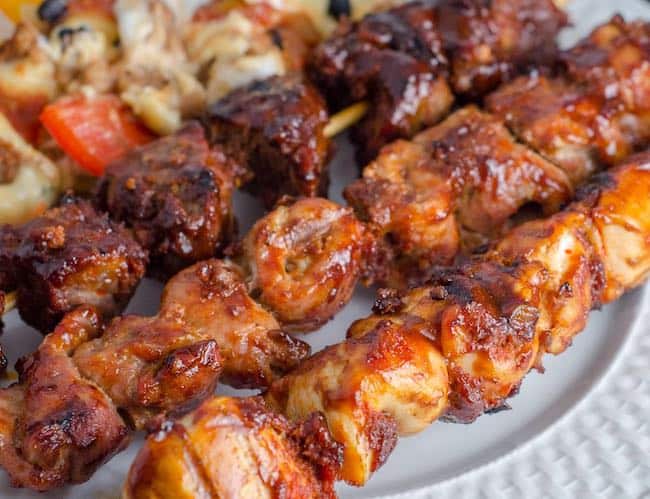 Bacon Bourbon BBQ Chicken & Pork Kebabs by The Housewife Modern
Alright, folks, we are getting down to our last two amazing Meals with Chicken. If you love a good kebab then you are not going to want to pass this up. Bacon Bourbon BBQ Chicken & Pork Kebab, I mean come on, the name alone sounds amazing! Wow, your friends with the flavors of bacon and bourbon. The kids would love to help prepare this dish. Just make sure they to use caution since you are working with raw chicken. Plate these kebabs with rice or your favorite roasted veggies!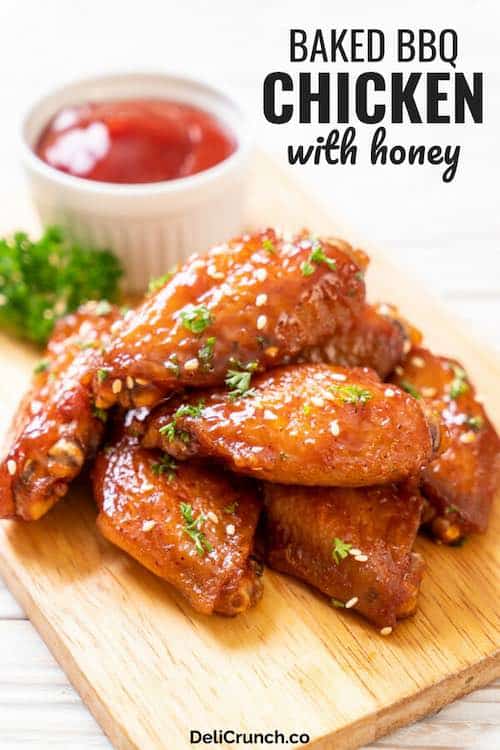 Baked BBQ Chicken by Deli Crunch
How many of you love to sit around with your buddies and eat piles and piles of chicken wings? If you said yes, then keep reading. Now you can recreate that same vibe in the comfort of your home. Baked BBQ Chicken is the perfect game day food that is sure to please the pickiest of fans. It does not even have to be football season to enjoy these tasty bites!
These meals are all so easy and mouth water recipes with chicken to please any family member. Whether you are a stay at home parent or work full time outside of the home, there is something for you! All of the recipes are easy and quick for those nights your kids have soccer or ballet. Like we said earlier, there are a ton of ways you can cook chicken, these were our best 10 Easy Meals with Chicken. Let us know what you thought. We would love to hear from you. Do you have a favorite Chicken recipe you want to share with us?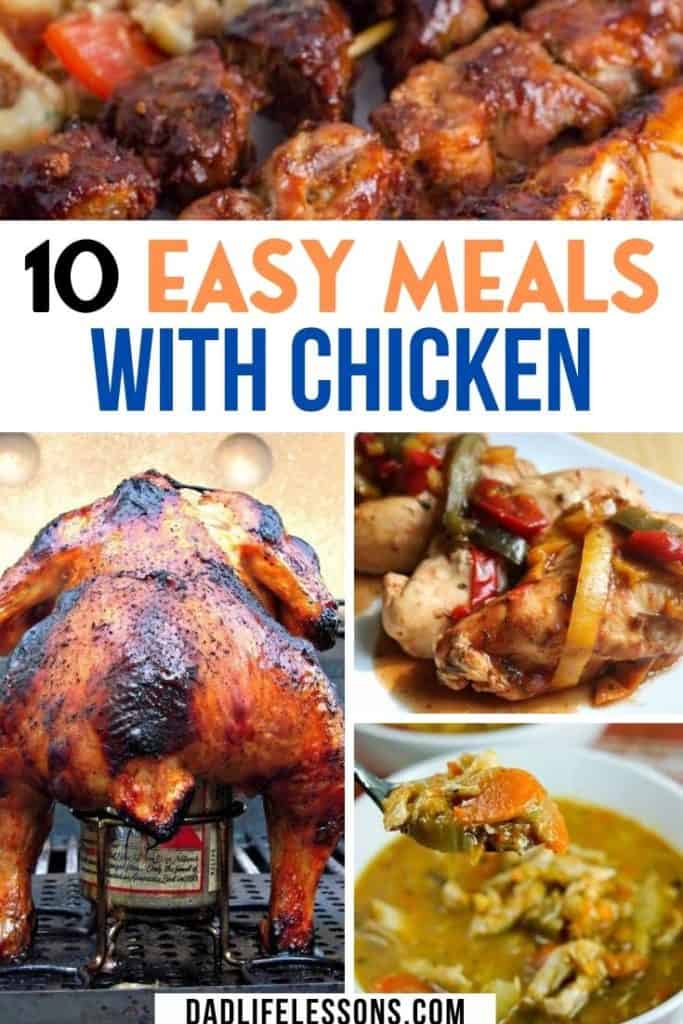 If you loved our 10 Easy Meals With Chicken, be sure to pin this to your favorite recipe board on Pinterest so you can find it again. Post a photo of your creation and tag us social media @DadLifeLessons. We love seeing people use our recipe ideas!
More Delicious Recipes:

Texas Caviar
Make Perfect Bacon in the Air Fryer!
Manly Chili
Taco Tuesday Tips
Side Dishes for Men