The Bento Box lunch trend has certainly taken Pinterest by storm. Multiple containers and plastic baggies seem to be on the out while easier Bento Box all-in-one style containers are in. You'll find no shortage of fun ways to load up the Bento Box to make your kids smile, but what about choosing the actual Bento Box itself?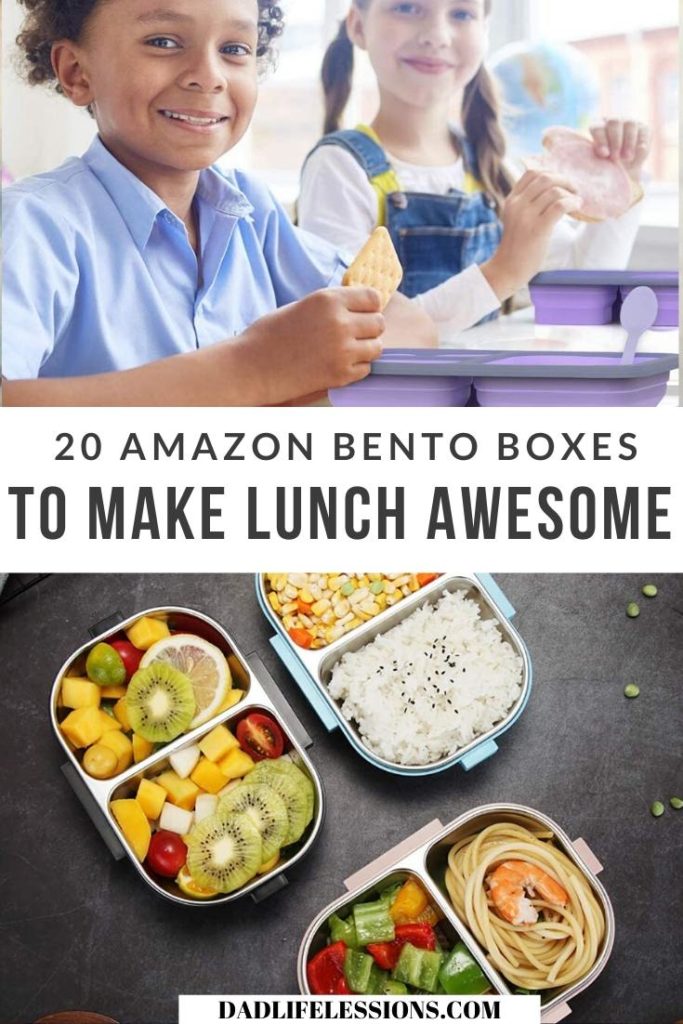 We have rounded up 20 Bento boxes from Amazon to make lunch more fun. Leave it to Amazon to have pages upon pages offering a wide variety of Bento Boxes from stainless to plastic to glass and more. We scoured through the pages of bento boxes to provide you with the best lunch bento boxes that will bring a smile to just about anyone's face when they open it for lunch.
20 Bento Boxes from Amazon to Make Lunch More Fun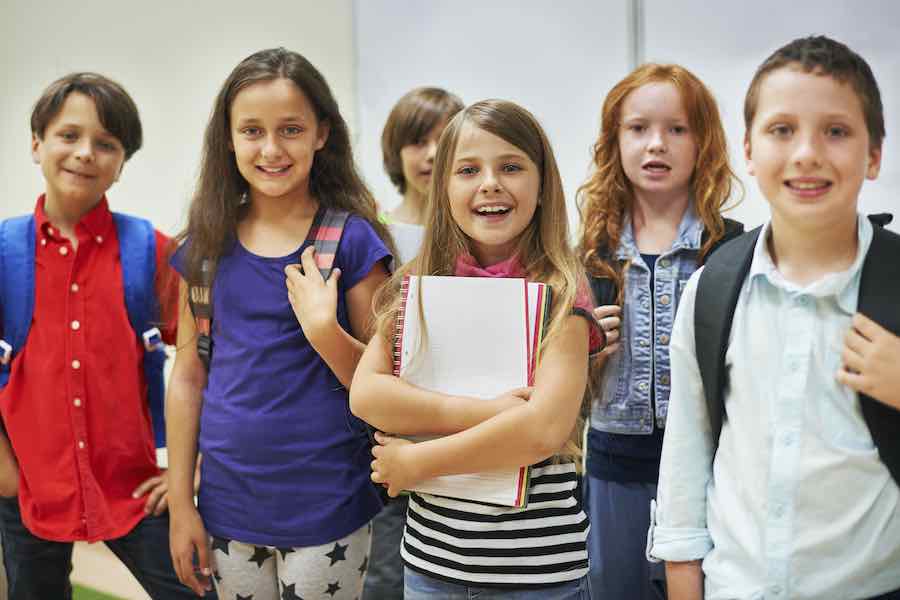 1. This simple stackable plastic set of containers is the perfect way to start out if you aren't used to backing Bento Box style. These are basically like Tupperware containers with a few areas of separation so you can easily fit in a sandwich and two side. Plus, with a set of 7 you won't need to do the dishes every night!
2. The easy to grasp clasps on this Bento Box make it a great option for younger kids, as do the fun colors! This style offers 5 different sizes compartments for really creative lunches and the insert portion pops out for easy washing.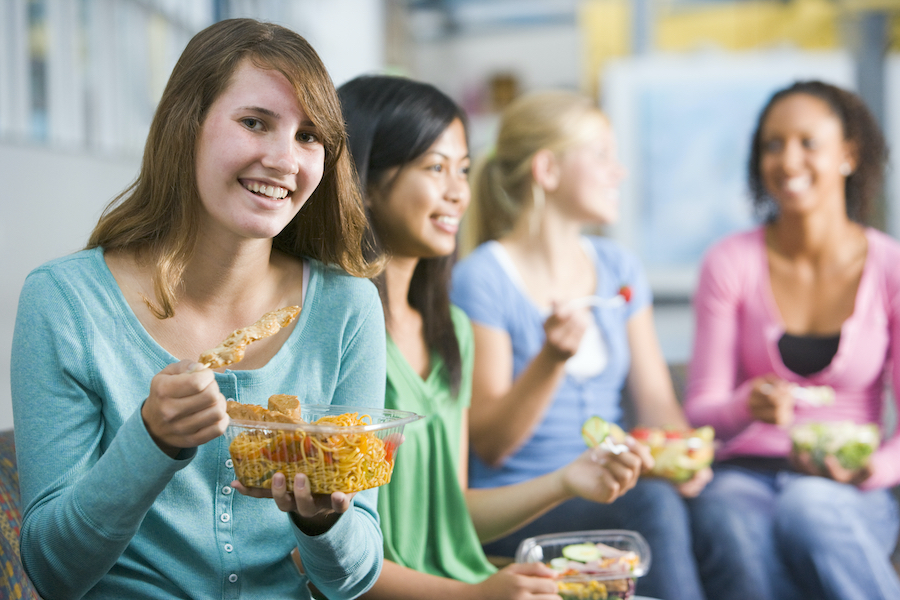 3. Designed for kids who are a bit older (7 and up) this tight sealing Bento Box is leak free so you can pack anything including liquids. This option has 6 uniquely shaped compartments so all food is kept separate and as a bonus this one even comes with a set of plastic silverware. It comes in a two pack so it's great for rotation or if you have two kiddos!
4. This style Bento Box comes with 5 containers each with their own lid, as opposed to many other versions that all share one lid. It's extra sturdy with a rubber coating and even comes with a lunchbox!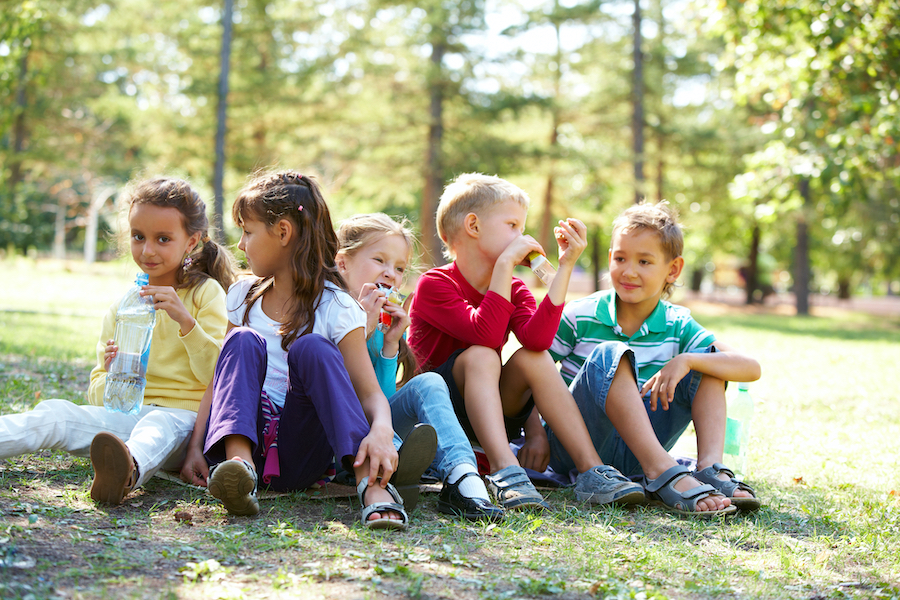 5. If you don't think you can come up with 5 or 6 different options for each compartment, this versatile box gives you the option to go with a 4 or 3 compartment design thanks to the handy removable divider. This is a simple option in bright colors that would work well for kids young or old.
6. If you are interested in avoiding plastics, glass options are available but we'd say avoid them with young kids. By high school and beyond this can be a great option for lunches or even meal prep and these 3 compartment glass containers are even oven safe so you can cook the food right in the container!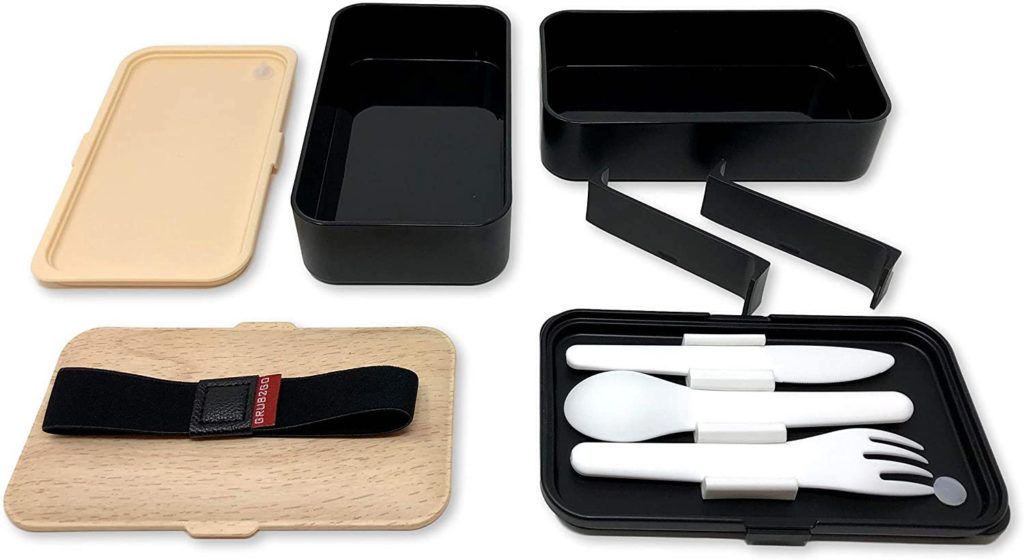 7. Touted as the original bento box, this more open style box is constructed using bamboo. It comes with a few removable dividers as well as a full silverware set that stores inside the box. Instead of snaps, this box wraps up neatly with an elastic band.
8. If you've ever looked at a Bento Box and thought you may need a little more room, this is the option for you. This all stainless Bento Box has tons of room for the food you could want thanks to the unique stacking design and nesting containers.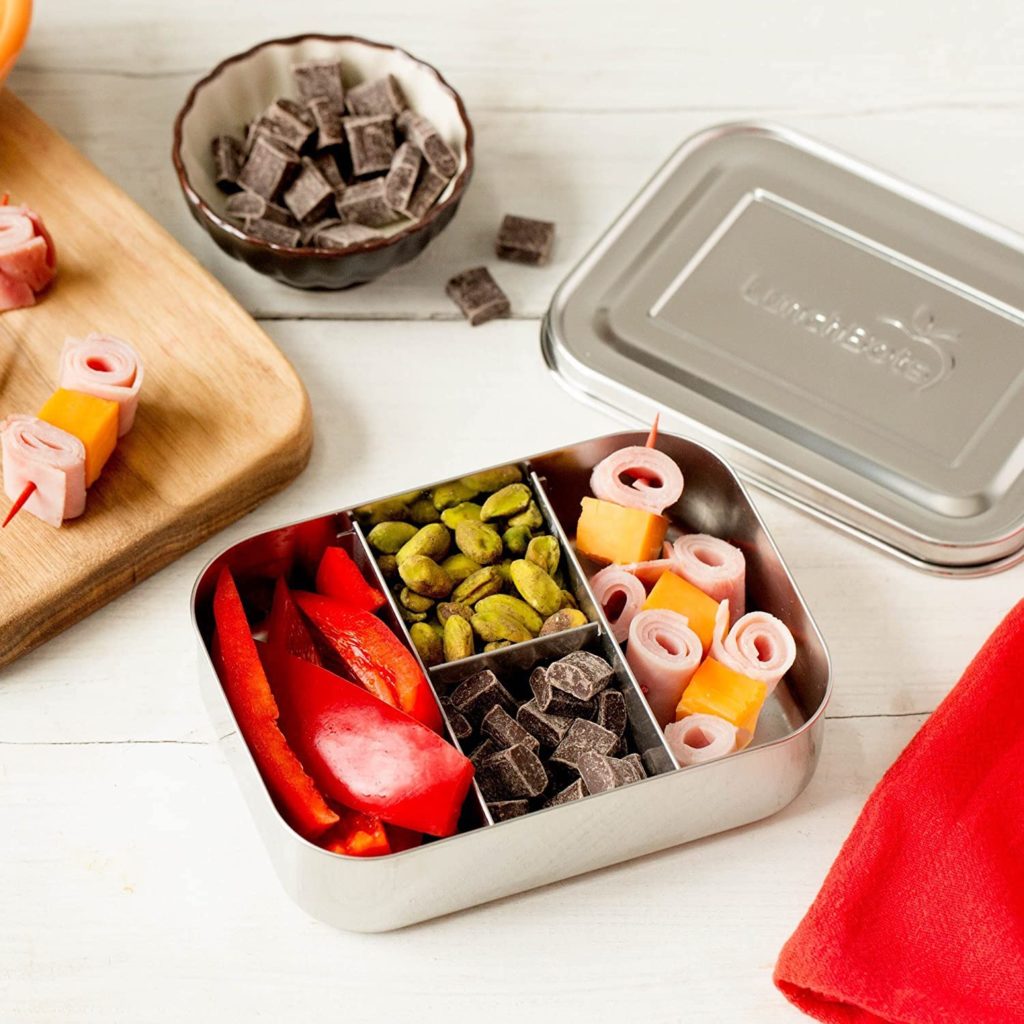 9. On the other hand, if you have a light eater to pack for or only need a Bento Box for packing snacks, check out this other stainless option with small separated compartments. This is perfect for on the go snacking and traveling as well as school lunches for preschool and kindergarten age.
10. This stainless 3 compartment Bento Box is a great standard option that would meet the needs for any age. The simple design and snap on lid ensure kids can figure this one out at the lunch table instead of struggling with some of the more complex versions.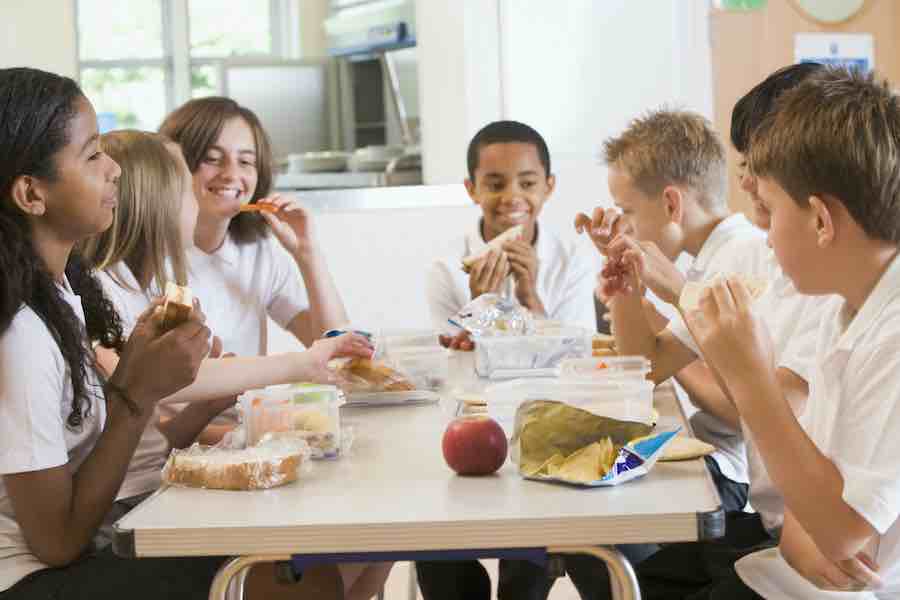 11. If you have a high school kid and don't worry about them using glass, here is a glass option with only two large compartments so you can be sure to fit in a larger salad, sandwich, or even chicken breast with ease and not feel restrained by several small compartments.
12. Who says stainless Bento Boxes have to be silver? Get your kids excited about their new stainless Bento Box with these fun bright colored options. They seal tightly an have to be popped open with a small recessed handle on top, so you know the food is staying nice and fresh!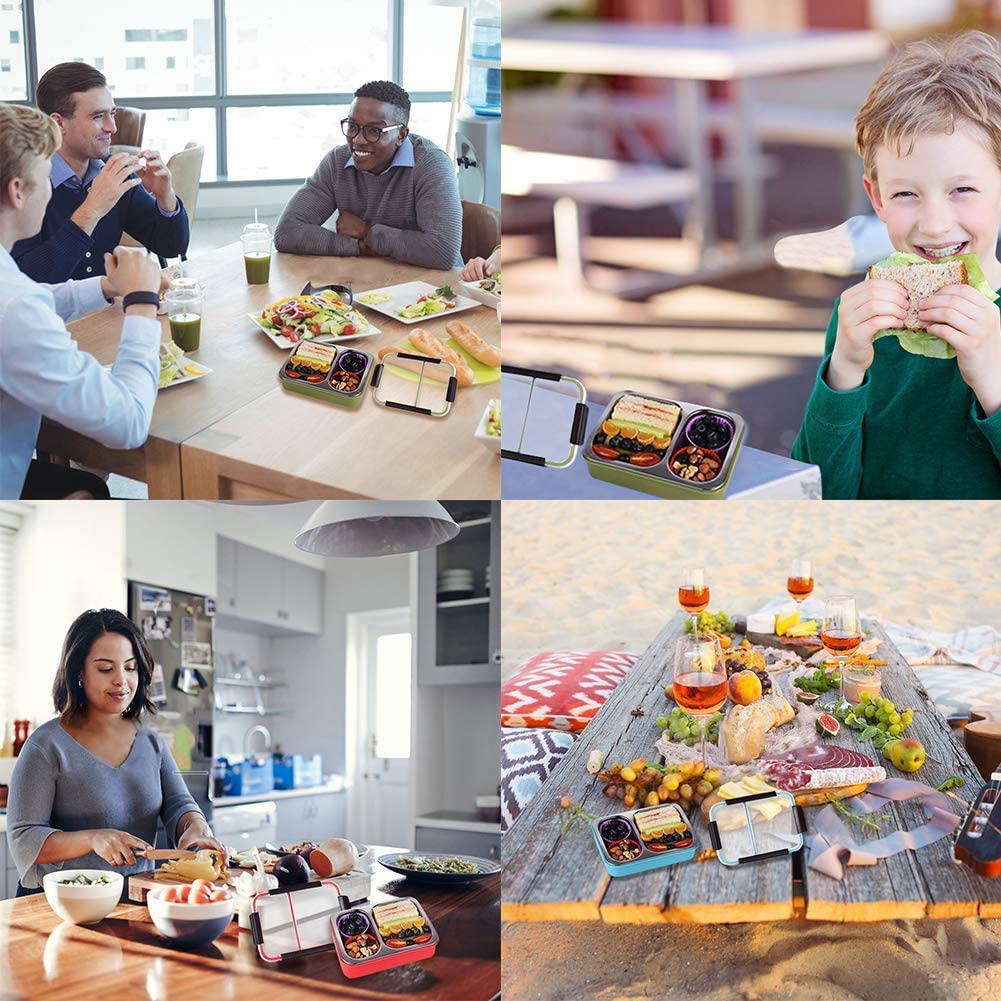 13. Here is another colorful option that comes with a stainless steel insert to set down into the bento box. The insert can be purchased in a two, three, or five compartment model. This leak proof Bento Box comes with plenty of options so you'll be able to customize it to work best for you
14. This Bento Box comes with a carrying handle, so you don't have to put toss it in a lunch box if you don't want to. Just carry it as is! This one comes in colorful options as well and the clear lid that allows you to see the packed food is a unique look for this Bento Box.
15. Another option with built in silverware! But what really makes this Bento Box stand out from the rest is the material. The yellow, three compartment box is made of silicone. In addition, this box is collapsable making it a great space saver when keeping it stored away.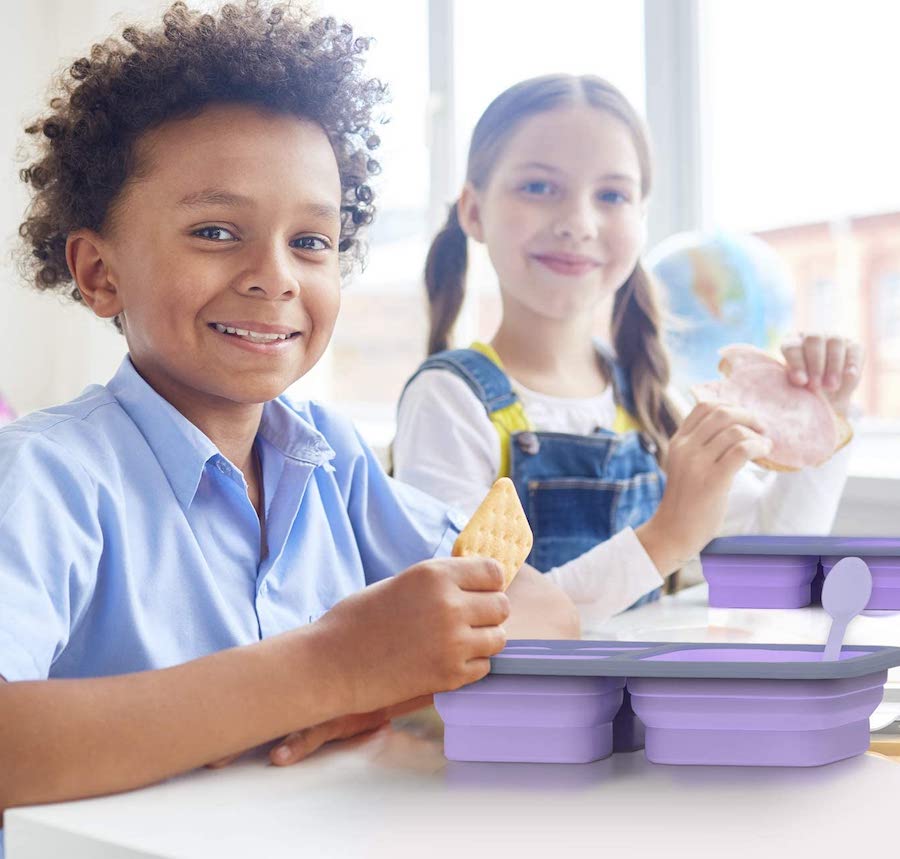 16. Here is another silicone and collapsable option with the built in silverware in more color options. When packing lunch for kids we all know it can sometimes get down to if their favorite color is involved. Give these softer pastels a try!
17. You may think five compartments in a Bento Box could be hard to fill with a new variety each morning, but this box is more like 4 compartments plus an area for dipping sauces or dressing! The good news is, it's leak free. So pack the ranch dip or any liquid without fear of spills.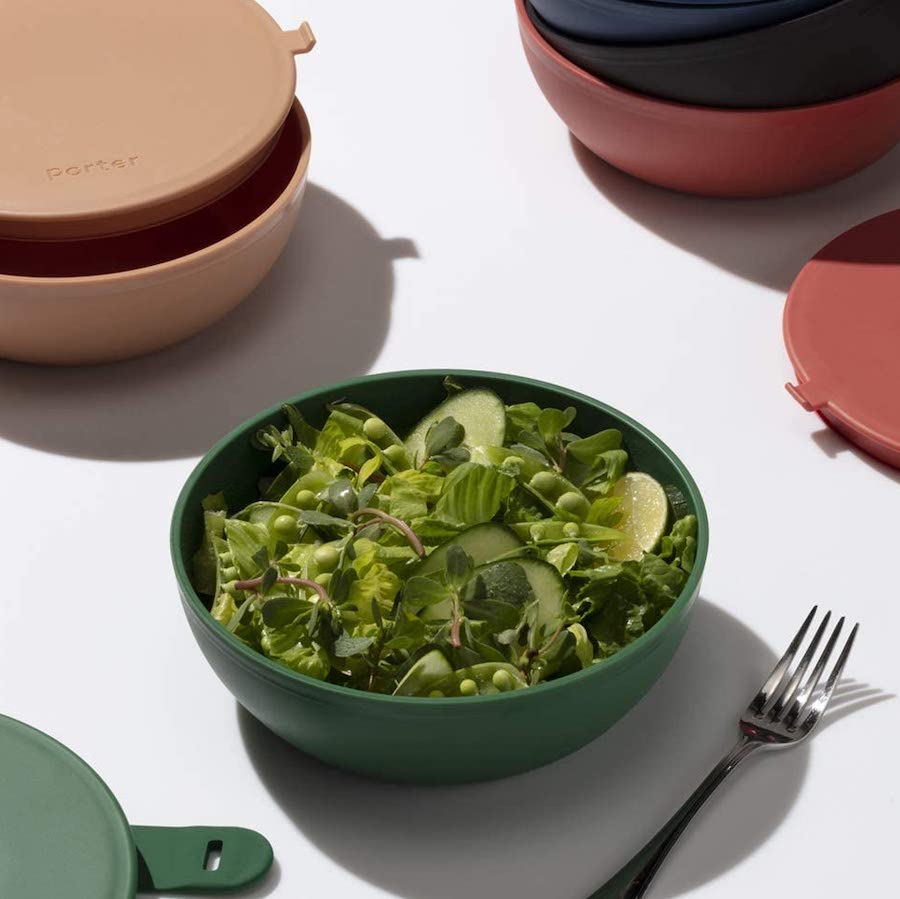 18. Does your child prefer soups and salads over sandwiches? This unique round Bento Box is designed in a simple one compartment circle to make room for those things that don't fit so neatly into small boxes.
19. This handy Bento Box set comes with the Bento Box itself, a spoon, an ice pack, and a lunchbox to carry it all. The four compartments are leak proof and non-toxic and you know for sure that the bento box will fit in this lunchbox–no more searching Amazon for lunchboxes with the right dimensions!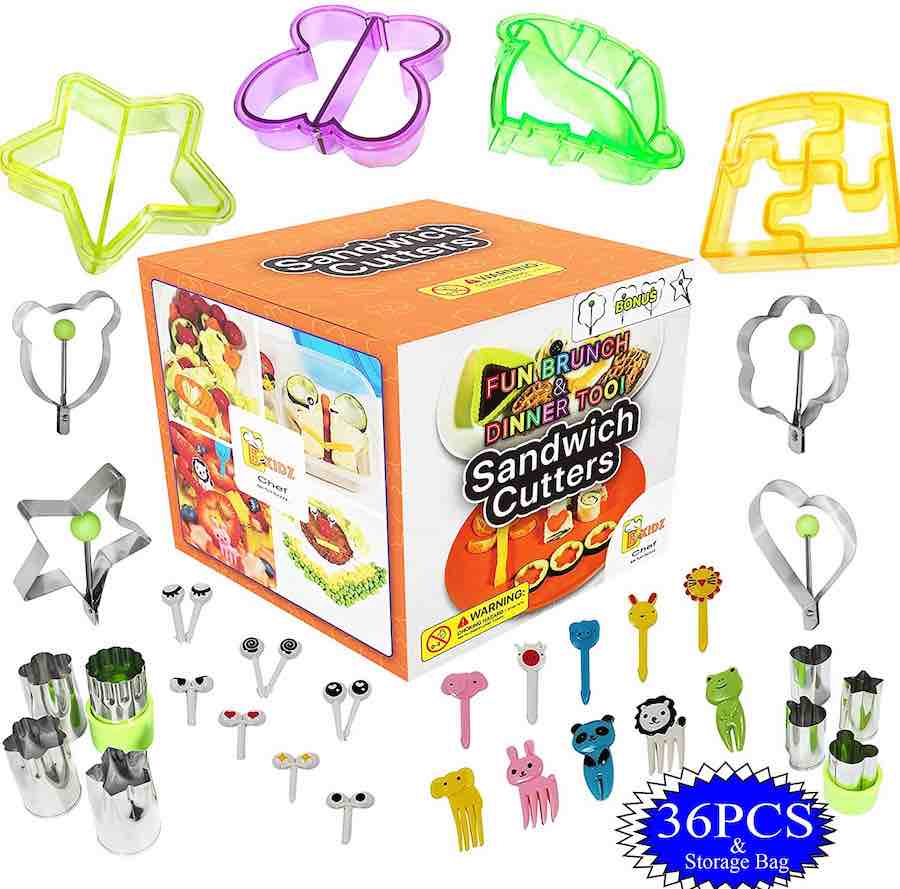 20. Wrapping up our list is not Bento Box, but all the accessories needed to really step up your lunch packing game! Sandwich cookie cutters in fun shapes, small containers for separating, little themed toothpicks and more are available in this fun kit guaranteed to put a smile on your child's face every time they open their lunch box. We definitely aren't here to tell you that you need to cut your kids' sandwiches into shapes every day, but every once in a while never hurt! Try out a Bento Box and you may be surprised to see your creative juices flowing while packing lunches each morning.
Have you been inspired by these 20 Bento Boxes from Amazon to make lunch more fun? You don't have to be a Pinterest parent to fill a few little boxes with healthy food options for your kiddos–the Bento Box options can make packing lunches a breeze for anyone!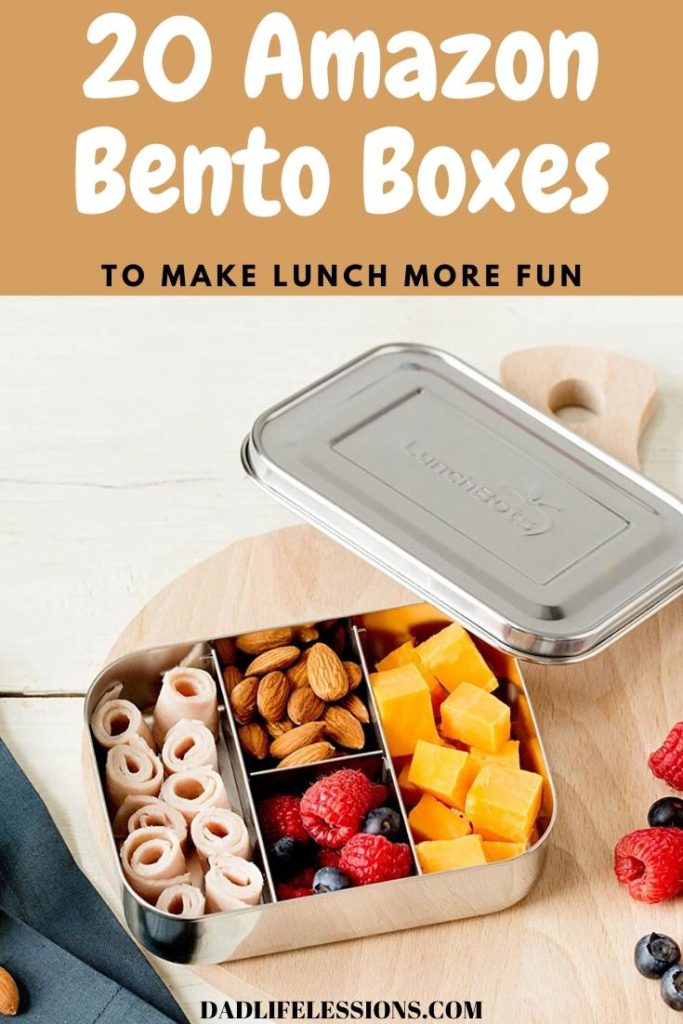 If you loved these Bento Boxes From Amazon, be sure to pin this to your favorite idea board on Pinterest so you can find it again. Post a photo of your creation and tag us social media @DadLifeLessons. We love seeing people use our recipe ideas!
More manly meals: