Mother's Day is one of those holidays that you have a chance to honor those that do so much for us every day! Mother's Day is Sunday, May 12 for 2019 in case you were wondering! So you still have some time to start planning on how you will celebrate your wife or mother this year. We tried to make it easy on you with 30 Easy Mother's Day Brunch Recipes to help the day start off right and continue to run smoothly all day. We all have our favorite ways to show her our appreciation for all that she does for us. I love making things for my mom and helping her around the house so she can just relax. What better way to say I love you then an amazing brunch for her and the family. If you want to fill more than her belly then check out these 20 things every wife loves to hear and Let the celebration begin!
30 Easy Mother's Day Brunch Recipes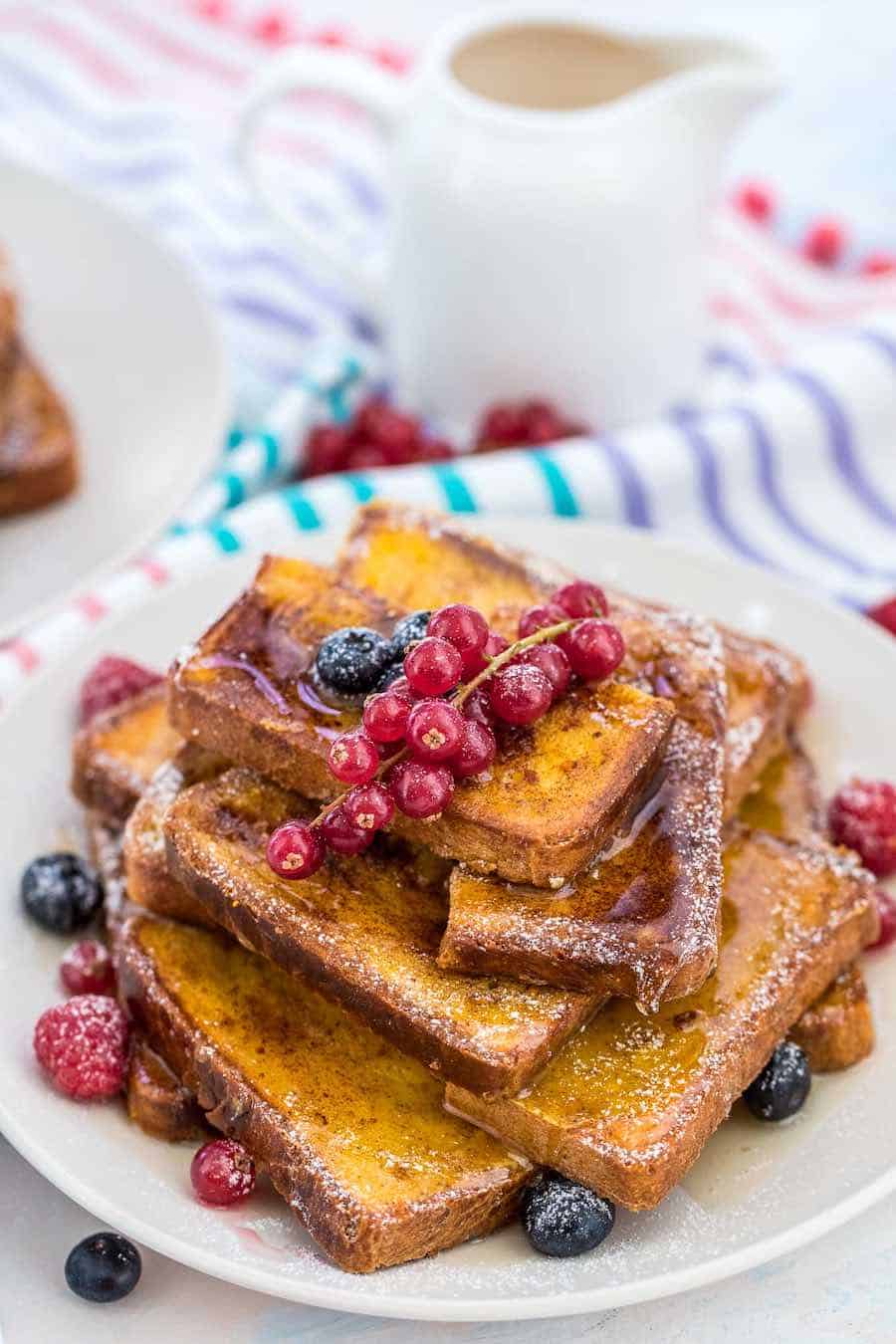 Baked French Toast Sticks – by Sweet and Savory Meals
Wake mom up with the sweet taste of breakfast in bed! What mom doesn't love to be pampered for Mother's Day, treat her like a queen. Top with fruit, syrup, or simple powdered sugar. These are super easy and go great with fresh squeezed juice and fruit.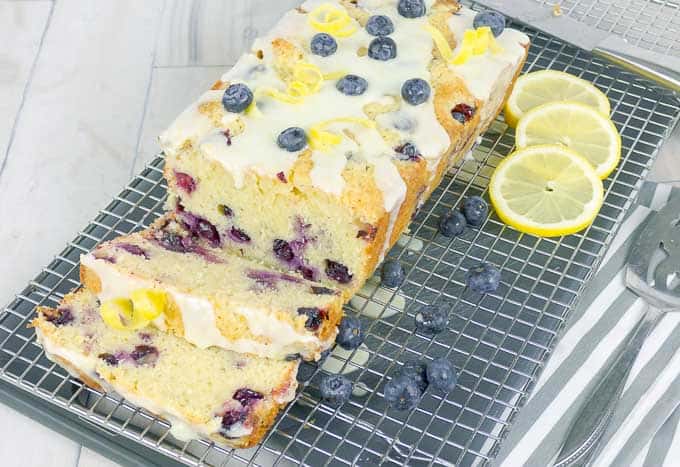 Blueberry Lemon Sour Cream Pound Cake – by Savor with Jennifer
This almost looks too pretty to eat. Surprise your mom or wife with the sweetness of the blueberry lemon cake. Our moms do so much for us during the year, now it is our turn to show our appreciation. This one is sure to please, maybe serve it with some scrambled eggs and juice to make it a complete breakfast.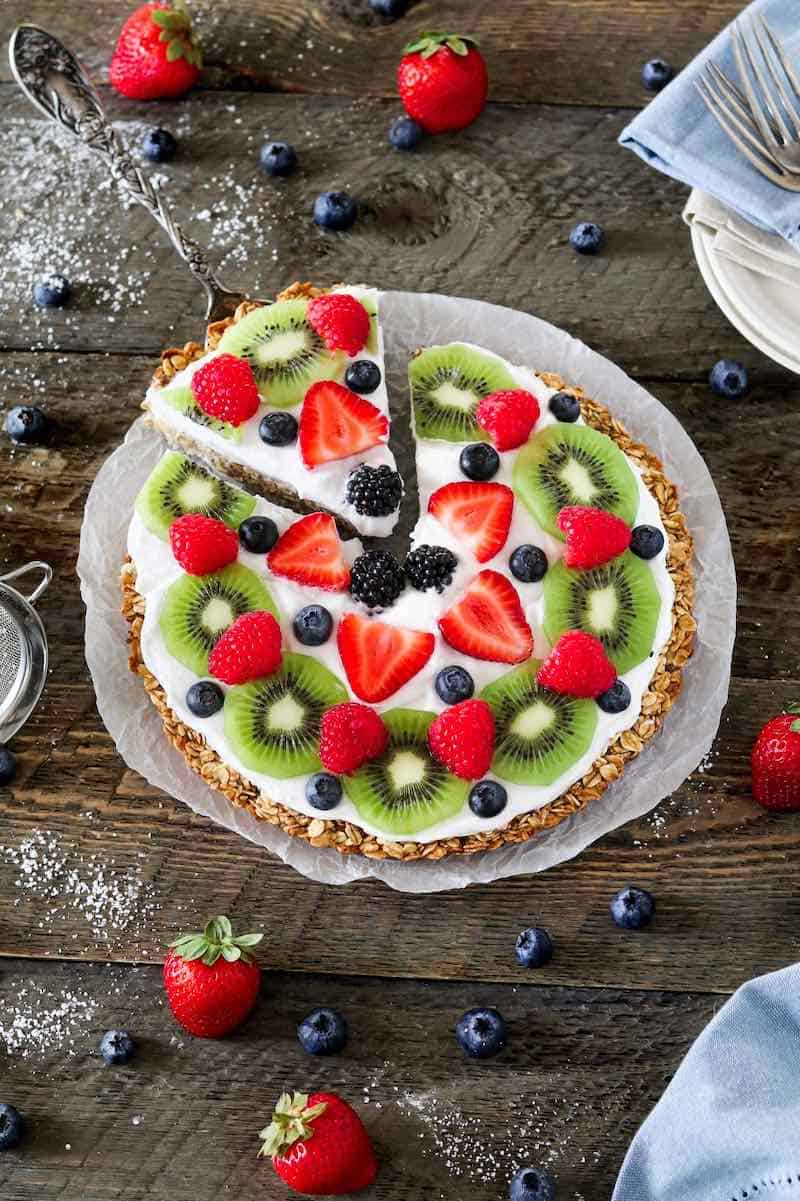 Healthy Fruit Pizza – by Vegan Huggs
Does your wife or mom love fruit? Make this healthy pizza topped with the beautiful colors of in-season fruits. Make sure to top this pizza with fruits that you know she will love. This one is so easy you can recruit the kids to help prep the fruits and pizza to make it a memory for mothers day.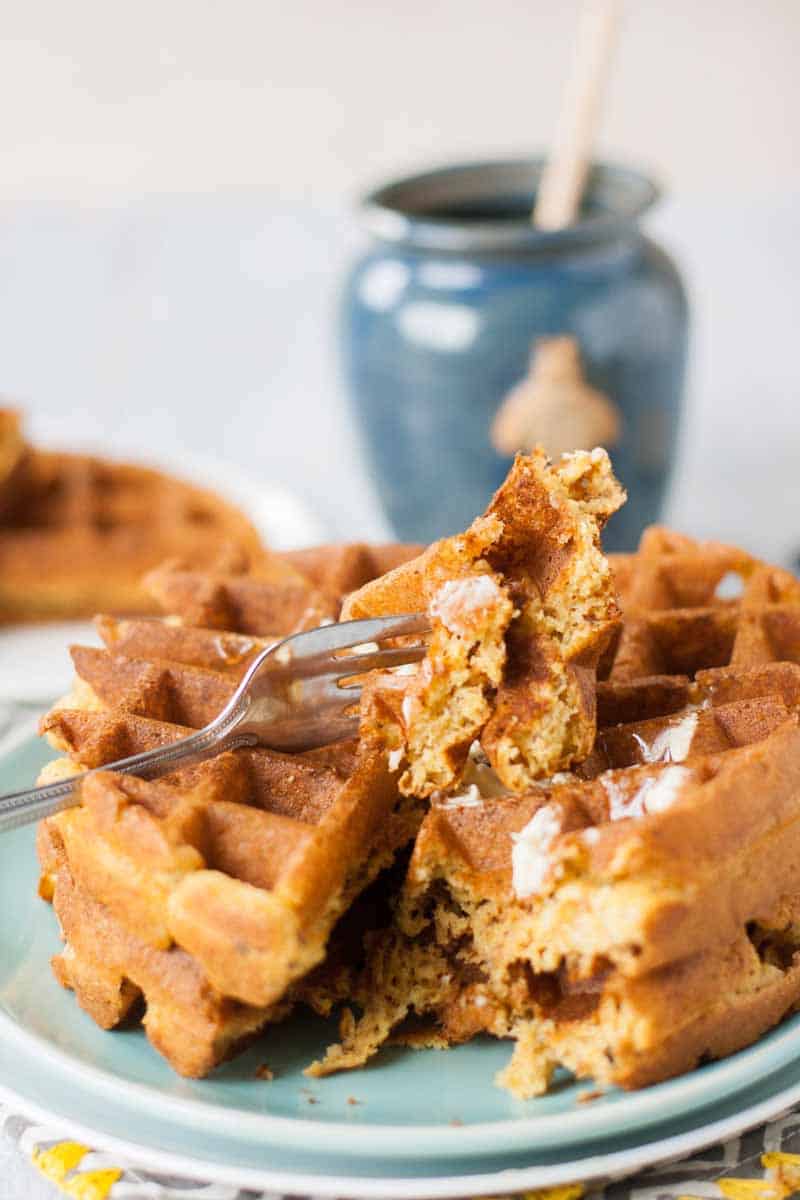 Cornmeal Honey Waffles – by Foodal
Waffles are one of my wives favorite breakfast food. I remember the stories she would tell of her making her mother waffles when she was little. Now it is our turn to make those waffles for her and create new memories that will live on through our children.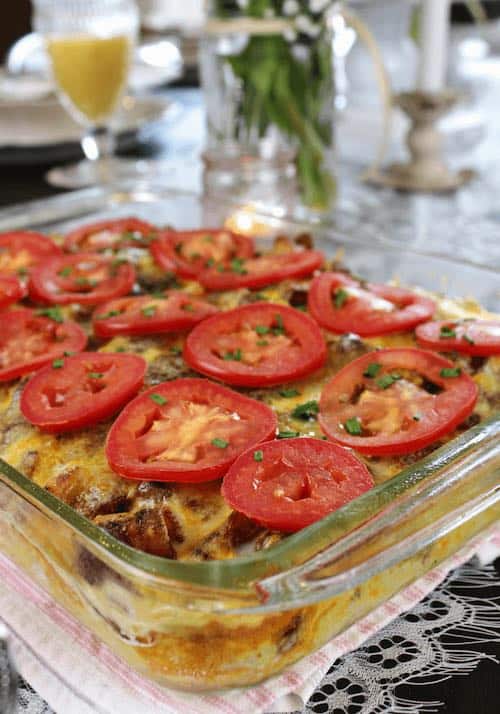 Mothers Day Bacon & Sausage Brunch Casserole – by Simply Made Recipes
We live near both our families and we like to invite all the mothers over and have brunch. This is never a disappointment on our table. You really can't go wrong with bacon and sausage in my opinion. When you throw it in a casserole it makes everyone happy.
Copycat Recipe Cinnabon Caramel Pecanbon – by Savings Lifestyle
Oh man, the gooeyness of this just melts in your mouth. Making a special breakfast for my wife has its benefits to me as well. We both get to enjoy these delicious confections! These truly do taste like the real thing, if it wouldn't be for the dirty dishes she may even think you bought them.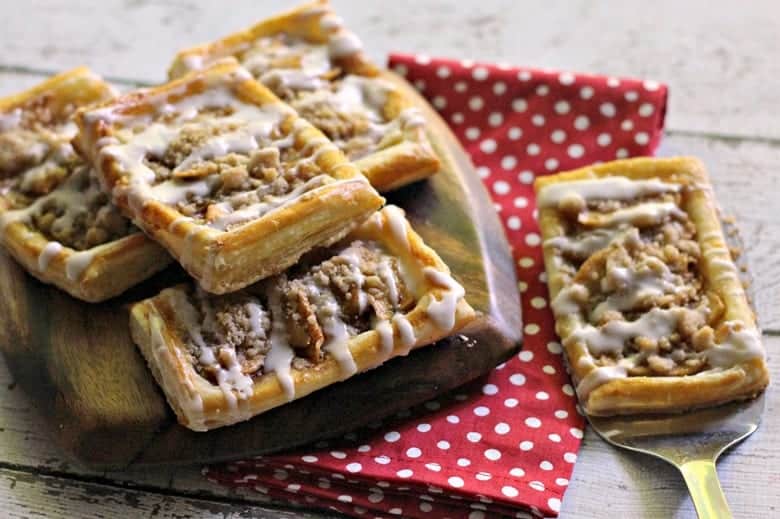 Apple Danish – by Crayons and Cravings
Wake mom up with the aroma of this fruit-filled danish. Spoil your mom or wife this Mother's Day with freshly baked breakfast in bed. Serve with her favorite drink some freshly picked or cut flowers! What mom would turn this down?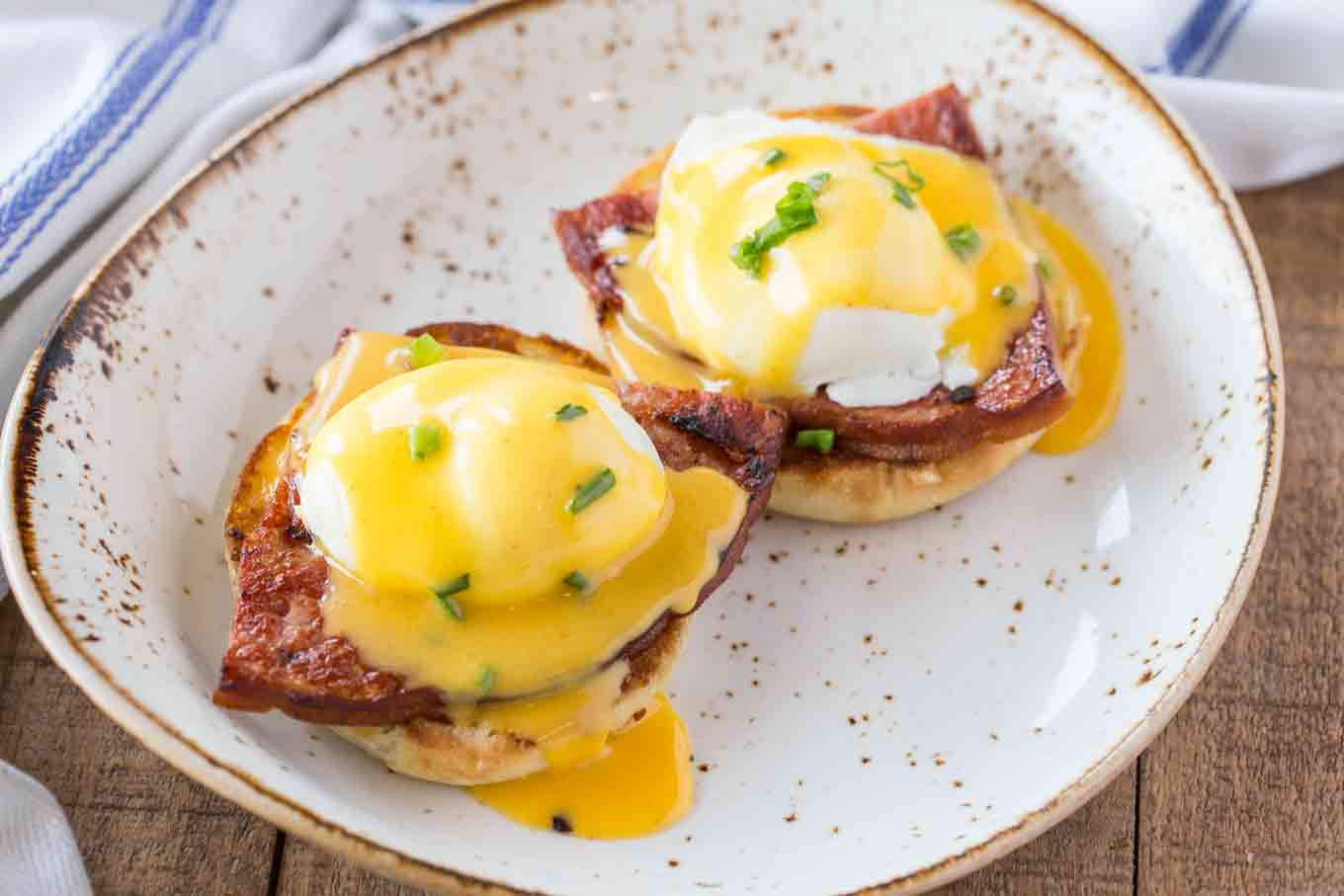 Eggs Benedict – by Dinner Then Dessert
Get ready for an egg-cellent brunch option for a crowd. These do not take too long to make and has an easy to follow the recipe. I love this dish and love to serve it to family and friends. That's why it makes it on our 30 easy mother's day brunch recipes!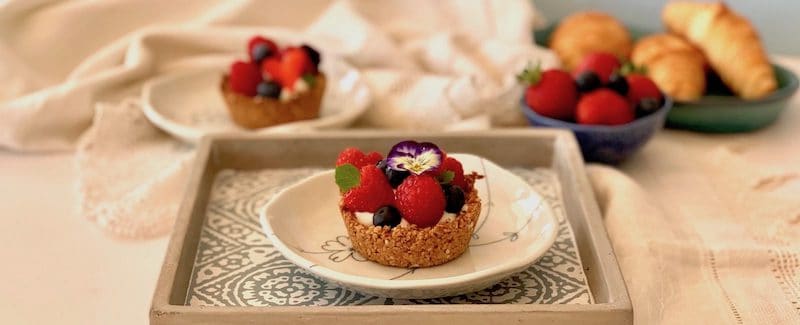 Granola Cups – by Mrs. Jones Kitchen
Do you want to take a lighter and healthier approach to Mother's Day brunch? These are great to make the night before so they are ready when you are! Great for those rushed mornings, because even though we try to take it slow, life is always faster even on mothers day.
Ham Cheese Egg Puffs – by The Flying Couponer
These look like a little cloud of yummy deliciousness! Get ready to wow your brunch guests with these tasty bites. These go great with an assortment of fresh fruit and warm scones. Keep reading for one of our favorite scones for Mother's day brunch.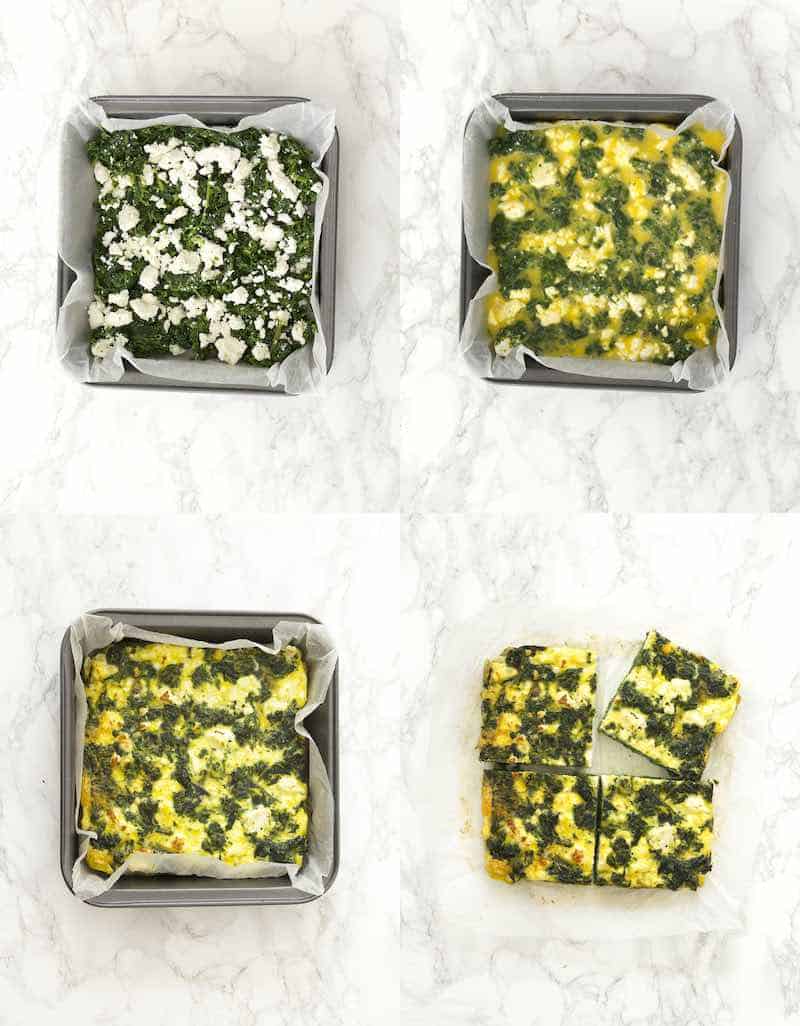 Baked Frittata – by The Clever Meal
Here is another good one for a crowd. I remember, my wife and I, made these one Sunday afternoon when we had invited some friends over for lunch. What I love about this is that the ingredients are so versatile that switching out an herb or meat can change the whole flavor of the dish.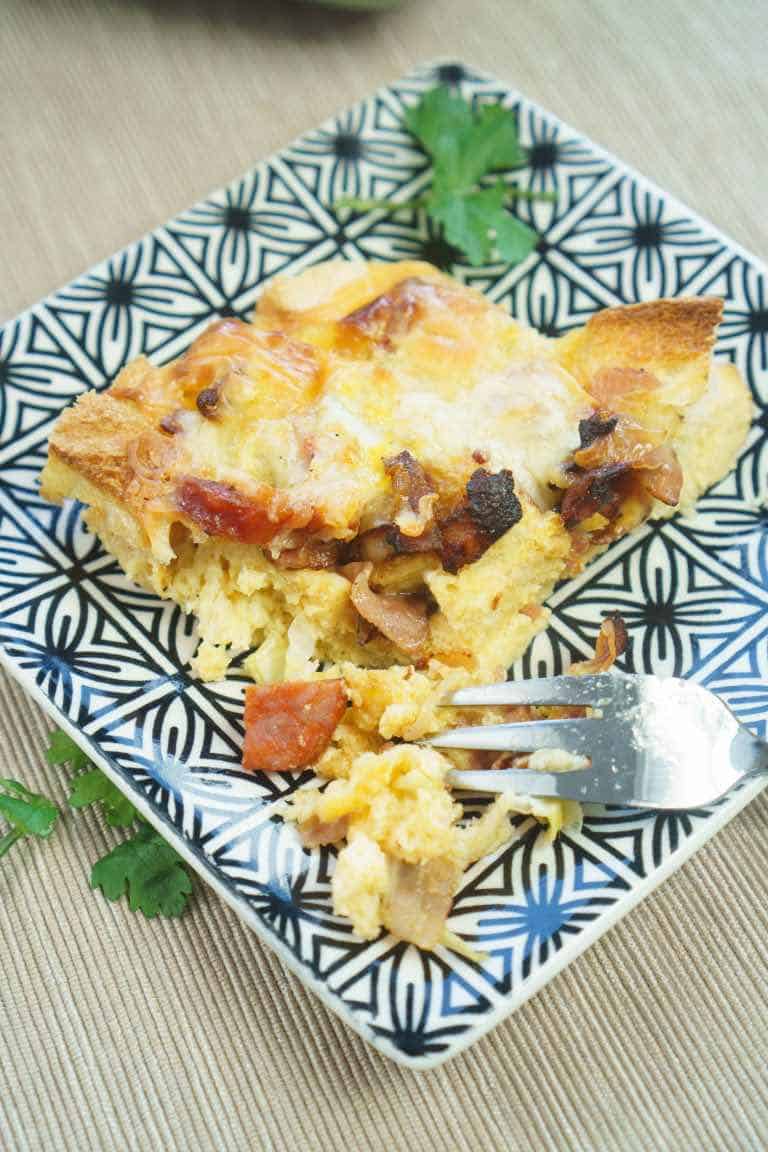 Overnight Breakfast Strata with Chorizo – by The Cookware Geek
Running short on time? Check out this breakfast strata with chorizo that can be assembled before you ever cut the lights out the day before. If your wife is a heavy sleeper, you can even try to sneak this one past her for a great surprise in the morning! If you like a bit of spice then I recommend this one! Nothing like a little kick of Chorizo to help you say you spice up my life to the wife on mothers day.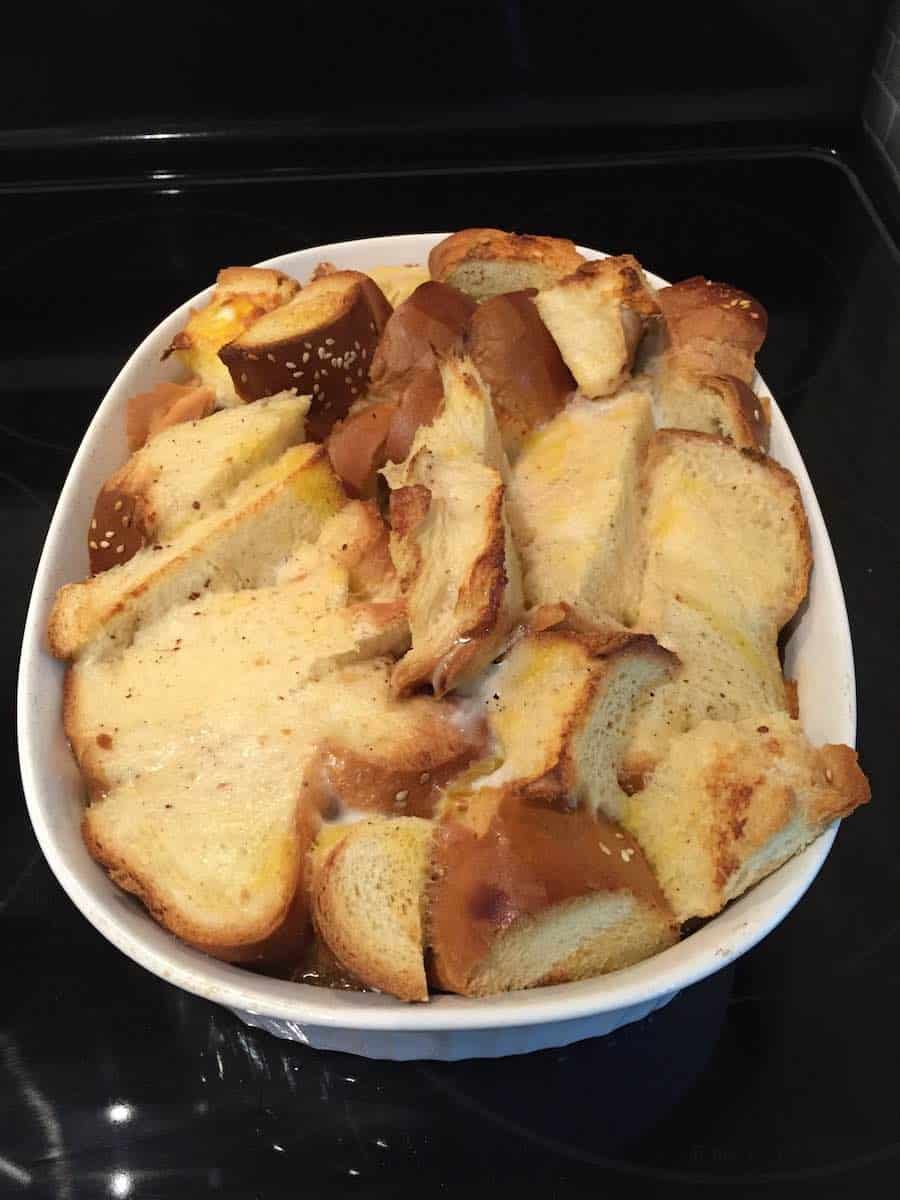 Simple Overnight Baked French Toast – by The Professional Mom Project
Here is another great overnight brunch option. I love things I can do the night before. Because no matter how much I try there is either an ingredient I forgot to pick up at the store or there is an unexpected wrench that gets thrown into our mornings. This baked french toast you can be put together the night before to help Mother's Day run smooth.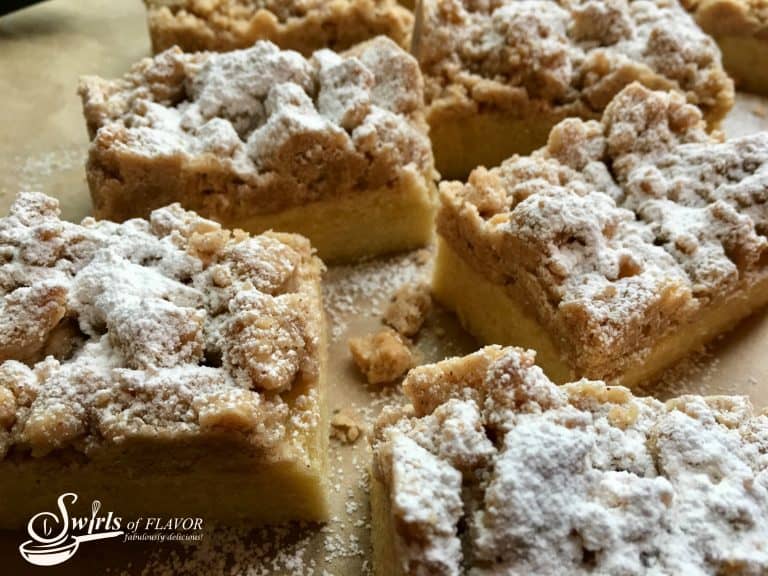 Best Ever Crumb Cake – by Swirls of Flavor
Filling up on something sweet is always a good route to go with my wife. She loves a good sweet treat for Mother's Day and crumb cake is one that fits the bill. We often serve this with a great coffee and fresh fruit. Does your wife love a good coffee cake too?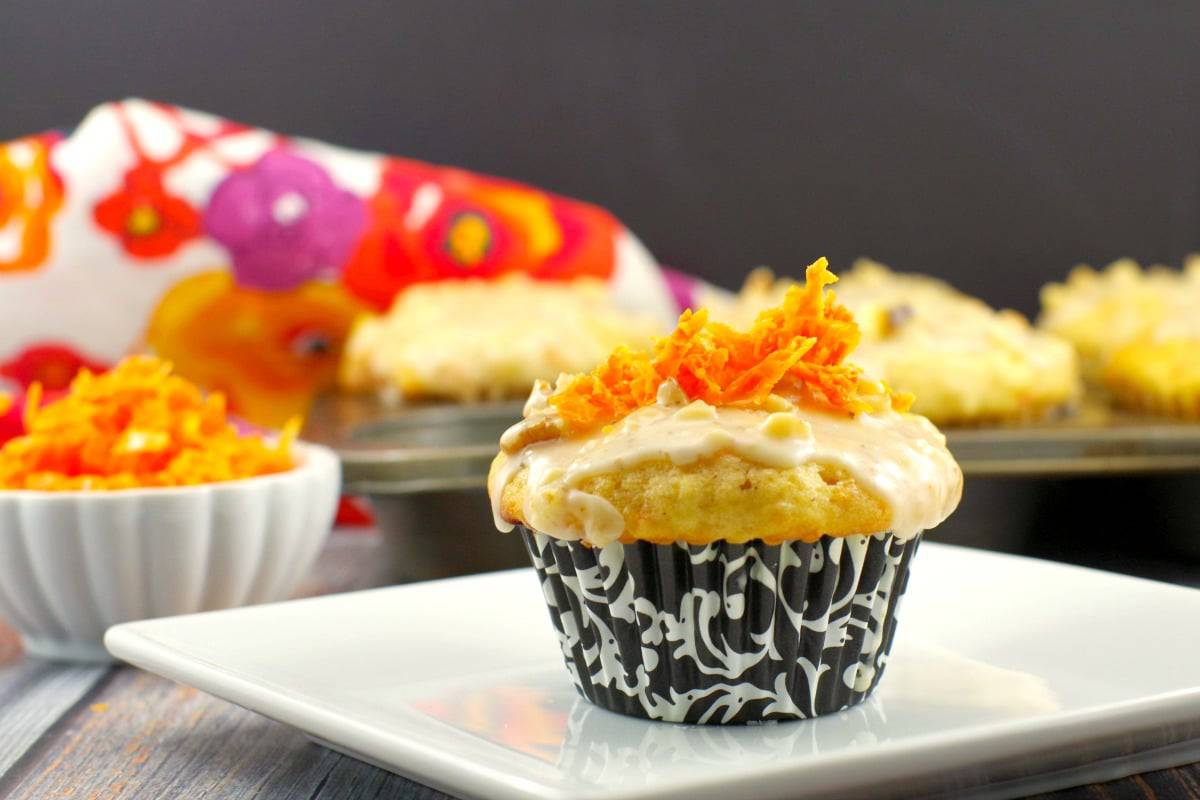 Glazed Carrot Cake Doughnut Muffins – by Food Meanderings
If she loves carrot cake then you are going to love this new twist on an old favorite. These almost look too good to eat. Get ready to impress your lady with these tasty carrot cake doughnut muffins. Just try to resist eating them all before you are able to serve them on Mother's Day!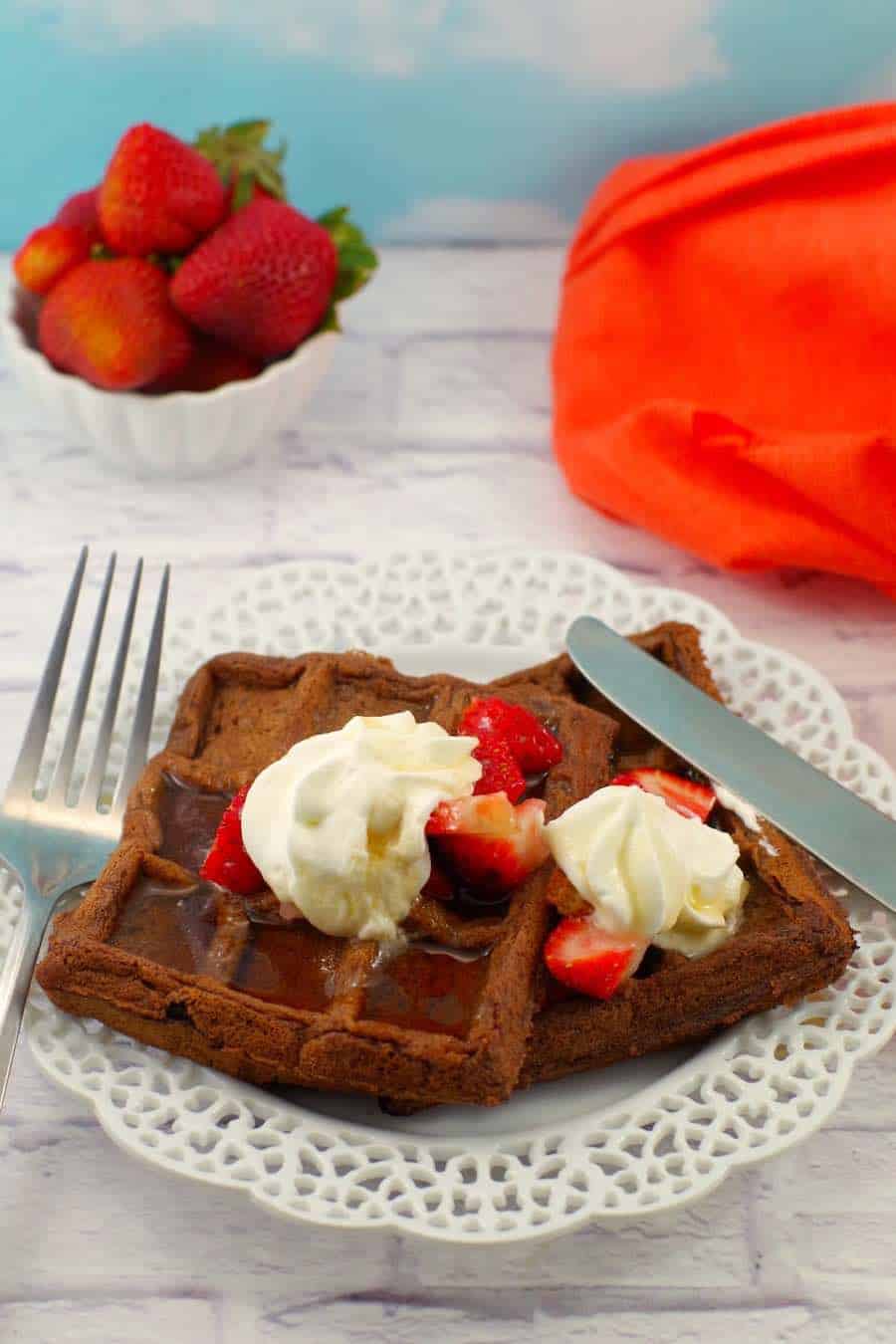 Belgian Chocolate Waffles – by Food Meanderings
Continuing on with our 30 easy Mother's Day brunch recipes brings you to a staple in our home. We love waffles and these chocolate waffles are no exception. Sometimes we have to make a double batch because everyone always seems to want seconds and the occasional thirds! Get out the fresh berries and whip cream to make this dish one she will never forget!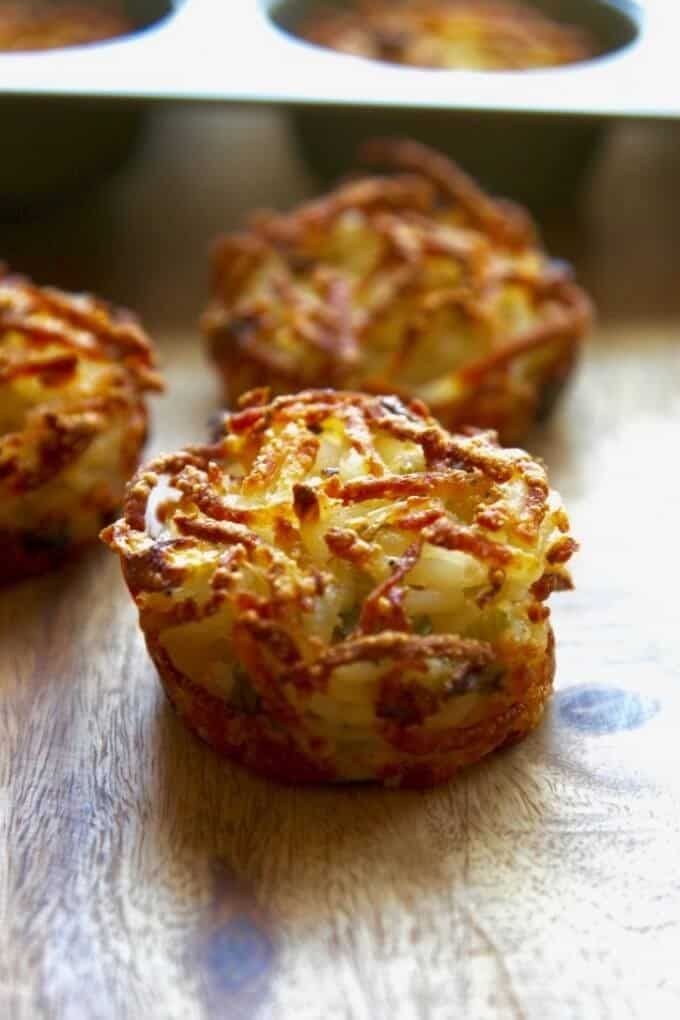 Parmesan Hash Browns – by Delicious Table
These tiny bite-sized morsels will go great with a breakfast casserole. There is nothing better than pairing hashbrowns and good parmesan cheese. Cheese is one of my wife's love language. You might want to make doubles of this one as it is sure to be a hit with the mom and family.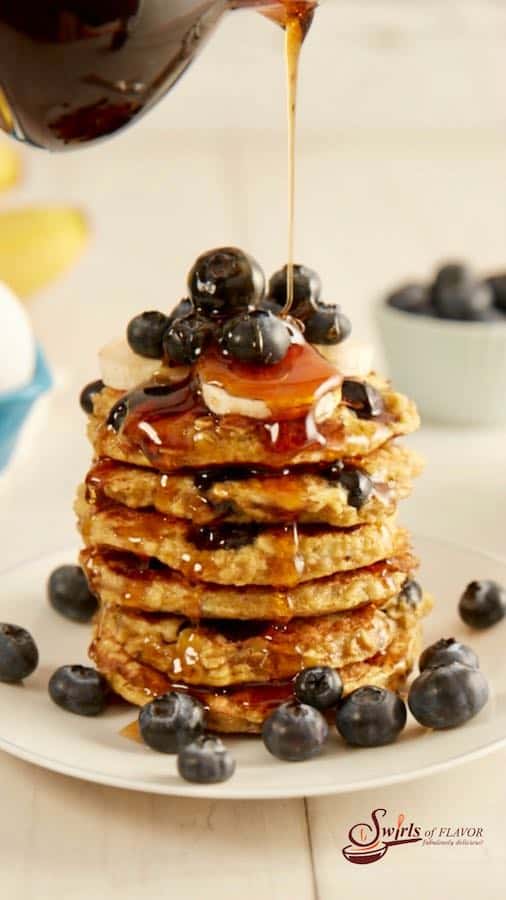 Gluten Free Blueberry Pancakes – by Swirls of Flavor
Do not let allergies or wheat intolerances keep your wife or mother from enjoying a tasty pancake. If your wife or mom has eaten gluten free for a few years, try these as I bet she says you can not taste the difference. Top with your favorite fresh fruit, a bit of syrup, and she will be pleased all day.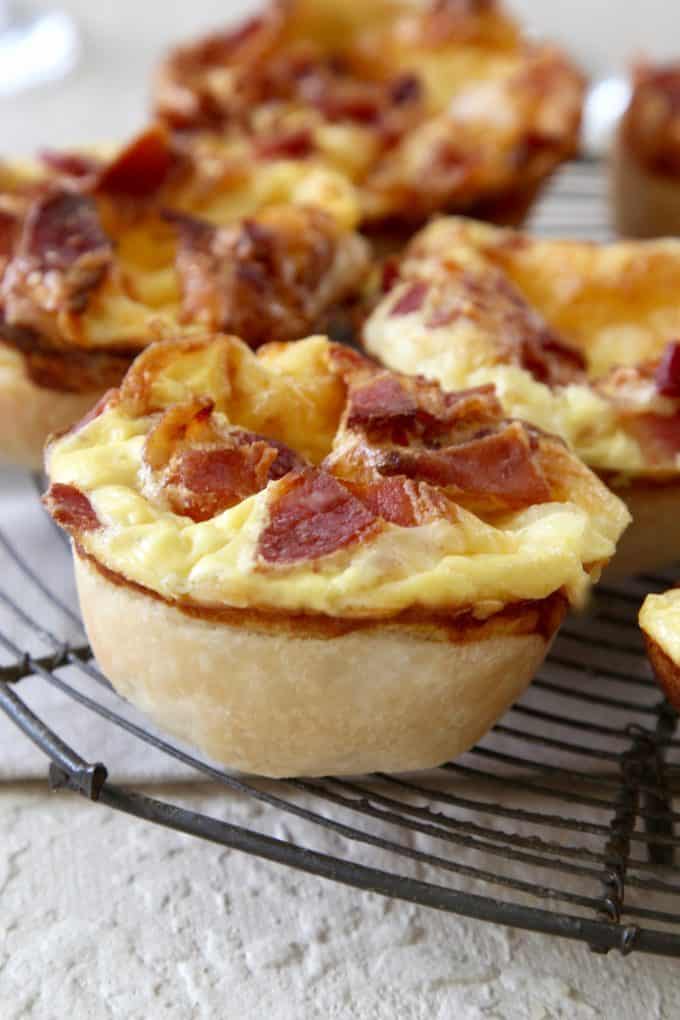 Mini Brie Bacon Quiches – by Delicious Table
Serving a crowd? These mini quiches are simply delectable. The recipe is super easy to follow and they bake up in no time. It is always a good idea to make a few extras too as they freeze well! You can change out the ingredients as well to satisfy even the toughest critics.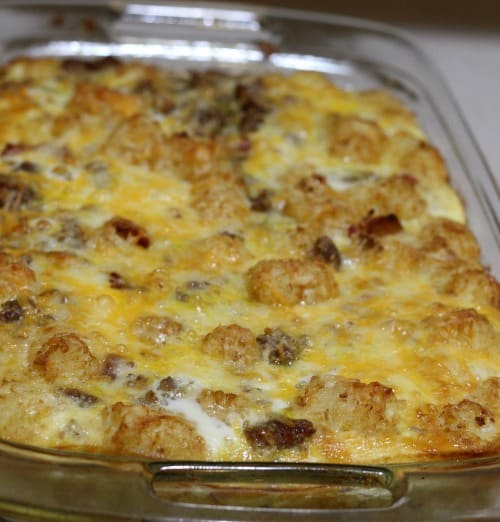 Easy Tater Tot Breakfast Casserole Recipe – by Cook Eat Go
I have made this several times and everyone has eaten every last bite of it. This is one of my wife's favorites to serve with a crowd and a Mother's Day brunch is no exception. This dish can be made the night before so it is ready when you are.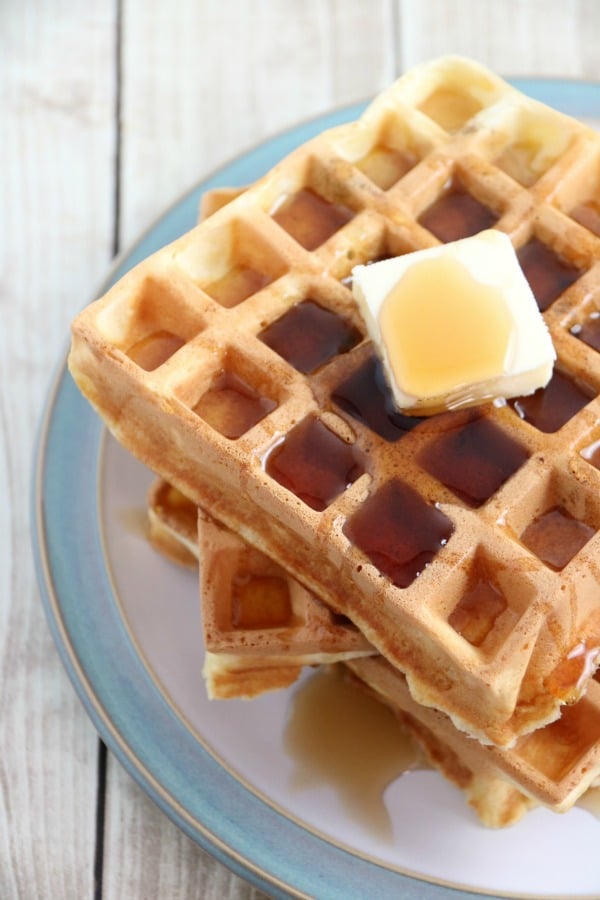 Chocolate Chip Waffles – by Family Food and Travel
Get the kids involved this Mother's Day to let them show their appreciation and love for their mom! My kids love to help make these as they sprinkle the chocolate chips, they sneak a little for taste testing of course. Sprinkle on your favorite toppings and a bit of fresh whipped cream. These chocolate chip waffles are sure to delight any mom.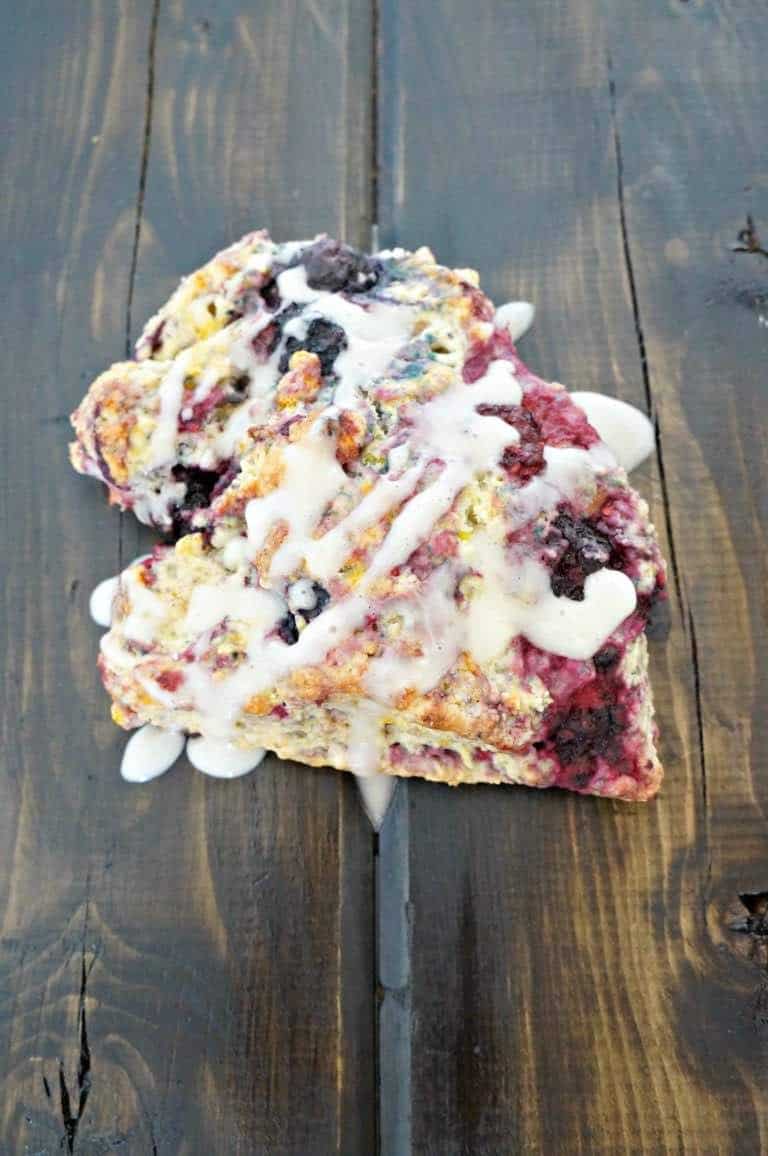 Berry Citrus Scones – by Slapdash Diaries
There is a bunch of good and juicy in-season fruit out about now. My wife loves strawberries, but you could cater to what your wife or mom loves. Nothing like a fruit scone for a balanced brunch. You can serve this alongside one of our other amazing easy Mother's Day brunch recipes.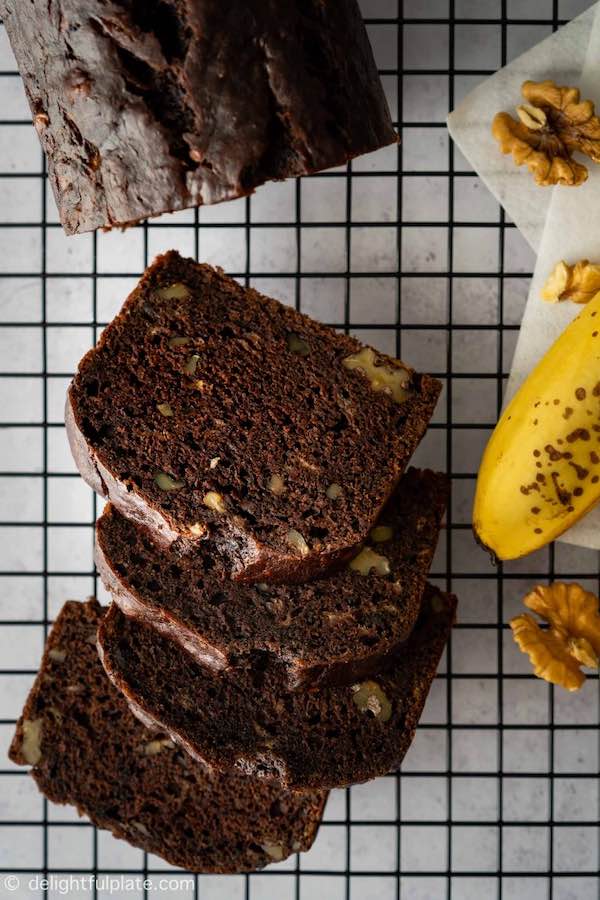 Easy Chocolate Walnut Banana Bread – by Delightful Plate
This is a good twist on another old favorite. We love some banana bread around here so when you add chocolate to it, the recipes enter a whole new level of taste. Surprise your wife with your sweet cooking abilities in this easy to follow the recipe. Plus she will be delighted that the bananas sitting on the counter didn't go to waste.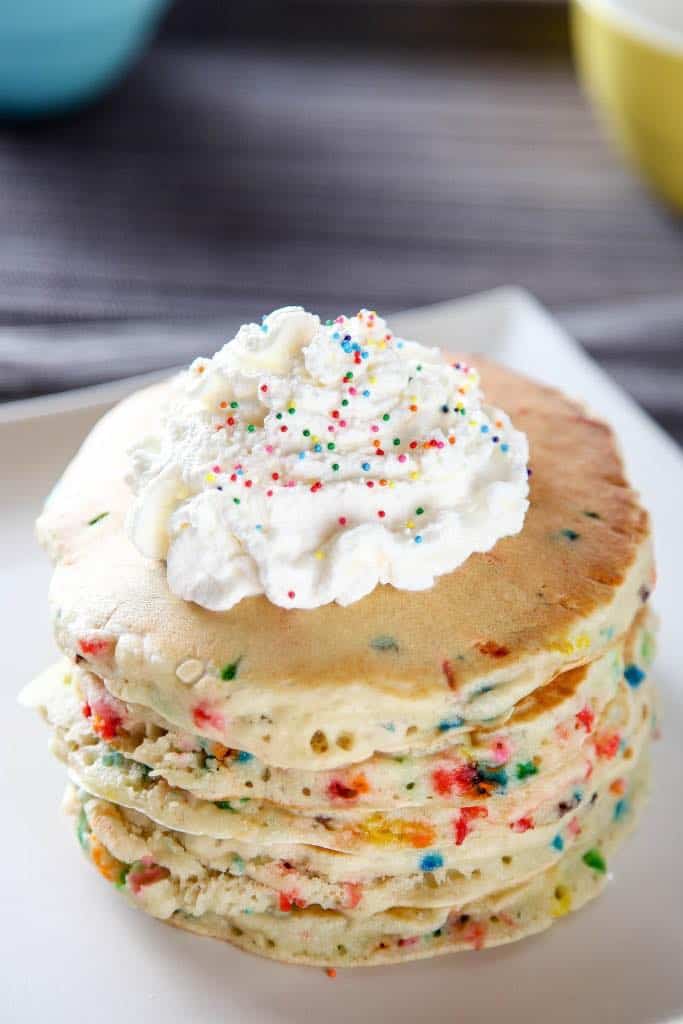 Cake Batter Funfetti Pancakes – by Baking Beauty
Celebrate like the world revolves around her! My mother and wife do so much for our family to help everything run smoothly why not make the pancakes that are a party in your mouth. This one will delight the kids as well. What a better way to celebrate than with these FUN pancakes!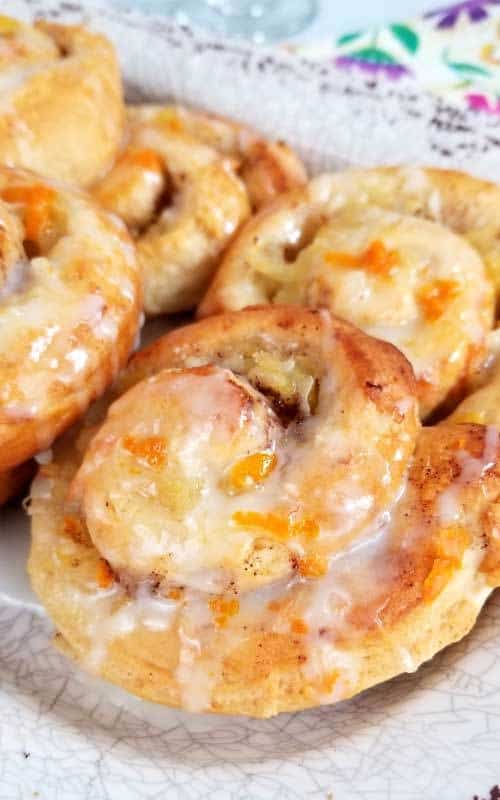 Orange Pineapple Sweet Rolls – by Sparkles of Yum
In my book sweet rolls can do no wrong, so why wouldn't I make them and share them with the special lady in my life. When you combine these two citrus fruits in this recipe you are whisked away to a tropical island! Top with some sweet icing drizzle and enjoy every bite.
Easy Ricotta Cookies – by Recipe Pocket
Do not let the thought of using ricotta cheese in these cookies deter you from making them. They turn out so smooth and creamy, they are one of my mothers favorite. Make a few dozen to pass out to your loved and cherished ones this mothers day.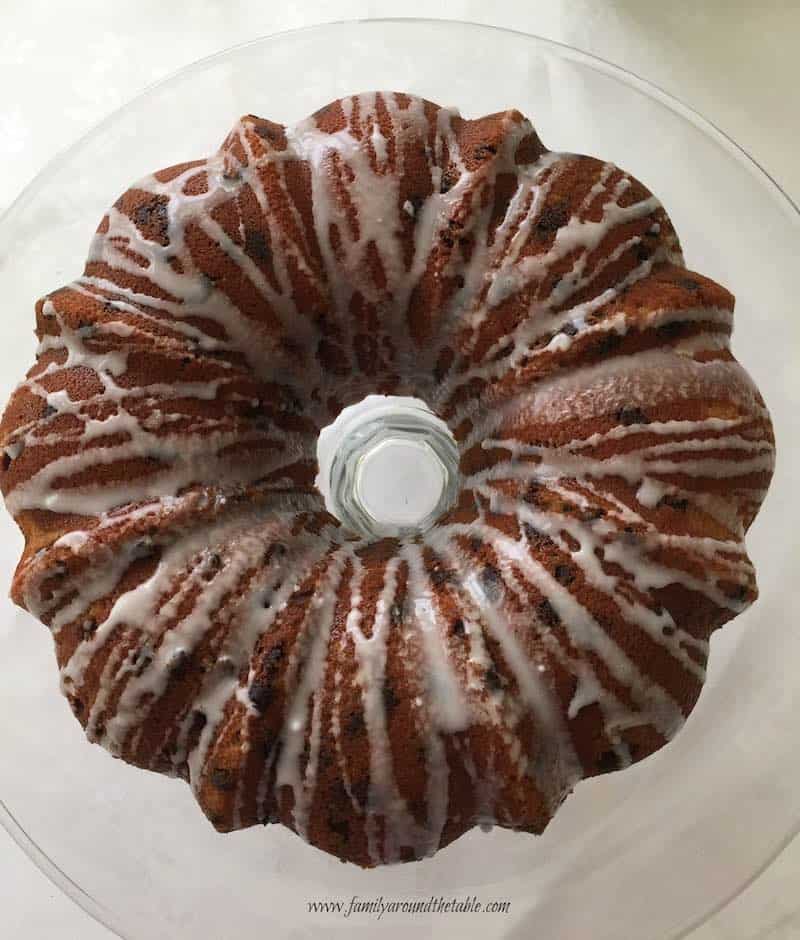 Chocolate Coffee Pecan Swirl Coffee Cake – by Family Around the Table
Here is another great coffee cake recipe. This one pairs chocolate, coffee, and pecan swirl to make a scrumptious cake. There is really not much to not like about this! Serve with her favorite coffee or tea.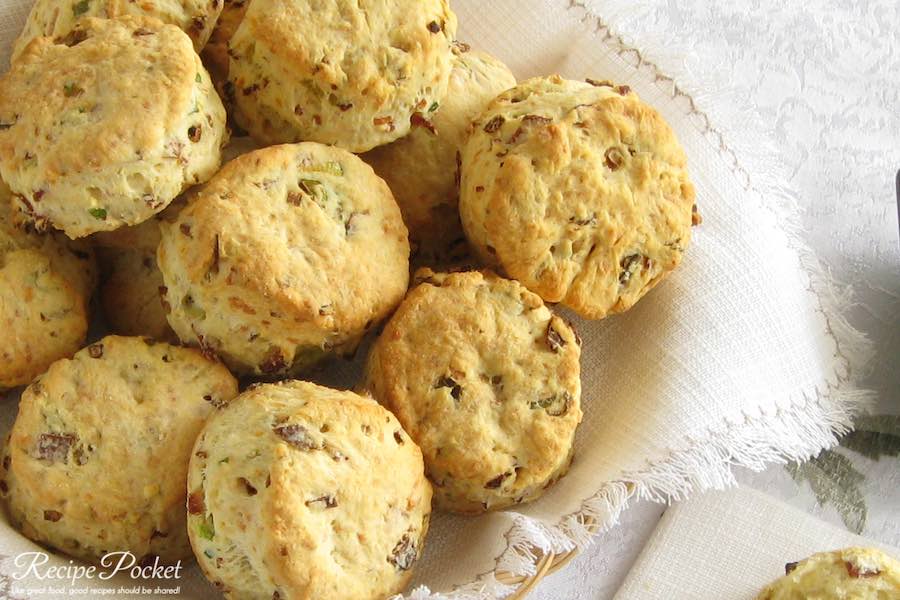 Cheese Bacon Scones – by Recipe Pocket
Let us take it back to some simplicity with these scones. There is something so good about mixing melty cheese and salty bacon. You can make these ahead of time and just warm them up or eat them room temperature. Either way, you go, they will all be gone by the time brunch is over!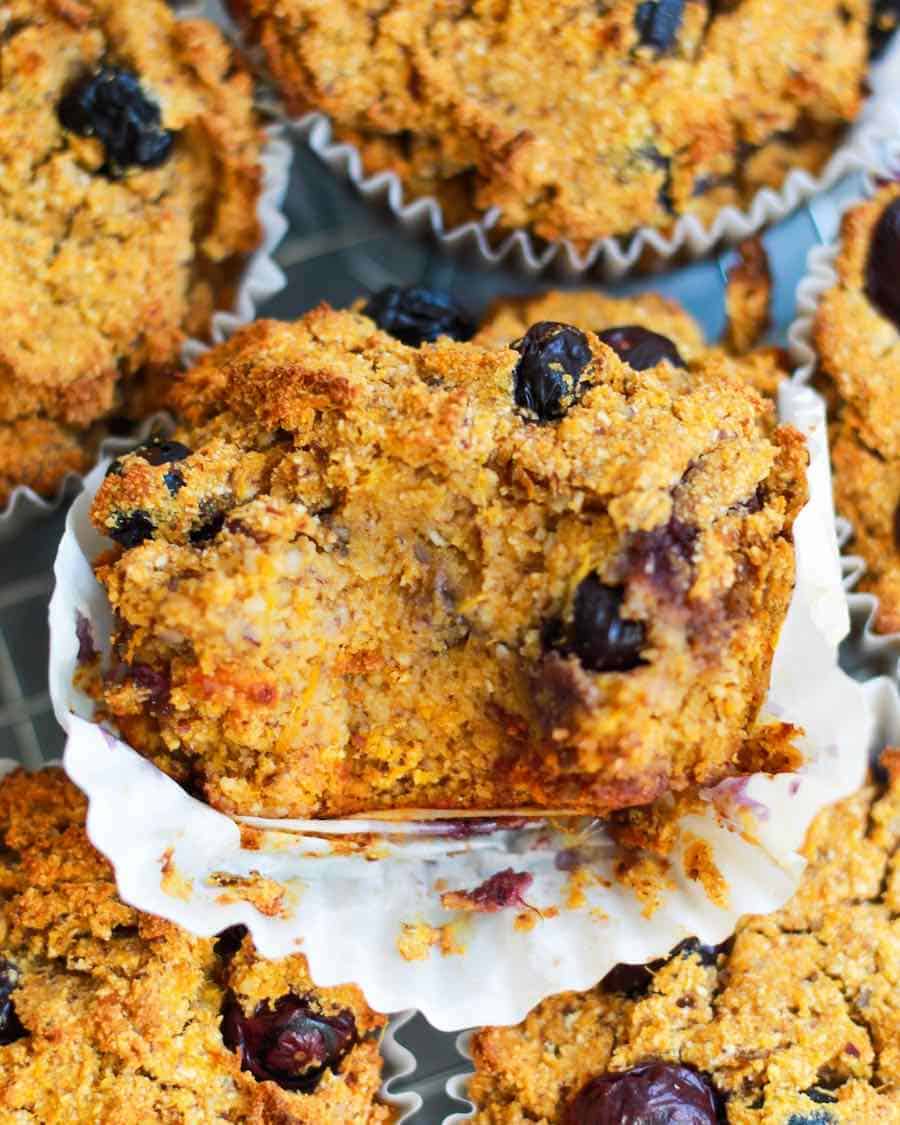 Vegan Paleo Blueberry Muffins – by The Banana Diaries
Is she on a diet or just wanting to eat healthier, then this is a good one to make for your special lady! Blueberries are almost in season around here so I make sure to pick up a few extra pounds of them to keep in the freezer for special occasions! These muffins will delight any mom.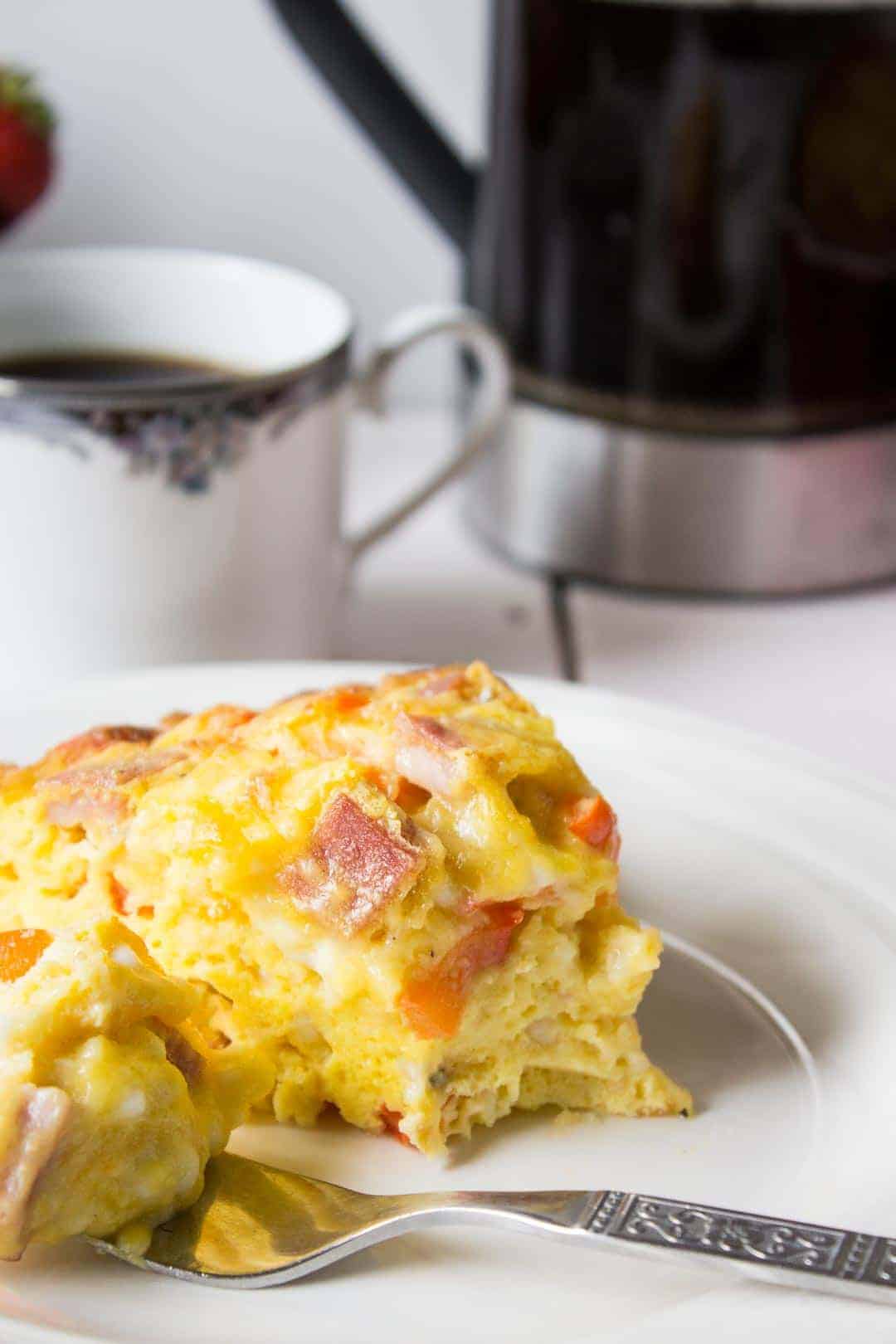 Cheesy Baked Egg Casserole – by Beyond the Chicken Coop
Last on our list of 30 easy Mother's Day brunch recipes brings us to this easy peasy casserole. If you like to save extra time on the special day then feel free to make this ahead of time. You just need to bring it to room temperature, about 30 minutes, before you bake it off. Your wife and mother will be highly impressed with your baking skills with this delicious dish!
Mother's Day is one of my favorite holidays because it is a day devoted to my wife and mother. If you do not have a wife then you can show your mom how much you appreciate them! Remember this lady wipes snotty noses, kisses ouchies and much more! 30 easy Mother's day brunch recipes are just the beginning of how to show her you love her! Check out our Top 20 Easy DIY Mother's Day Gift Ideas to help you make this be the best day ever! Let us know which brunch recipes you plan on trying out as we love to hear from our readers! I want to wish all the mothers out there a very Happy Mother's Day! You are loved and appreciated! Enjoy your day and allow your family to pamper you and give you a well-deserved break. Remember you don't have to wait for Mother's day to show your appreciation, we have 10 ways dad can help in the kitchen the 364 other days of the year.