Are you planning a family vacation this summer and looking for some easy tips for your beach trip? If so, you'll enjoy these 10 Ways To Make Your Family Beach Trip A Breeze! We have lots of recommendations and beach hacks to help you and your family focuses on what's most important—relaxing and making memories with each other.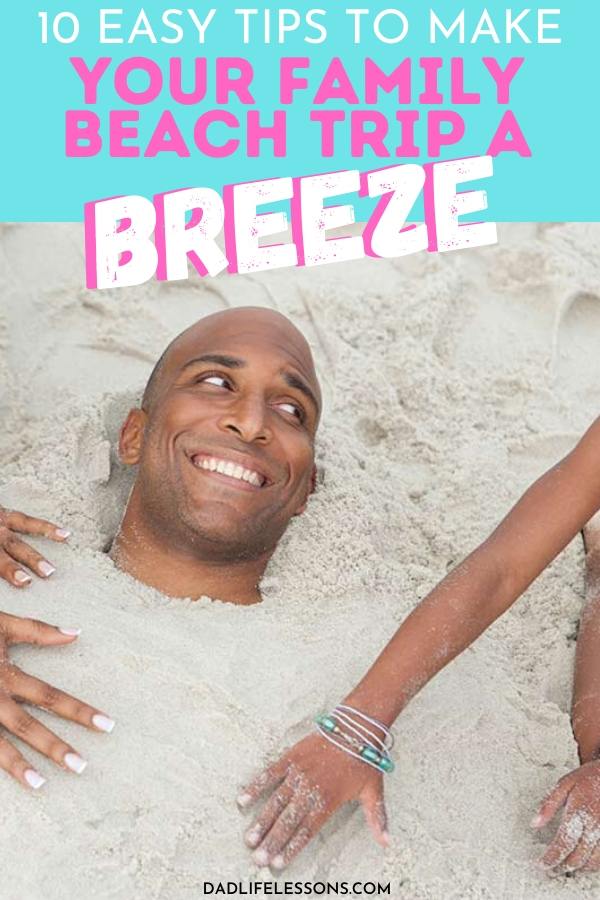 There is really nothing better than spending time away from it all and soaking up quality family time somewhere as beautiful as the beach. But, we know any all day outing with little ones goes over well with some careful planning. Whether this is your first time taking young kids or babies to the sandy shores or your family can be considered beach veterans, you're sure to find something of use in our 10 Ways to Make Your Family Beach Trip a Breeze.
Tips For Your Next Family Beach Trip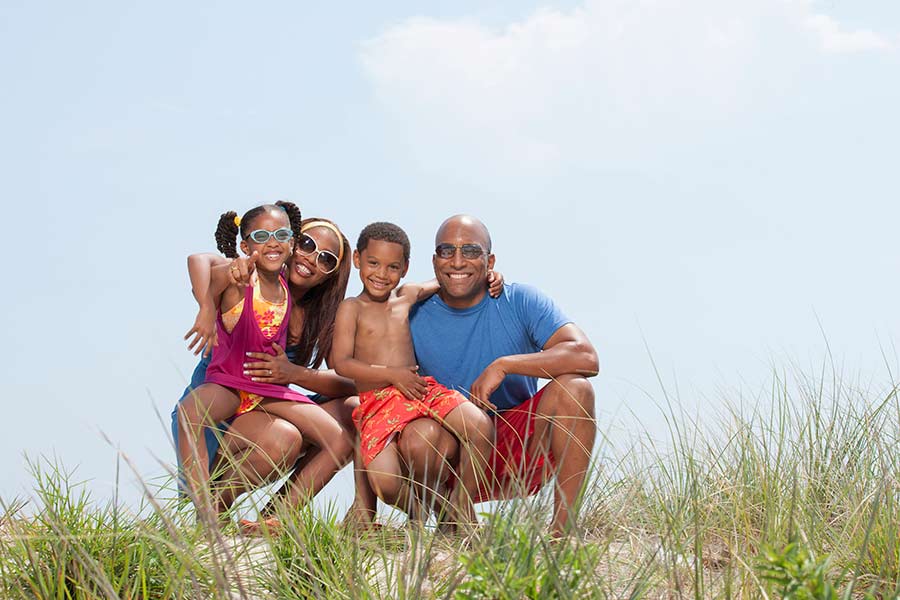 1. Prepare the car for the family beach trip. Unless you are one of the lucky ones to live only a short drive from the beach, then you know that the trip itself I the first hurdle to get over when traveling to the beach with kids. If you are driving with young kids, consider packing a special backpack up for each of them to include one small new toy, a book, and some snacks. New toys, no matter how simple, are always a hit with small kids. Plus the snacks will keep you from having to shell out for all the overpriced gas station snacks they'll be tempted to ask for. Check out these travel trays to make reading, playing, or eating from their car seats easier.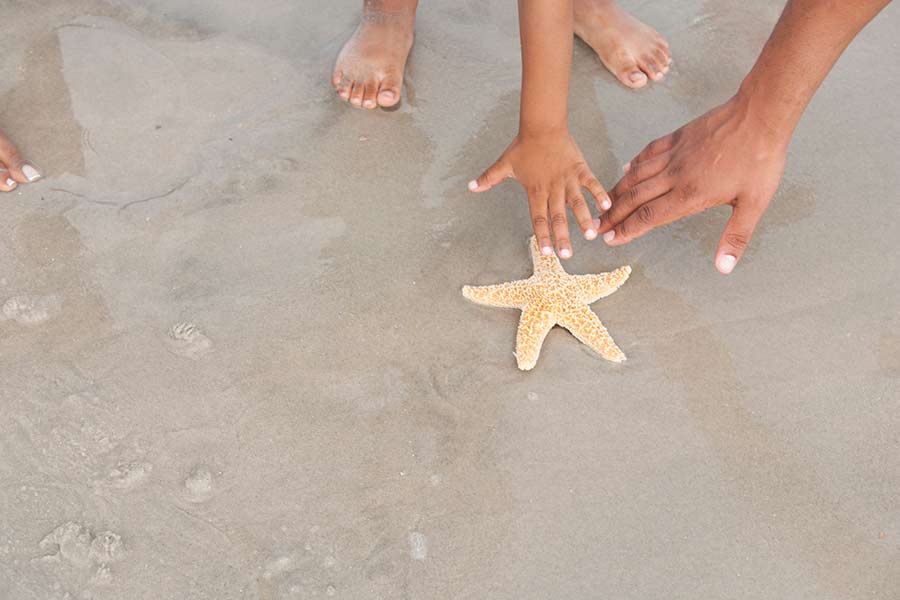 2. Pack baby powder. For as much as we all dream of that beach vacation, wet sand on a baby or toddler feels more like a nightmare! Baby sand is a must have in any beach bag both for you and the kids. Because it dries you off thoroughly by absorbing moisture, the sand just falls away and leaves you clean to head to the car or the room. This is one family beach trip tip you don't want to forget as we use it all the time.
3. Try a fitted sheet. So now you know the baby powder trick for sand, but for certain little ones, they may be best to avoid it all together. Whether it's a sensory issue or the fear they will want to eat it, you can keep the baby away from sand with a simple fitted sheet. Pull the elastic corners up over your beach bags, coolers, etc. until you have created some small walls low enough to enjoy the view but just high enough to keep out the sand. The added perk here is just how little space in the beach bag a sheet takes up!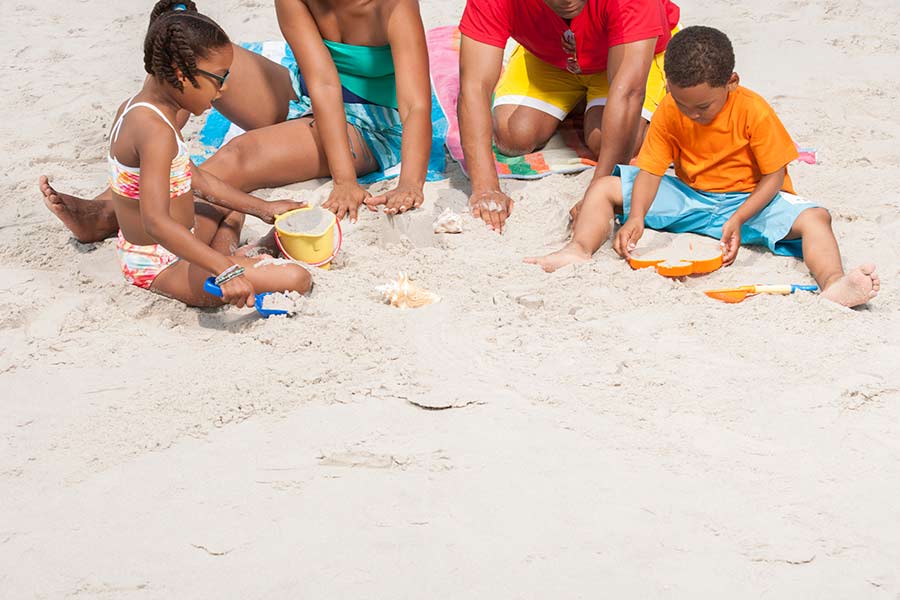 4. Pack a baby pool. There is a good chance babies and small toddlers aren't going to be ready to rush into the ocean on their first few beach trips. So, how do you keep them cool in the summer heat? Back a baby pool! Even older kids and adults will appreciate water nearby to dip their toes into. For ease of packing, try an inflatable pool!
5. Bring dry bags and extra clothes for the kids. Grocery bags work very well to keep wet clothes of other items in your bag, but if you want to be absolutely sure water stays contained, consider these dry bags. On the way to the beach, each bag can be packed with a light change of clothes. Then when the day is done, swap out those clothes and replace with a wet suit. Now everyone is comfortable and dry.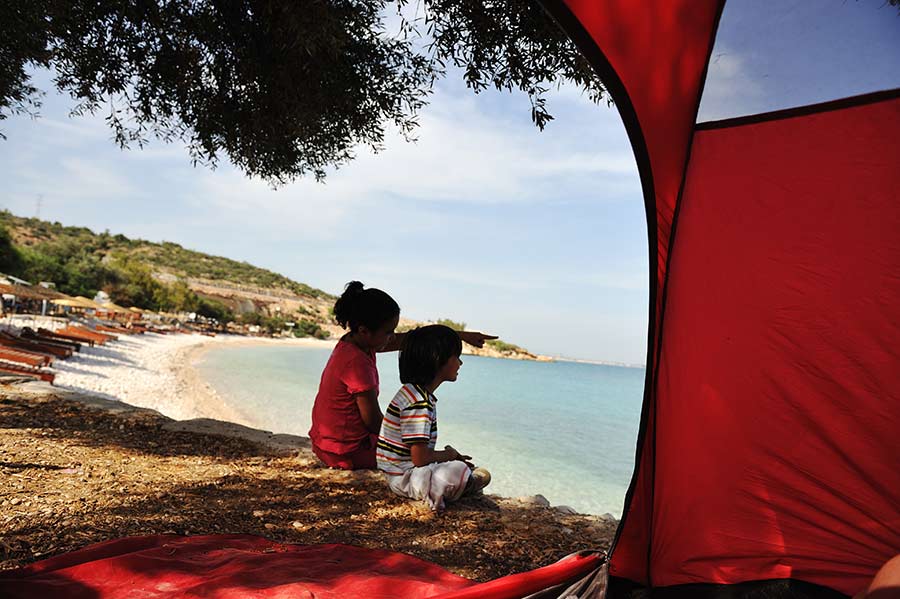 6. Bring a flat sheet too. No, we promise we won't tell you to pack throw pillows and duvets but hear us out. Don't you always wish your beach towel was just a little bigger? Don't your kids enjoy sitting on your lap or at least right next to you? A flat sheet can fold up super small and make the perfect beach blanket for the whole family to lounge or picnic on.
7. Splurge on a tent. This isn't a must have but it's sure handy if you can swing it. Babies and kids get hot and often times need a cool place to nap. You can still accomplish shade and naps without a full-blown tent, but if you have at least 2 adults to handle set up and take down, this tent make a world of difference for how comfortable your day at the beach is. Plus, you won't stress as much about sunscreen and multiple applications when you can simply bring the kids out of the sun for a while.
8. Opt for rash guards and hats. Speaking of stressing about sunscreen, stay one step ahead by covering as much skin as you can to being with. On our family beach trips, we bring hats that shade the face and neck, as well as long-sleeved rash guards, are an excellent way to protect kids who will be so busy playing they'll hardly want to sit still for sunscreen application. Of course you still need sunscreen, but rely on these items for extra protection!
9. Bring a play yard. This is not a must have for everyone, but if you find yourself headed to the beach with a baby up to 18 months, this will make your life easy. The most beach friendly play yard would have to be this one that folds like a bag chair for easy transport. Baby can sleep here, play here, and have space to hang out while still being completely contained and safe while you tend to older children.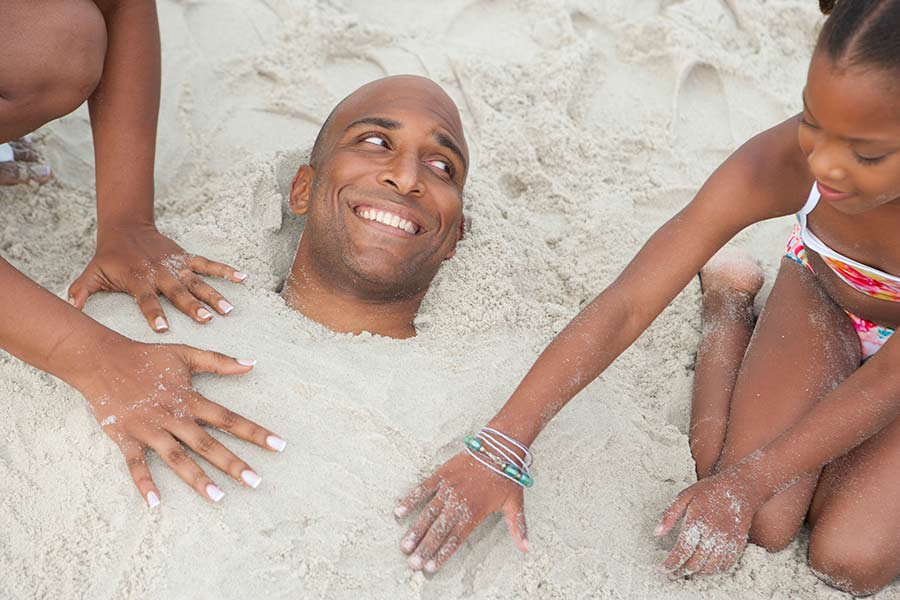 10. Let the kids help. Remember that backpack of road trip goodies you packed for the kids? Utilize these at the beach each day and allow your kids to carry their own items. A dry bag and change of clothes, towel, goggles, and even a drink or snack should fit perfectly and children as young as two should be able to carry their own backpack with ease. This leaves you with a free hand! Yeah right dad, you only have a few tents, baby pools and play yards to juggle yourself! But it will be oh so worth it for an easy beach trip with kids.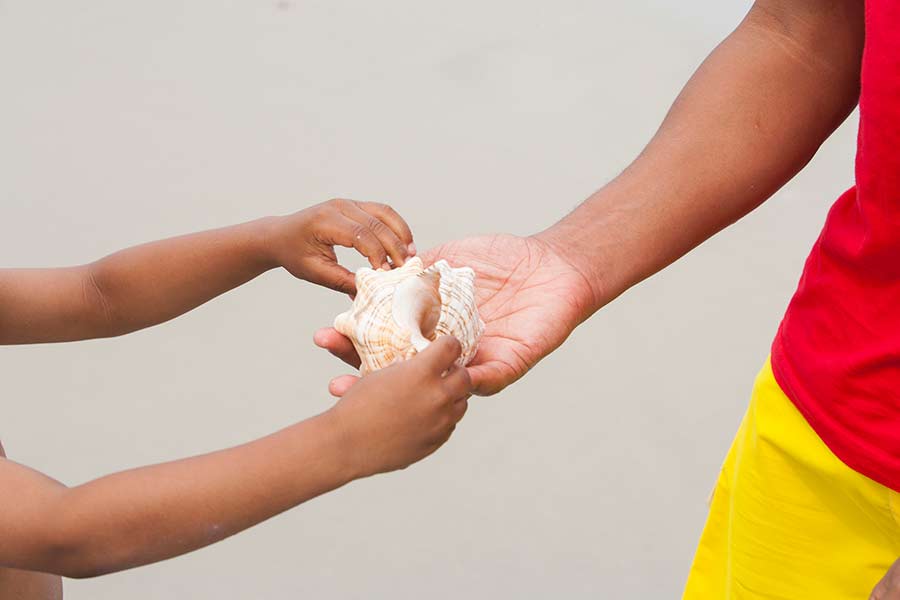 Summer will be in full swing before we know it, but before you start packing those bags, consider some careful planning and our 10 easy tips to make your family beach trip a breeze. Leave the stress behind and enjoy a vacation with your family, confident that you are prepared for it all!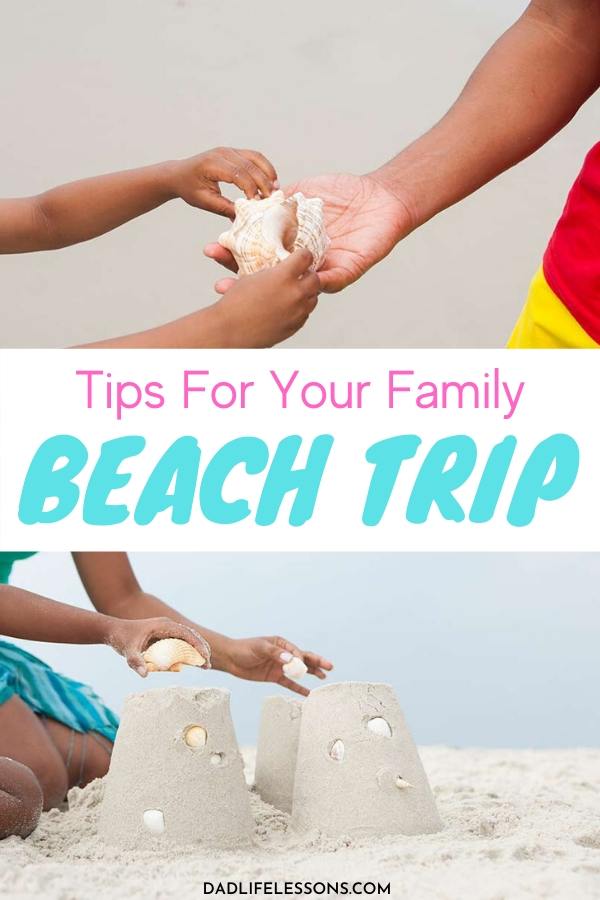 If you loved these family beach trip tips, be sure to pin this to your favorite vacation board on Pinterest so you can find it again. Post a photo of your vacation and tag us social media @DadLifeLessons. We love seeing people use our tips!
Other Family Fun posts you may like: