Do you and your family have fun little traditions that you do? Maybe they are yearly, monthly, or weekly? One of my favorite things to do as the kids got older was to have a family movie night! I have learned a lot of things over the years and I am here to share with you 8 Tips for Making Family Movie Nights a Success. With any tips that we suggest just make sure that you customize them to make them fit around you and your family's dynamics. You could be a newer family with younger children, you could have all teenagers, or you can have a family with all ages mixed in there. Either way, you know you will have a great time just being together as a family and creating lasting memories. Get ready to sit, back, and relax as you embark on your family movie night!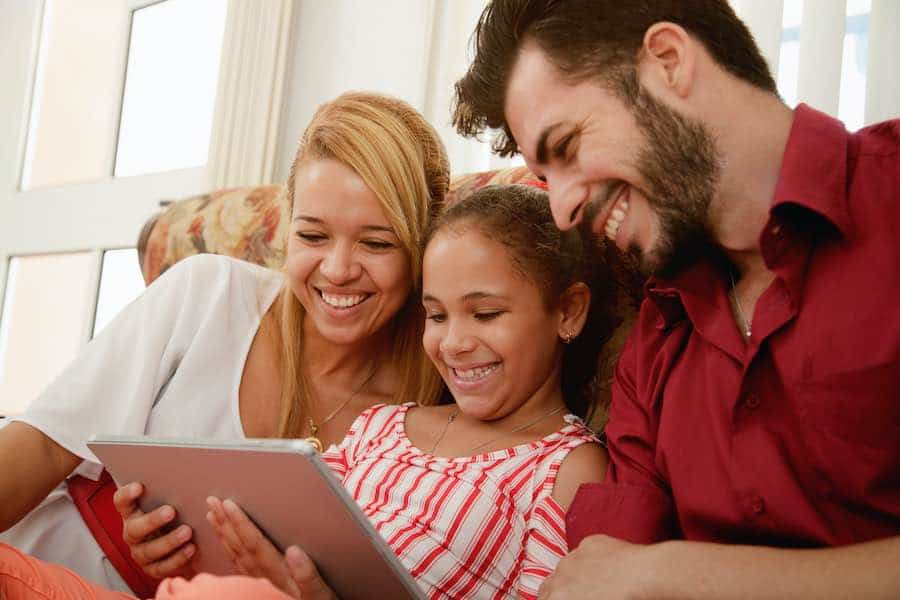 8 Tips for Making Family Movie Nights a Success
Schedule it

: The best way to get your family movie night a success is to make sure that you carve out time so everyone on your family is available. Having it scheduled not only helps you plan, but you can also build up the anticipation as movie night inches closer! For my family, we have family movie nights every Friday night at 7:00 pm. They know that after the movie is over then it is bedtime.

Take Turns Picking the Movie

: One of the easiest ways to get your family involved and also delegate some of the tasks is to have your kids take turns picking out the movie. As a general rule we make sure the movie is something no one has seen before. Sometimes my wife and I will preview a movie ahead of time to make sure it is appropriate for all the ages with our children. Keep reading for more

Tips for Making Family Movie Nights a Success.
Make it a Theme Night

: Now that your movie has been picked, let us kick up family movie night a notch by turning this in a theme night! For instance, if the movie has a western vibe then you can decorate with bandanas, you could sit on hay bales, make some fun cowboy caviar, and grab you some soda water. This theme night really has no limits as there are tons of different ways you can decorate for all wonderful types of movie themes!

Location, Location, Location

: Ok, now that you have your movie night scheduled, movie picked out, and theme of the night, now it is time to pick the location. You're probably thinking um, the living room! Yes, you are correct, but since the summer is almost here, being outside is the way to go! You can hang a large sheet and project the movie on the sheet. If you have a pool, then you can float around while the movie plays. Just make sure that safety is always first. Or you can all pile into the master bedroom for a special treat for the kids!

Arrange Seating

: Next up on our

tips for making family movie nights a success,

we come to seating! Again there are a bunch of really fun and creative ways to arrange seating for movie night. You can blow up an air mattress, throw some blankets and pillow on the floor, make a fort, or pile on the couch for a big old fun family huddle. This one is fun for the littlest's of the bunch. My youngest children are still in the cuddly stages so a big pile is my favorite. Whatever you choose make sure everyone is comfortable.

Did Some Say Snacks?: What movie is complete without snacks? None in our house! We love our go-to snacks of popcorn and their favorite candy. We make sure that a day or so before movie night, I take everyone's orders for their snacks. Some friends of ours went big with this one and set up a whole snack bar section. I loved this idea. You can really cater it to your family and needs!
Get Comfy

: Who likes to go to the movies all dressed? No me! I would rather grab my sweets and relax at the theater, but my wife always has a different opinion about that. So when we have family movie night that is exactly what I do! So make sure you put on some comfy clothes. For our kids we have them put on their pajamas. It makes it easier with their pajamas because sometimes some of them fall asleep before the movie is over and we can simply carry them to their beds already dressed!

Talk About a Movie

: Last on our list of t

ips for making family movie nights a success

is one of my children's favorite thing to do after movies! They love to talk about all their favorite parts! Since we do the movie in the evening and it is usually bedtime by the time the movie is over. So what we started implementing is that we discuss the movie over breakfast the next morning. This not only lets our children collect their thoughts and get excited about talking about the movie, but it also save us from having to cut them off from expressing their excitement because it is way past bedtime. With older kids like preteens and teenagers then you could talk about the movie after it is over since they are a little older and bedtime is a little later.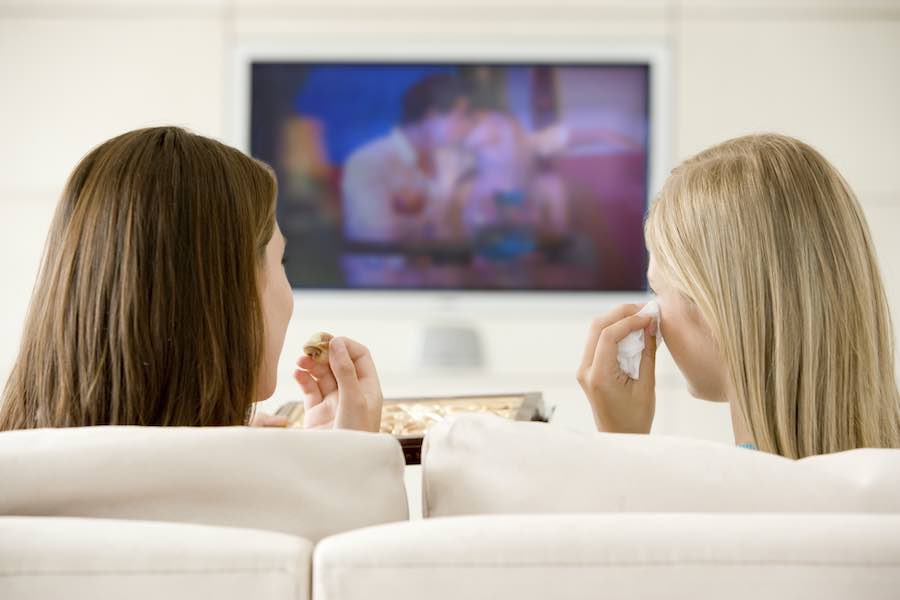 No matter what movie you decide, where you watch it, what you eat, or what you wear, the main point in all of this is that you now have 8 tips for making family movie nights a success. A successful movie night is one that kids of all ages look forward to. They will at some point understand and cherish this time together and hopefully will continue this tradition on with their families as well. Another thought you can do if you have kids with a wide age range you could do two family movie nights. One for the younger kids and then one with the older crew. You never know, you might have their friends over wanting to join in on your family movie nights! Let us know what you thought about these great tips for a fun family movie night. We look forward to family movie night every week and we hope you will too!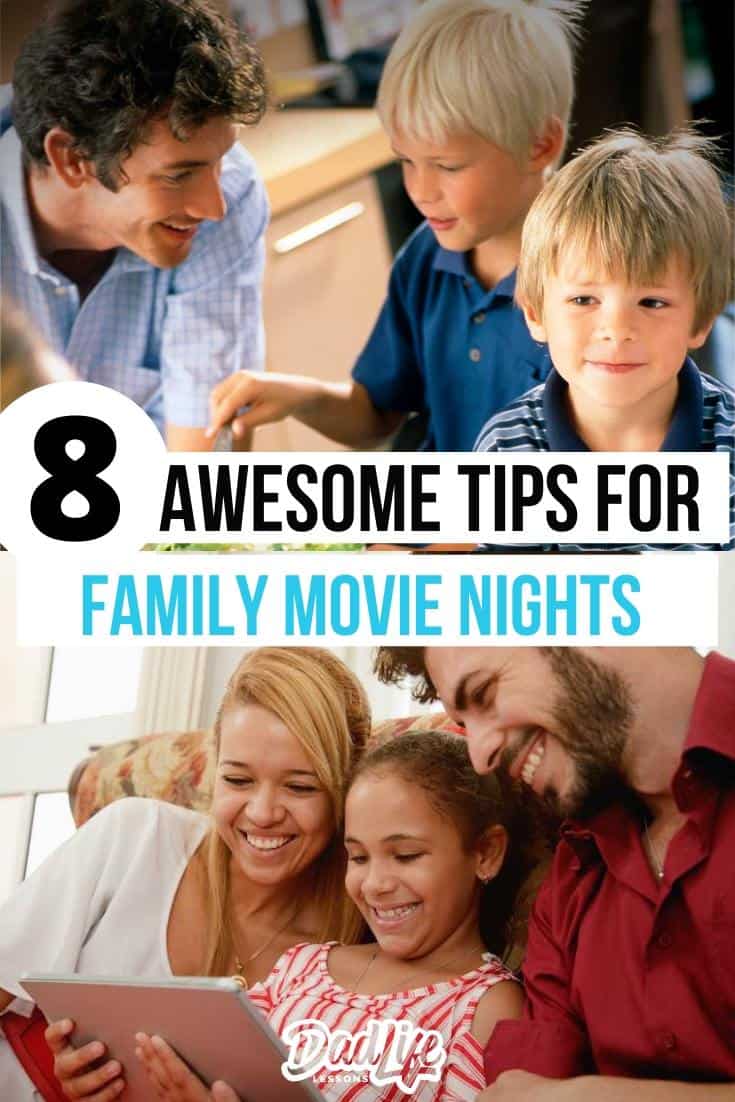 If you liked the tips for making family movie nights a success make sure to pin it to your favorite Pinterest board or share it with friends on social media. That way you can easily find these great movie tips in the future as well as share them with friends and family.
Other Dad Life Lessons posts you may like: