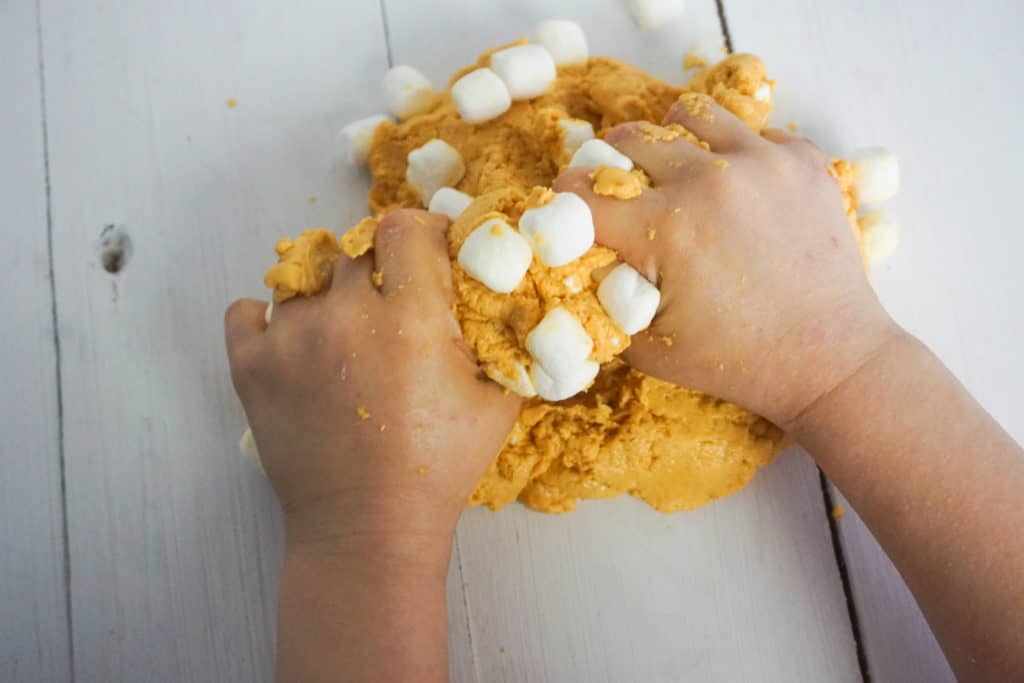 Did you know it's ridiculously easy to figure out how to make pumpkin pie slime? I didn't. When I set out to make pumpkin slime, I honestly thought I would have to use more than 3 ingredients. Wrong. Just 3 ingredients and you've got an amazing-smelling slime that the kids can play with for hours. We decided to make pumpkin pie slime one afternoon when a rainstorm blew through on a cold front. Since the days had been so warm, this sudden chill was kind of a downer for the kids since they didn't want to play in the rainy cold.
They needed something to do. Something that would make them smile. Something fun. So I made some amazing pumpkin pie slime. It's taste-safe, but since it doesn't have any sugar in it (to keep it from making a sticky mess everywhere), it doesn't actually taste very good. Much like pumpkin doesn't taste very good without some sugar to make it into a pie. If you're ready to get your pumpkin pie slime ready for a cold, wet day, let's get started!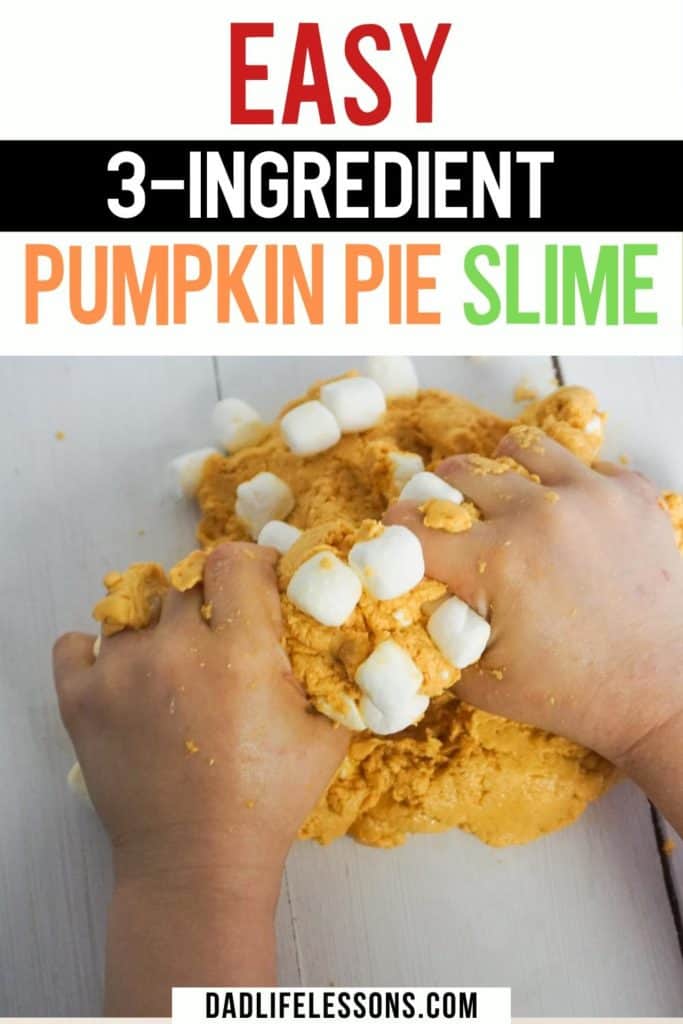 How to Make Pumpkin Pie Slime
Supplies:
Here's what you'll need. Start with 2 cups of pureed pumpkin. I just bought the canned pumpkin. If you're feeling inclined, you can boil chunks of pumpkin and then puree them yourself. The canned pumpkin is very smooth, though, so if you want non-chunky slime, boil your pumpkin pretty well to achieve the same result I had. You'll also need 2 cups of cornstarch. Nothing fancy, just the stuff you keep in the kitchen for thickening gravy–or making slime. Don't forget the 1 cup of mini-marshmallows.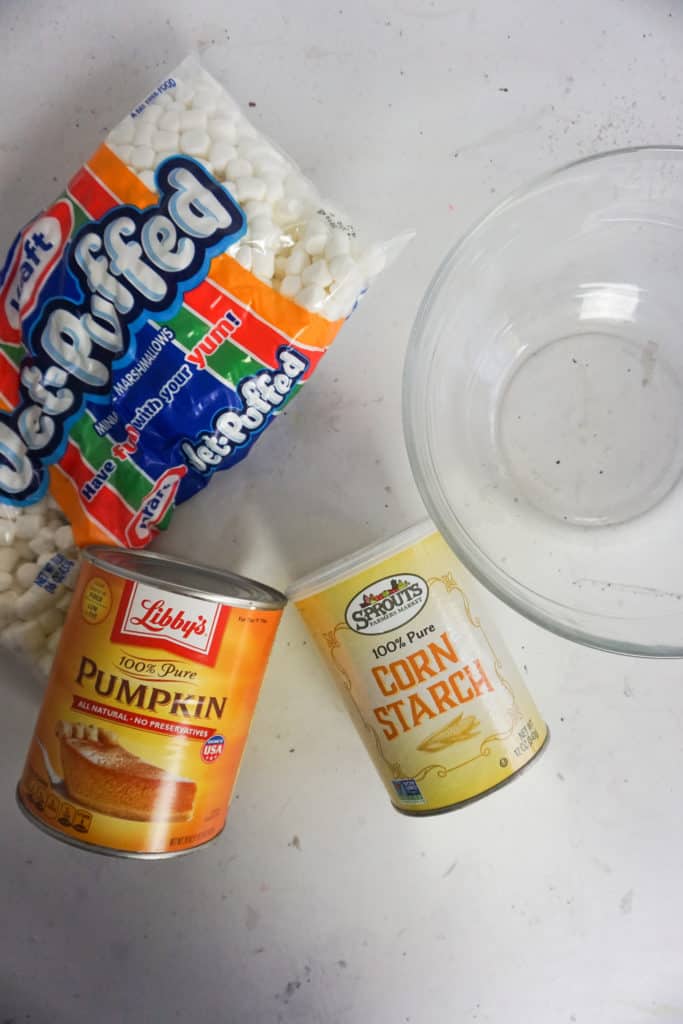 If you want super silky pumpkin slime, you might add ⅓ cup if olive oil, but this is absolutely optional. I didn't do it until the kids had played with the pumpkin pie slime for a while, so it was just an experiment and didn't really do anything but make the slime silkier. As far as tools, you'll want a large bowl and a spoon. Yep, that's pretty much it. You can use measuring cups, if that's your thing, but the size of portions is approximate. As long as you get about the same amount of cornstarch as pumpkin puree, you'll be in business. So, eyeballing it is ok.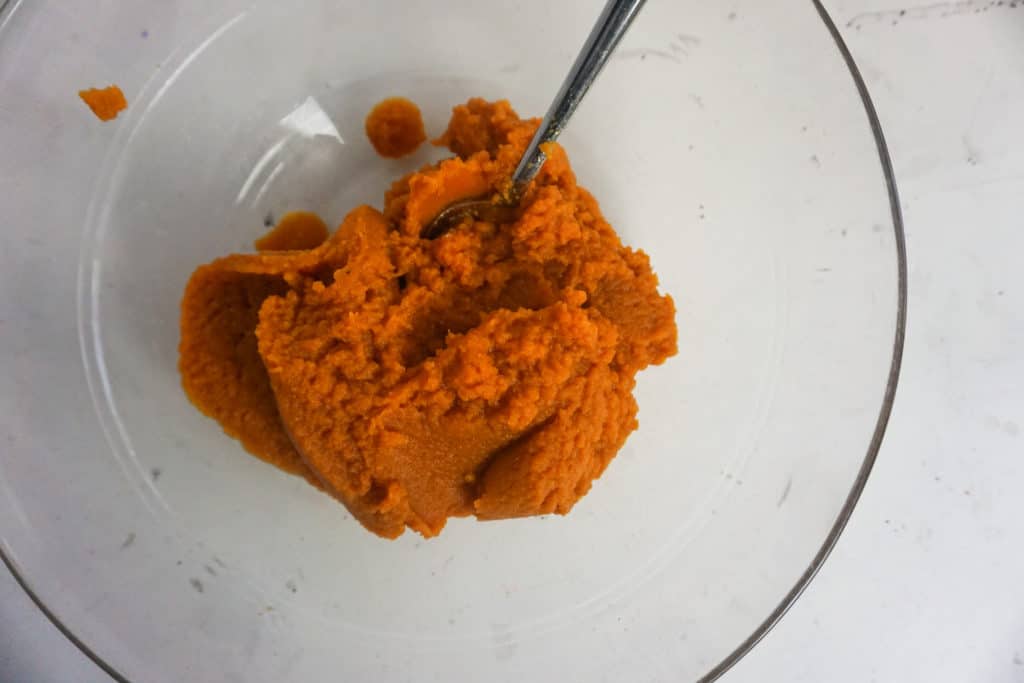 Once you have everything ready, put the pumpkin puree in the bowl. I used one of the really big cans of pumpkin puree, so I used about ¼ of the can. The smaller cans have about 2 cups in them, so you'd only be using about half a can if you bought the smaller ones.
Next, add the cornstarch. You can add a little at a time and mix it in increments, or make a roux like you would for a gravy. I just dumped it all in and it worked out just fine. No lumps were discernible. What really matters is the pumpkin itself and how much cornstarch is going into it.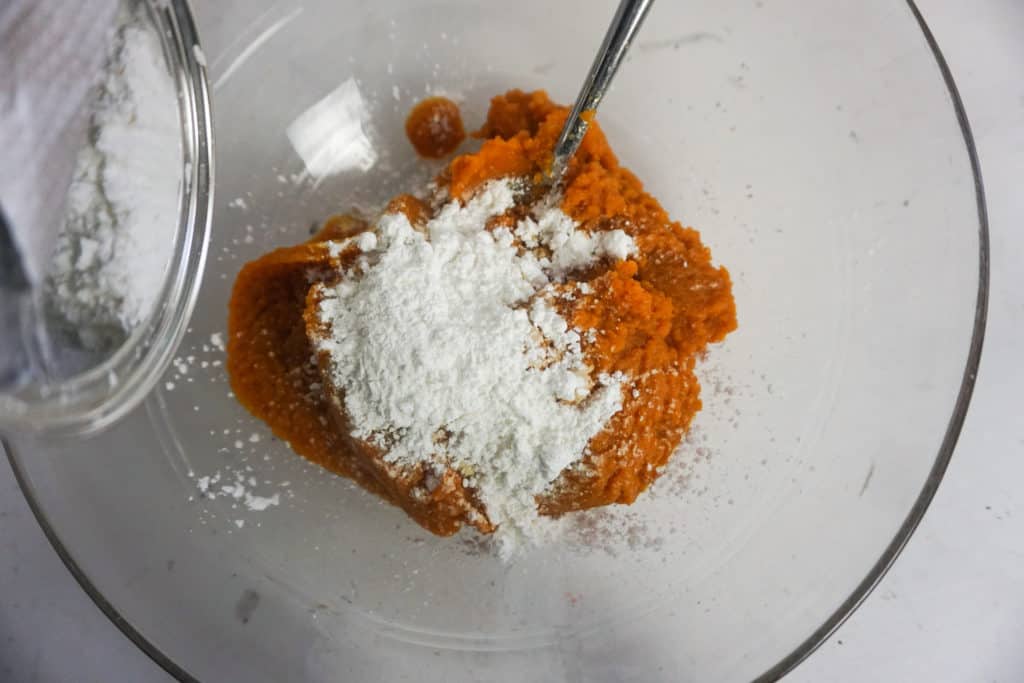 About halfway in, I had to ditch the spoon and start stirring with my hands. This is fine, anyway, because you want the slime to feel like thick, well, slime, and you can't really tell that texture while stirring with a spoon.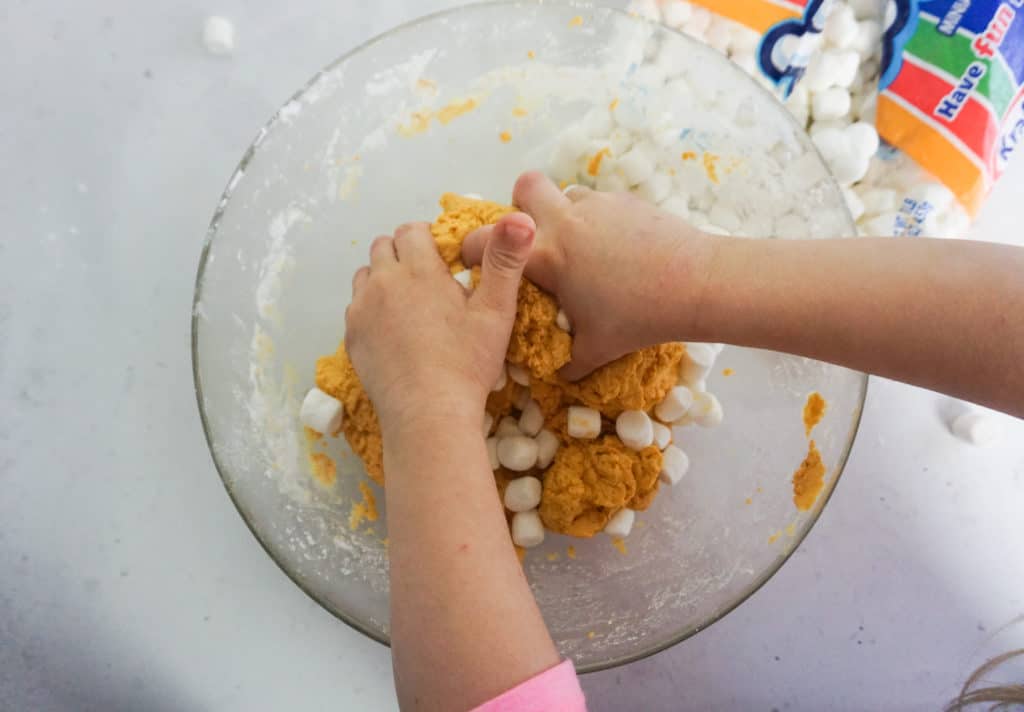 Finally, you'll drop in the marshmallows. I had gained a little audience by the time I got to this step, so I went ahead and let my little kiddo get their hands in the slime and mix the marshmallows in. The slime is made, anyway, and the marshmallows are just for some fun texture, so it made sense to let her get involved–she was about to be elbows-deep in it anyway!
You can keep this pumpkin slime in a zipper bag for about a week, unrefrigerated. But, it's so simple to make, if you or the kids decide that more pumpkin slime is on the agenda, it can be whipped-up in minutes.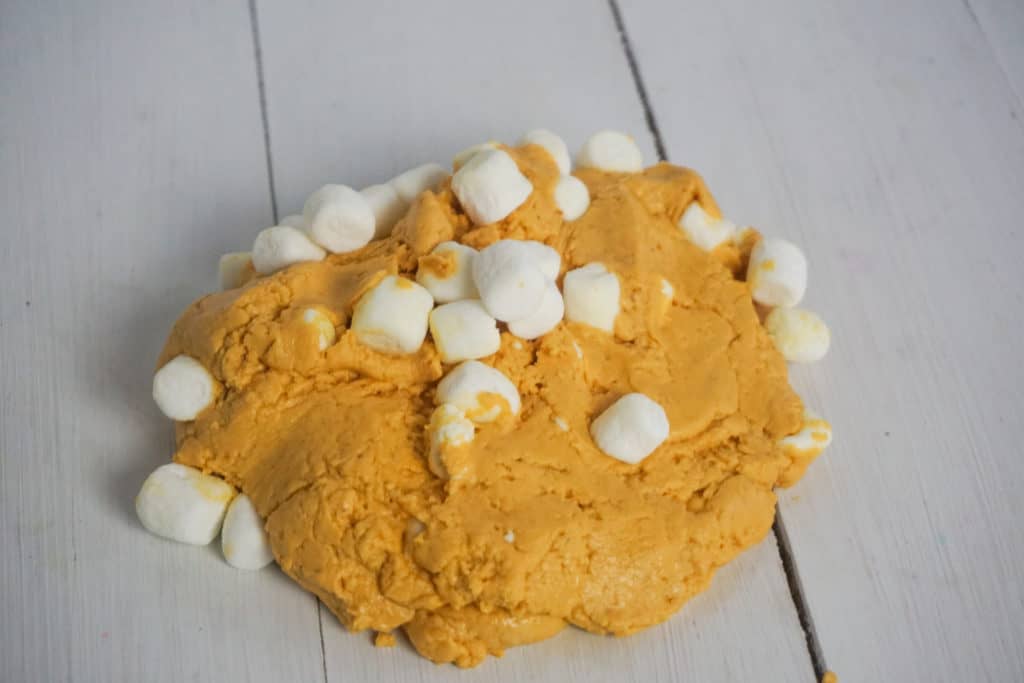 So, now what? What exactly do you DO with pumpkin pie slime?
Well, I asked the kiddos to tell me. Here's the answers I got:
Make a pie. Duh. So, they squished it flat and mushed it around until it resembled a very flat pancaked. But they called it a pie and we pretended to eat it. Remember, if you do this, the slime is taste-safe, but it doesn't have any sugar, so it's going to taste pretty awful. My kids found out the hard way.

Roll it into a ball. Of course, you do. Because we make pumpkin cheese balls for Thanksgiving (maybe I'll share that recipe someday) every year and the kids, of course, needed to make that with their slime.

Smash. Another duh moment. Because that's funny. To a preschooler.

Throw it at each other. Nope. Nope. I didn't like that. So that was out.

Write your name on it. Yeah! This was an activity I really got into with the kids. They just stuck their finger in the pumpkin pie slime and wrote their names. Then giggled maniacally when the slime filled-in the letters as it relaxed. Non-newtonian fluids are so cool.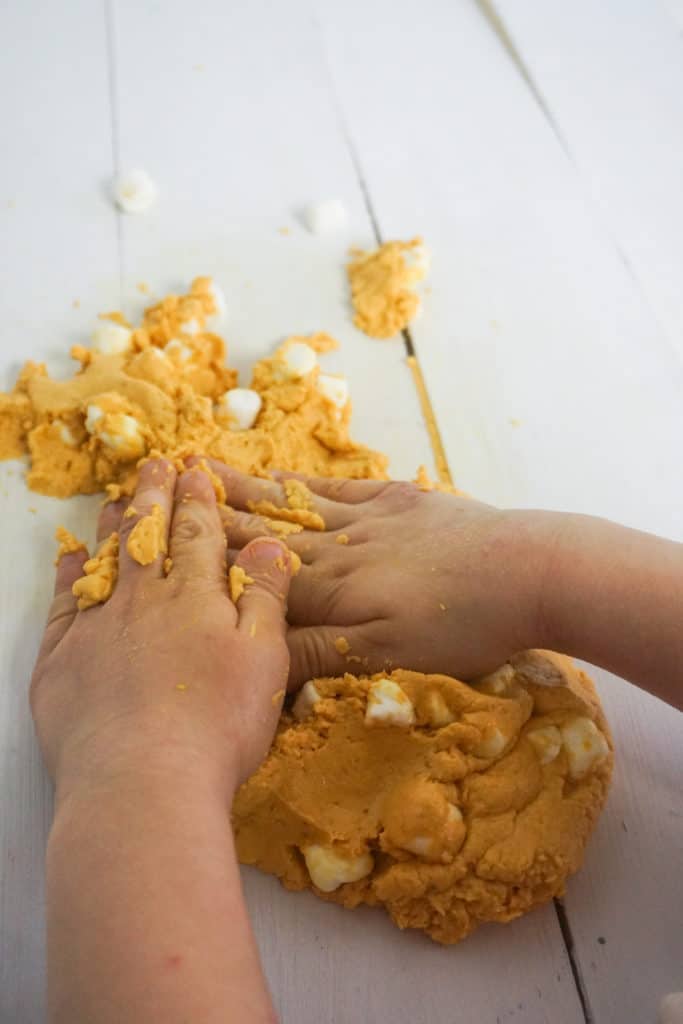 Slime That's Totally Worth It
The maniacal-laughter was, honestly, why I decided to make pumpkin pie slime for the kids. They just needed a good laugh on a cold, wet day. Clean-up was, honestly, a breeze. Although playing with any slime can get pretty messy, the lack of sugar in the pumpkin part (the marshmallows are full of sugar, FYI) keeps the slime from being sticky and leaving dissolved sugar all over our table. So, when we were done with the slime and put it away in the zipper baggie, I asked the kids to help me wipe the table with a damp cloth. We trashed all the bits that had fallen off and wipe-up was a breeze. Can't ask much more for a fun, easy craft with the kids. And they were entertained for quite a while, screen-free, which was nice.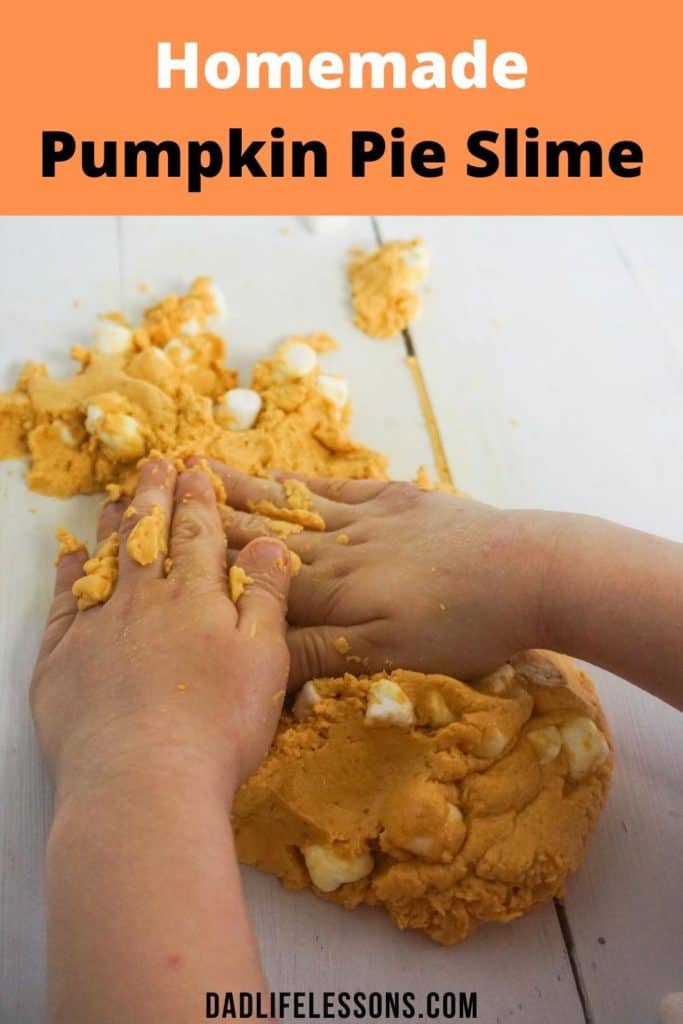 If you loved this idea, and want to save it for a cold, wet day, be sure to pin this to your favorite DIY slime board on Pinterest so you can find it again. Post a photo of your creation and tag us social media @DadLifeLessons. We love seeing people use these DIYs!
Yield: 1
How to Make Pumpkin Pie Slime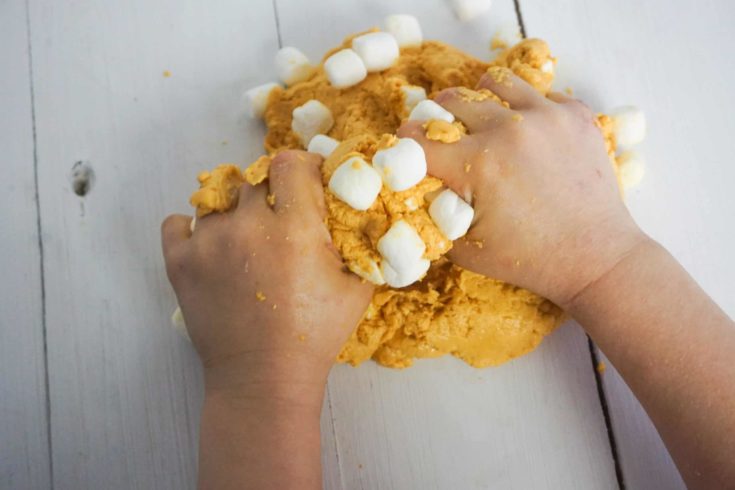 Simple, 3-ingredient Pumpkin Pie Slime that's perfect for a rainy day. Fun for the whole family to get their hands dirty. Easy Pumpkin pie slime that anyone can make.
Materials
2 cups Pureed Pumpkin (canned)
⅓ cup Olive Oil (optional)
Instructions
Place the pureed pumpkin in a large bowl.
Add cornstarch to pumpkin and stir.
Mix until the cornstarch is worked through the pumpkin consistently and the mixture holds together well.
Add olive oil, if desired, and mix well.
Drop-in marshmallows and mix in with your hands.
Enjoy your Pumpkin Pie Slime!
More Dad DIYs: