Fall is just around the corner and I couldn't be happier! Don't get me wrong, I love summer and all that it has to offer. We spend time as a family at the beach, the pool, hanging out with friends at backyard barbeques! Then there comes a time when the long hot days of summer start to fade into the cool crisp feelings of fall. Follow along with us as we share our 10 Easy Halloween Baking Recipes for Kids. These are guaranteed to get you guys in the mood for the holidays! You might just find some new favorites to add to your family recipe box!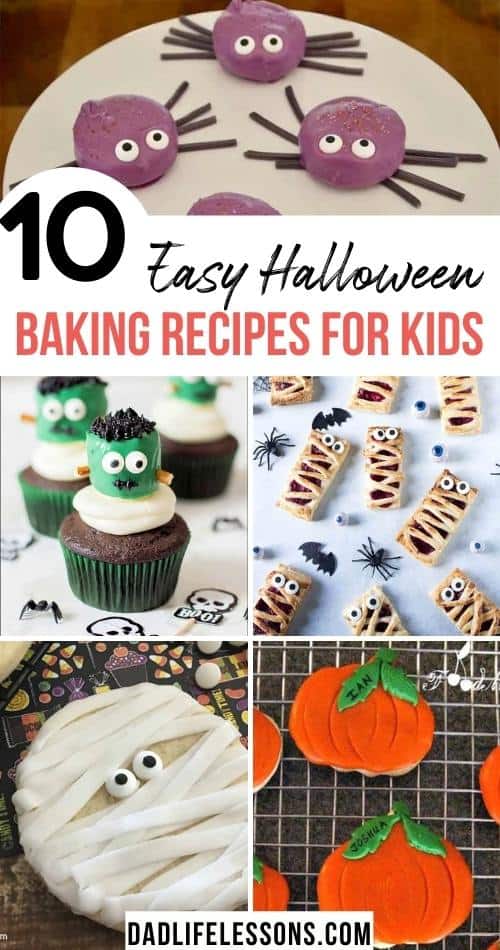 Whether you are having a party or simply surprising your kids with a spooky after school snack, these Halloween Baking Recipes will hit the spot! Let's get started with these spooky treats!
10 Easy Halloween Baking Recipes For Kids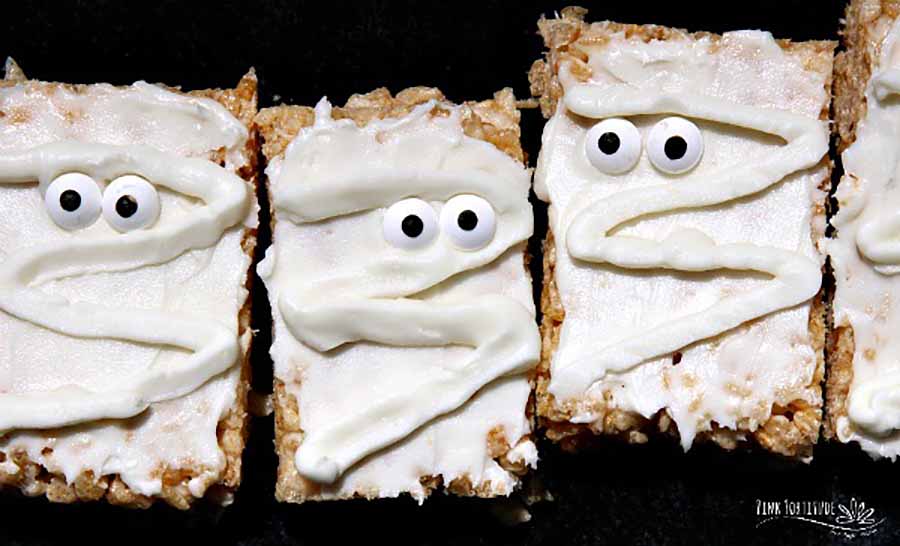 1. Mummy Rice Krispies Treats by Pink Fortitude
Who doesn't love to eat some spooky treats! I know I do plus my kids love when we have special treats around the holidays! I remember coming home from school and my mom would have a special after school snack! These crunchy and chewy treats hit the spot after a long day at school!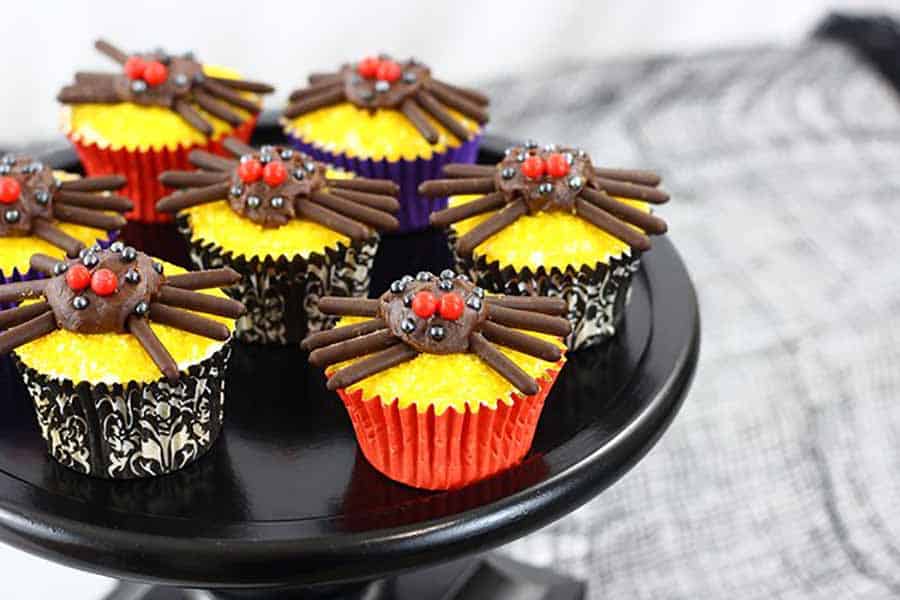 2. Spider Cupcakes by Cutefetti
No need to be scared of these eight legged animals! They won't hang around too long as they will be gobbled up in no time! My children love eating these adorably delicious spiders! Keep reading for ever more Easy Halloween Baking Recipes for Kids!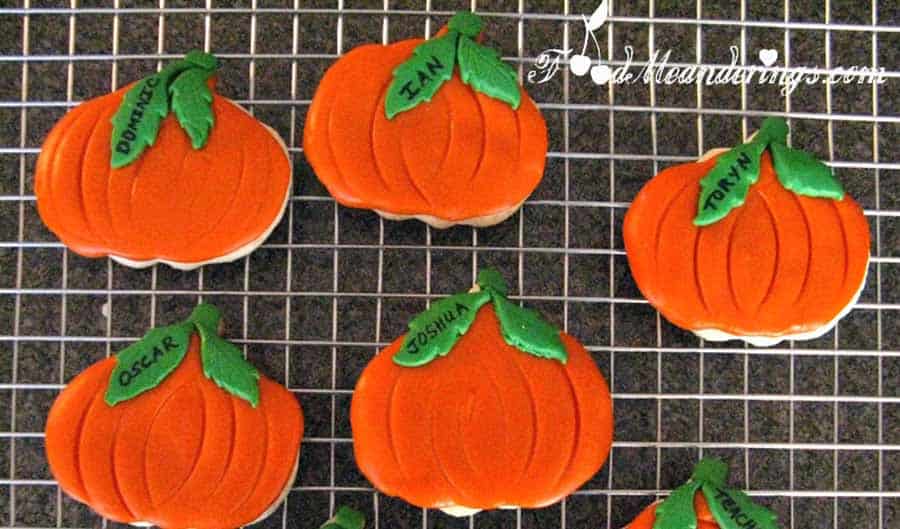 3. No Fail Halloween Sugar Cookies by Food Meanderings
Don't like to bake or maybe it is just not your specialty? Then these will be perfect for you! There is nothing wrong with cutting down on the time it takes to serve your family a little bit of love and a sugary treat. The memories that you will create won't be about how much time you spent making them, but how much fun you had together!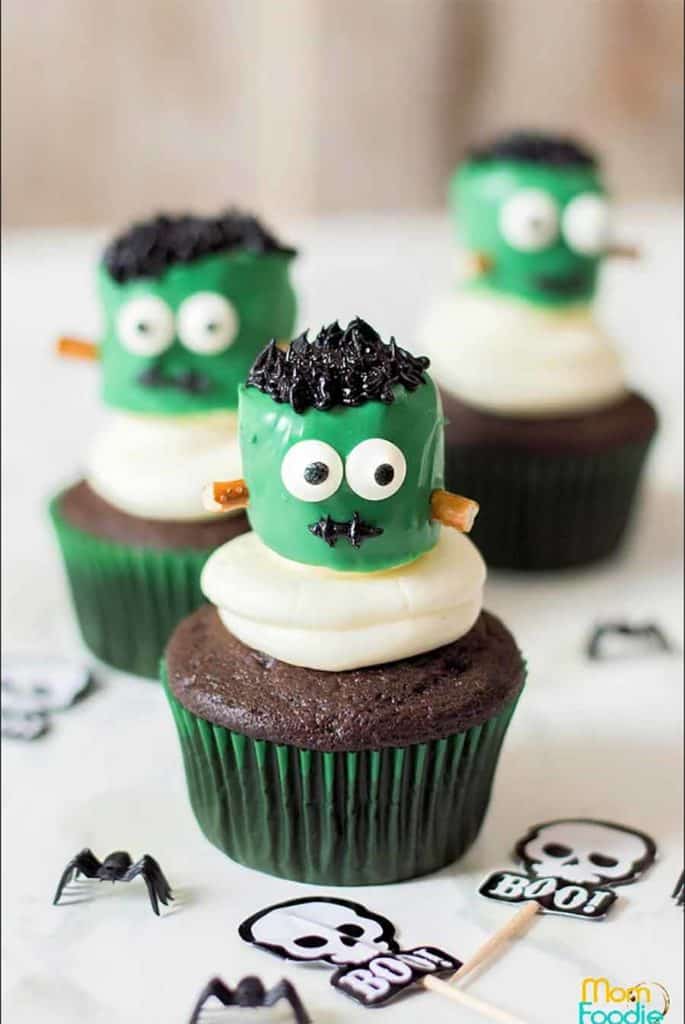 4. Frankenstein Cupcakes by Mom Foodie
It' alive, it's alive!! Not really, but they are super life like and super delicious! Who says no to a cupcake anyways? With not too many supplies you can create these cute frankenstein cupcakes for your next Halloween party!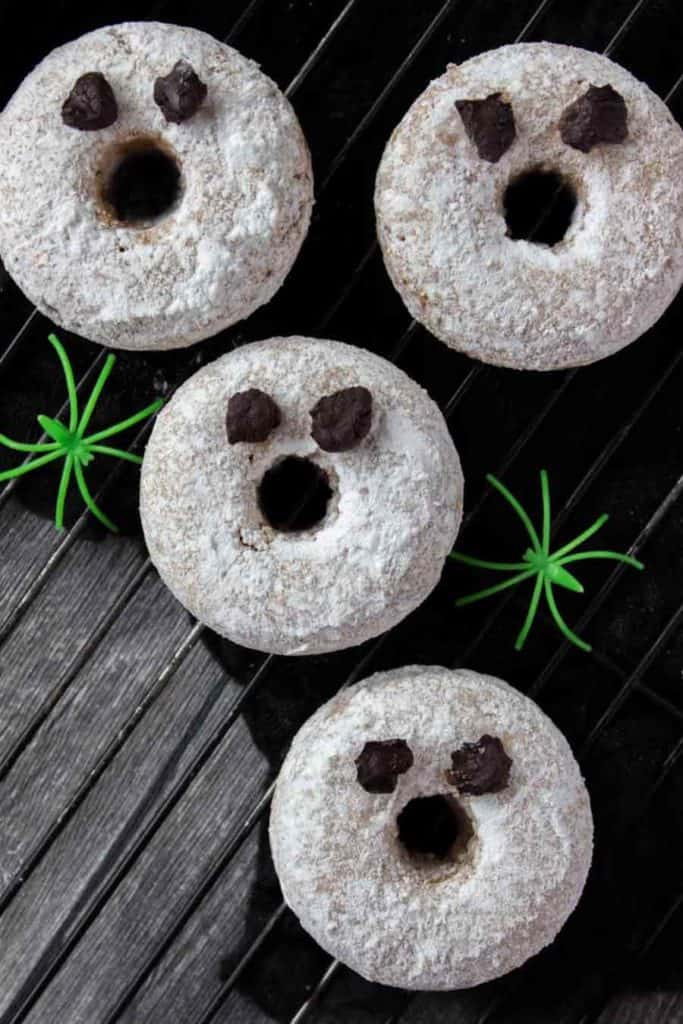 5. Halloween Ghost Vanilla Donuts by Natalies Health
Next up on our 10 Easy Halloween Baking Recipes for Kids we come to yummy donuts! You can't really go wrong with these tasty bites. Now you can try your hand at making these from scratch and serve them with hot apple cider or coffee! These are great for friends, family, and coffee dates with your friends!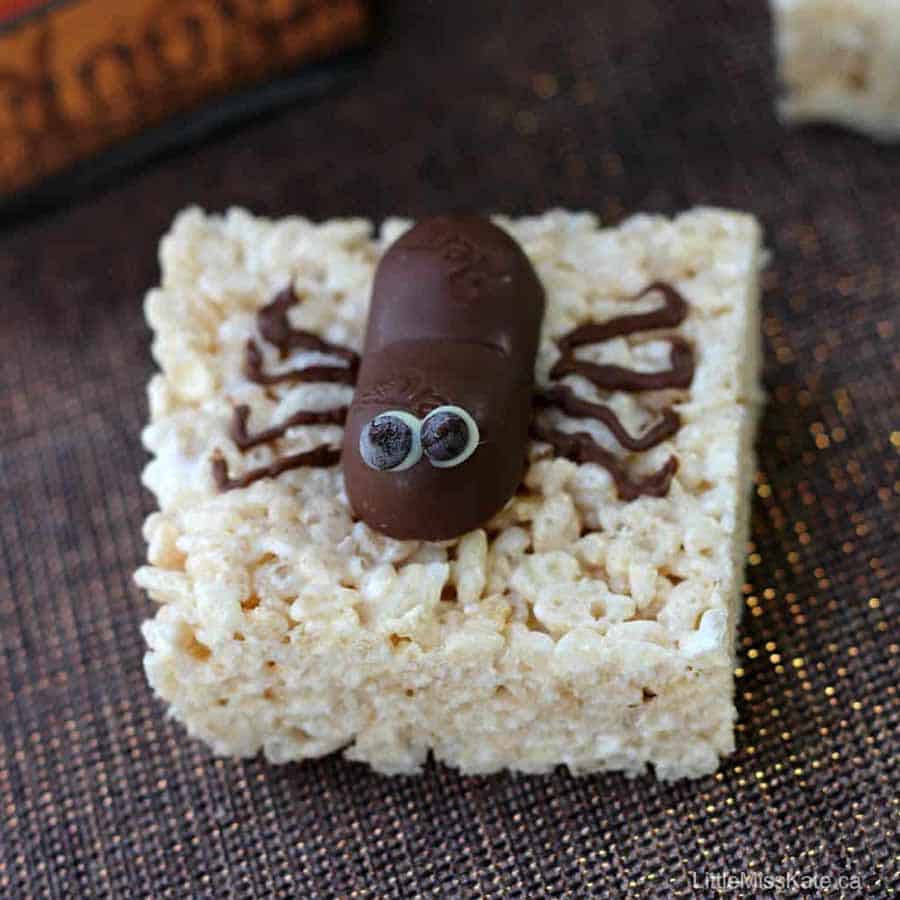 6. Spooktacular Spider Halloween Treats Recipe by Little Miss Kate & Company
Do your kids love cookies? Ok, I understand that's a dumb question. Most all kids love cookies, and mine are no exception. These little fellas won't have you scared this halloween. Plus you can change up the color to make them even more personalized!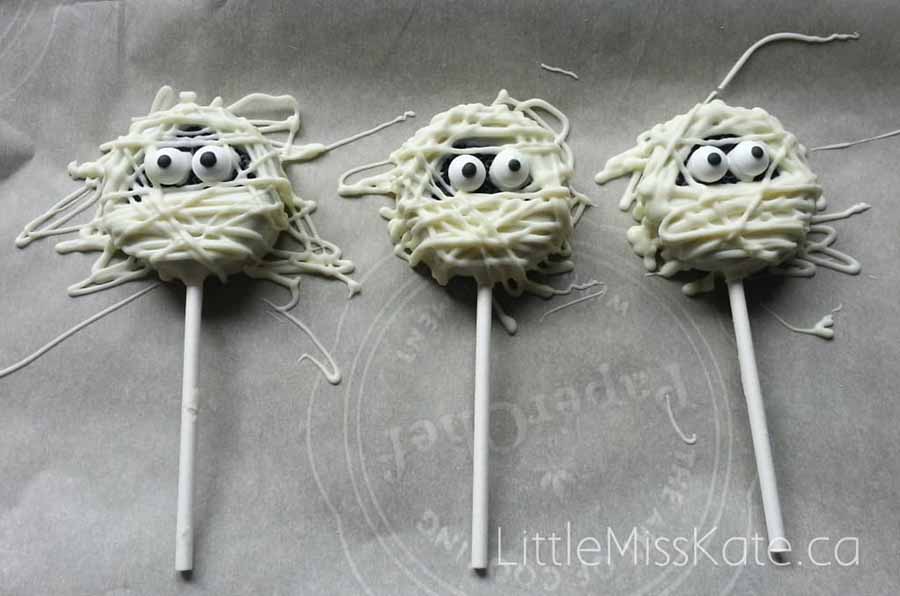 7. Halloween Treats Mummy Oreo Pops Recipe by Little Miss Kate & Company
Why slave in the kitchen long that you have to when you can use store bought cookies to help you in the process! I love how super easy and simple this recipe is! My kids love helping in the kitchen when it comes to baking and treat making, and these are easy for them to help with!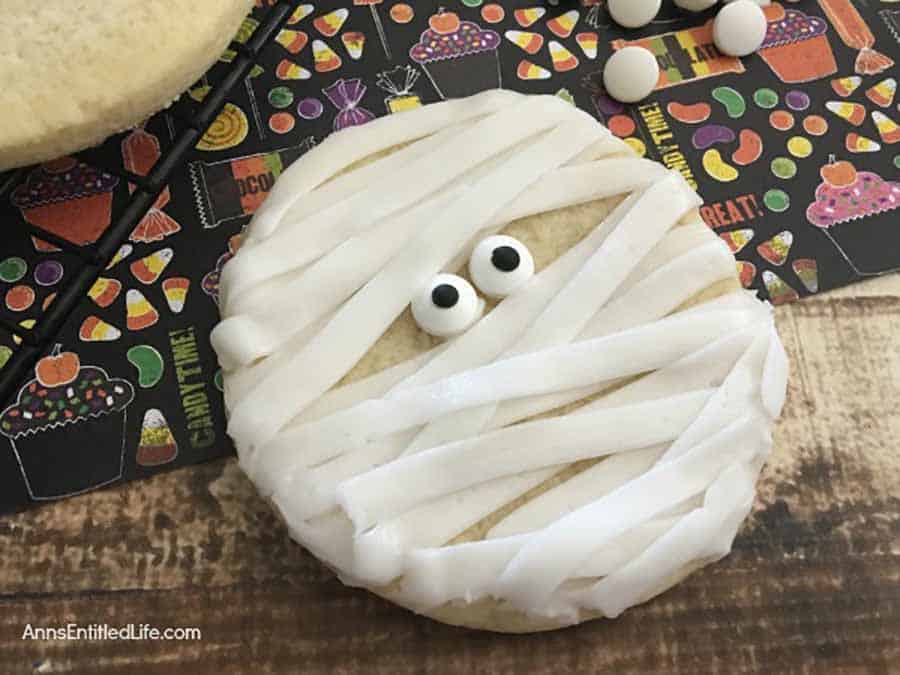 8. Mummy Cookies Recipe by Anne's Entitled Life
You might have your kids shaking in their boots with this tasty cookie! Wow your friends and family and your Halloween party with these mummy cookies! Get the kids involved to make this a family affair. Keep reading for more of our 10 Easy Halloween Baking Recipes for Kids!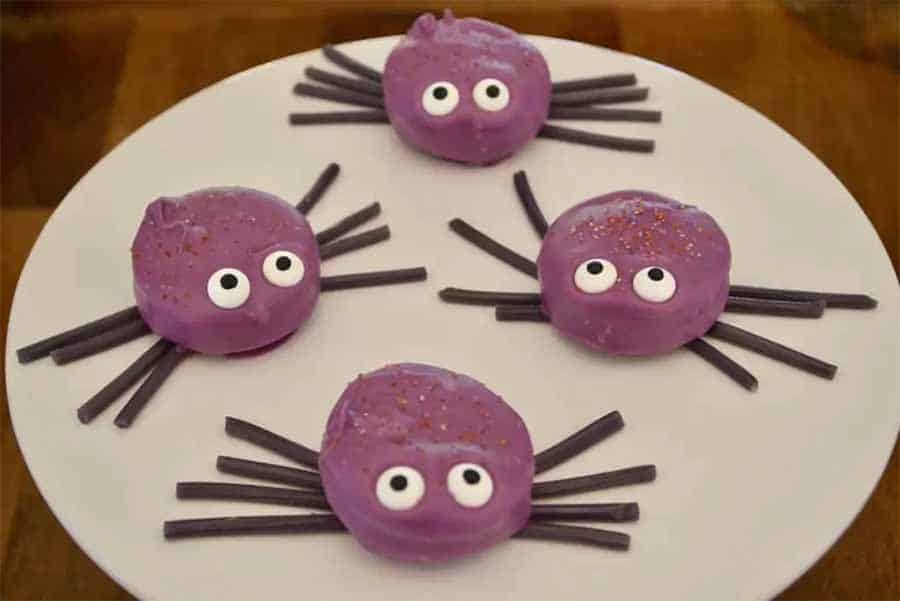 9. Oreo Cookie Spiders by This Delicious House
Oreos are to the rescue again to make this easy cookie creature. Don't worry it won't bite! There are so many great treats for you and your family to make together to create lasting memories! I still have fond memories of being in the kitchen while my mom and I would bake during the holidays!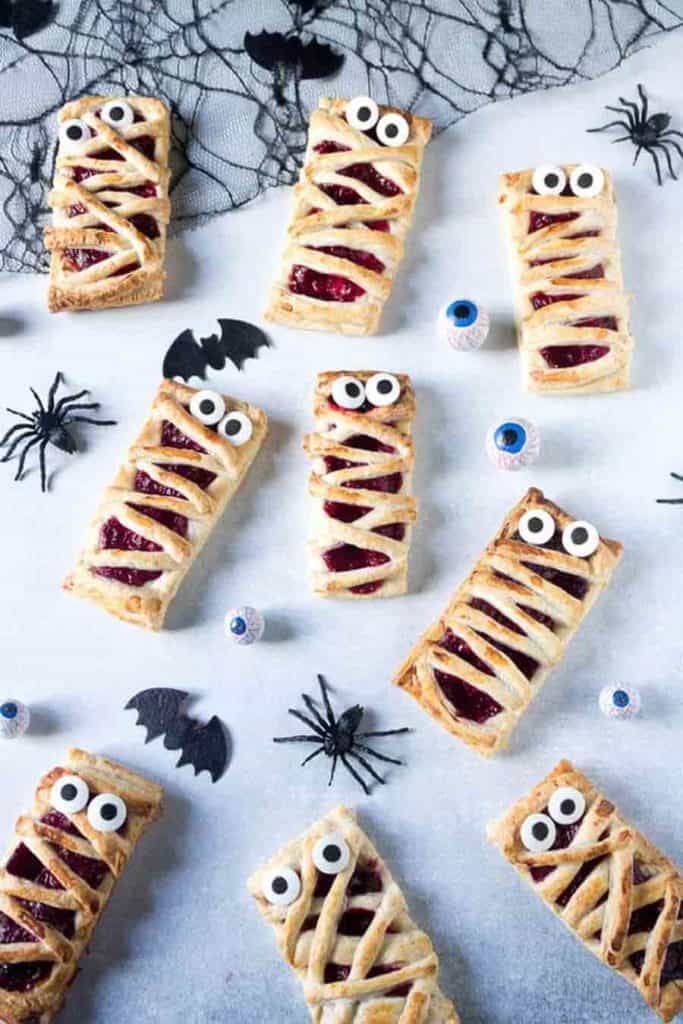 10. Easy Raspberry Halloween Mummy Pies by Veggie Desserts
These look so good that I might just have to serve these up for breakfast this fall! My kids love fruit filled pies and these are no exception! Halloween is a great time to bake up some super fun goodies that will be a fun way for your kids to start their school day!
Whether you are celebrating with a spooktacular party or just drumming up some delectable snacks for your little ghouls and guys, these great recipes will not disappoint. I love the smells in our home around the holidays with all the baking, pies, cookies, cakes, and everything in between! Thanks for reading our 10 Easy Halloween Baking Recipes for Kids! We hope you were able to find some new yummy treats for you and your family to share! Leave us a comment with any fun baking treats you and your family share?! We would love to hear from you!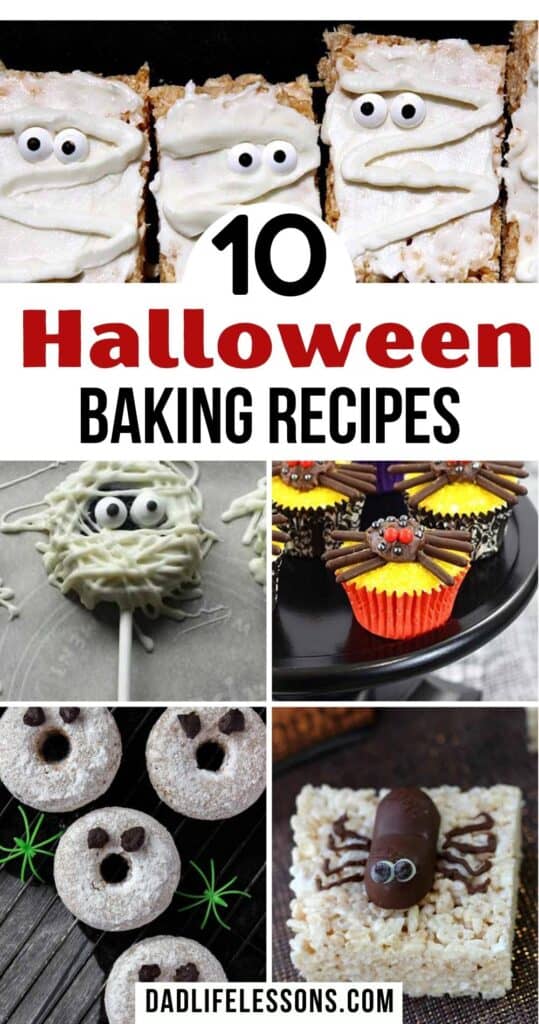 If you loved these 10 Easy Halloween Baking Recipes For Kids post, be sure to pin it to your favorite baking board so you have it the next time your kids tell you they are bored. Post a photo of you and the kids using these tips and tag us social media @DadLifeLessons. We love seeing people use our tips!
More Fun Halloween Ideas: