If you're anything like me, you've started looking for some cool and fun options for father & son halloween costumes you can rock this halloween. I myself am kind of partial to the old school halloween costumes that I can get away with as long as the kid will let me, but I've included a bunch of cool options that could work for almost any taste. And, I'd like to point out that there is a VERY wide variety of skill options, so even if you're not into sewing or building something crazy cool, there's something for you. But if you are into something more epic–there's definitely something here for you too.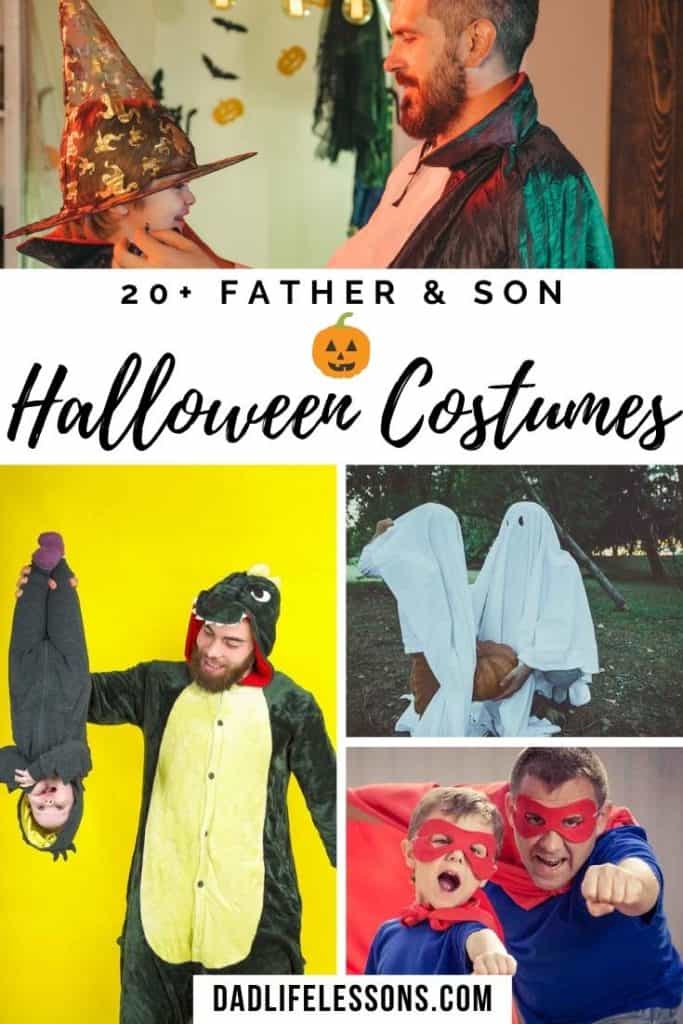 Frankly, most of the complex costumes, though, they can be made by anyone. Whether you have a big garage full of tools or just a little box of hand-me-down hammers. You can do it–for the kids. Ha!
In all seriousness, though, no matter what, making a halloween set for yourself and the kiddo is going to be one of the most fun and rewarding activities you can do with them. They'll have those memories forever and you'll definitely bond of being "twinkies" (oh, that's a good halloween costume idea, too…).
Oh, and I would like to point out that these father and son costume sets are all SUPER versatile and can be upped to include another kiddo, mom or, in some cases, a whole bunch of other people. All it takes is a little creativity and you'll be able to make any of these work for any number of kids. All it really takes is a dad, some time and some ingenuity.
Now, let's get on with it and make some awesome Halloween costumes!
20+ Father & Son Halloween Costumes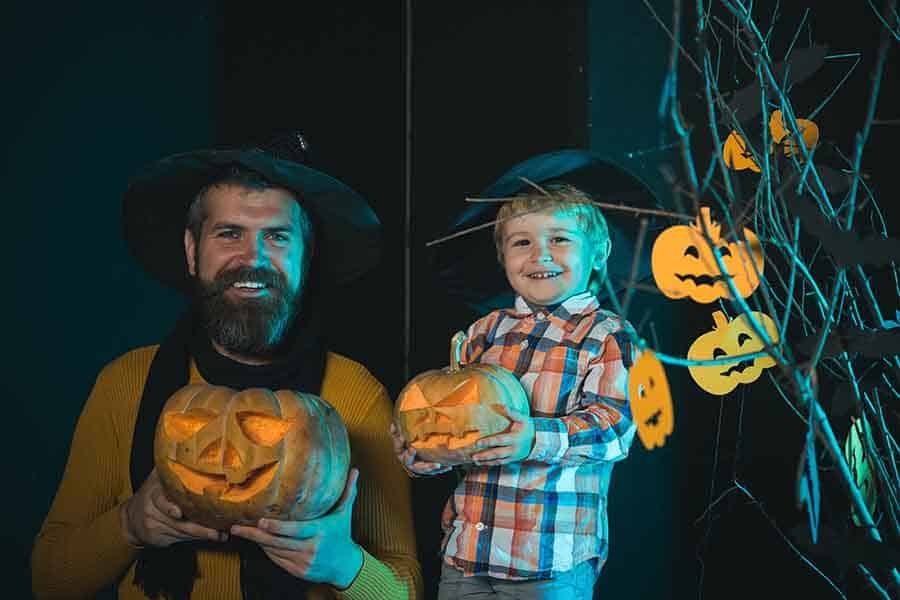 1. Check out this absolutely ridiculously fun Ratatouille costume set. Think how easy it would be to find a mouse costume for your mini-dude and a chef jacket for yourself?!
2. This Disney's Coco costume set is insanely fun. If your kiddo is into guitars, sugar skulls and, well, all the fun things about Dia de los Muertos, you could totally pull this off.
3. For a grittier (read: more fun) costume, try out this wicked Mad Max and War Boy combo from Instructables. Very easy to pull off and super cool-dad material.
4. A little OG throwback is all you need sometimes for a fun father-son costume set and that means Jim Henson and Kermit the Frog. Quick and easy, you can pull this off in, literally a few minutes.
5. If you've got someone who can pull together a little Yoshi head, maybe through crochet or even by sewing, this fun Mario and Yoshi duo is definitely worth the effort.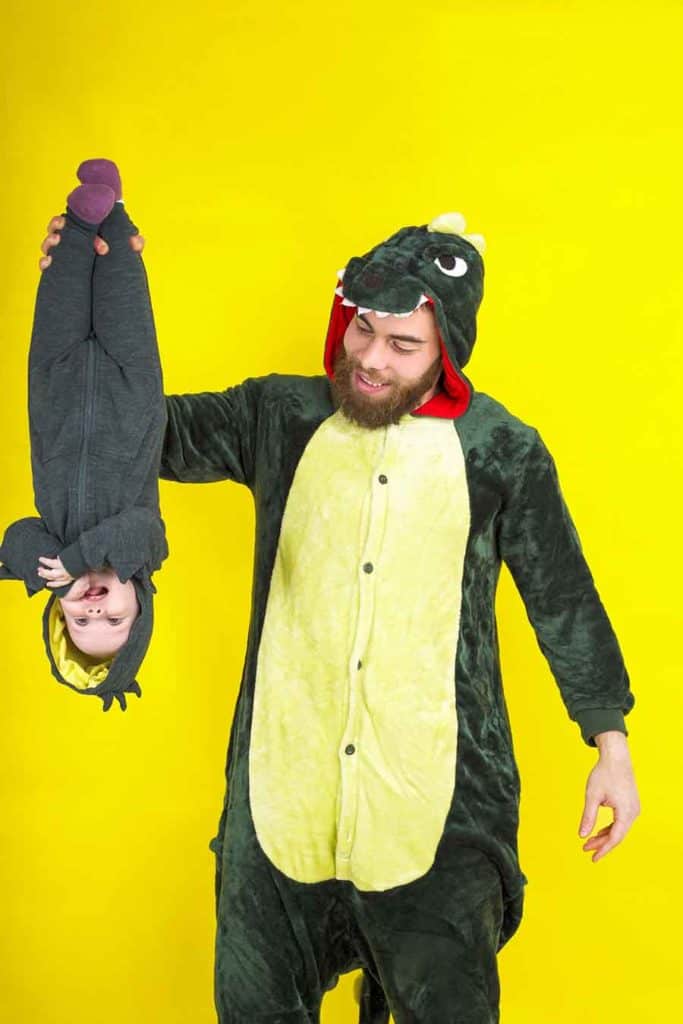 6. Who doesn't want to be Ash Catchum and Bulbasaur?! That's total life-goals there and one of the basic benefits of having a kid.
7. Feeling more nostalgic? Looking for a super easy costume? Gotcha covered there with this fun Up combo that basically is a brown suit, some balloons and a sash of badges. You could make it in a couple hours at most.
8. No jokes, if you're a GOT or MCU fan, you will FLIP over this duo of Groot and Baby Groot. Who doesn't just want and amazing Groot costume for himself–I mean, who doesn't want to see their kid be Baby Groot? Right.
9. I'll be honest, though, if we're going to be any combo from our favorite space-themed movies, of course this Stormtrooper and Chewbacca costume set is going to be near the top of our list.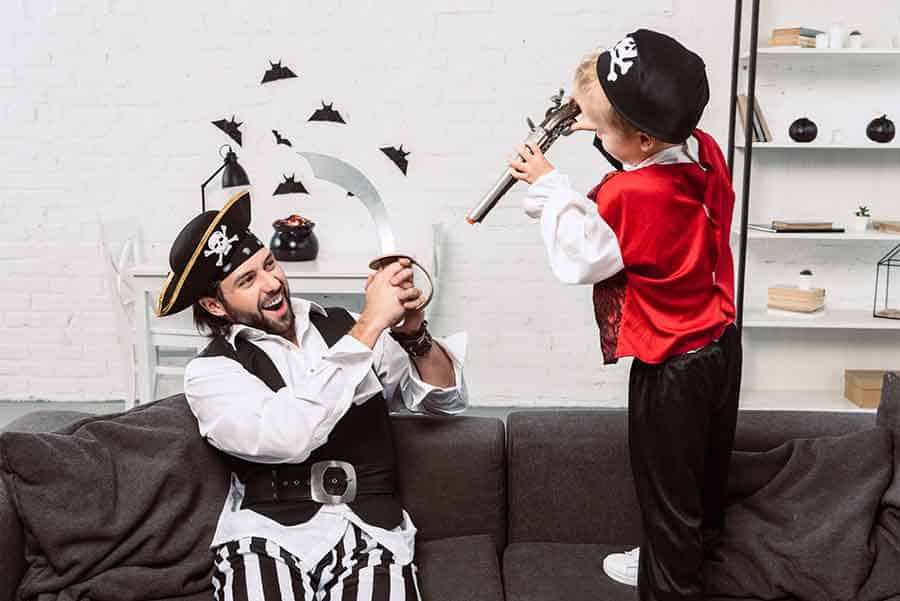 10. That being said, Alan and Carlos from The Hangover might be more our style. I mean, super fast and easy, this father-son costume set is so low-effort, I kind of love it.
11. But half the fun might be making the costume, let's be honest. And this Ghostbusters and Stay-Puff Marshmallow Man set is so cool, so fun to make, maybe we could wear it at Christmas too? Too much? Nah.
12. Kiddo not a walker, but totally wants to be pushed around in the coolest time machine ever imagined? Then you definitely need this Doc Brown and Marty costume set for fathers and sons.
13. Need an excuse to build a mech suit and really have some killer memories of carrying your kid around in an exosuit? Epic.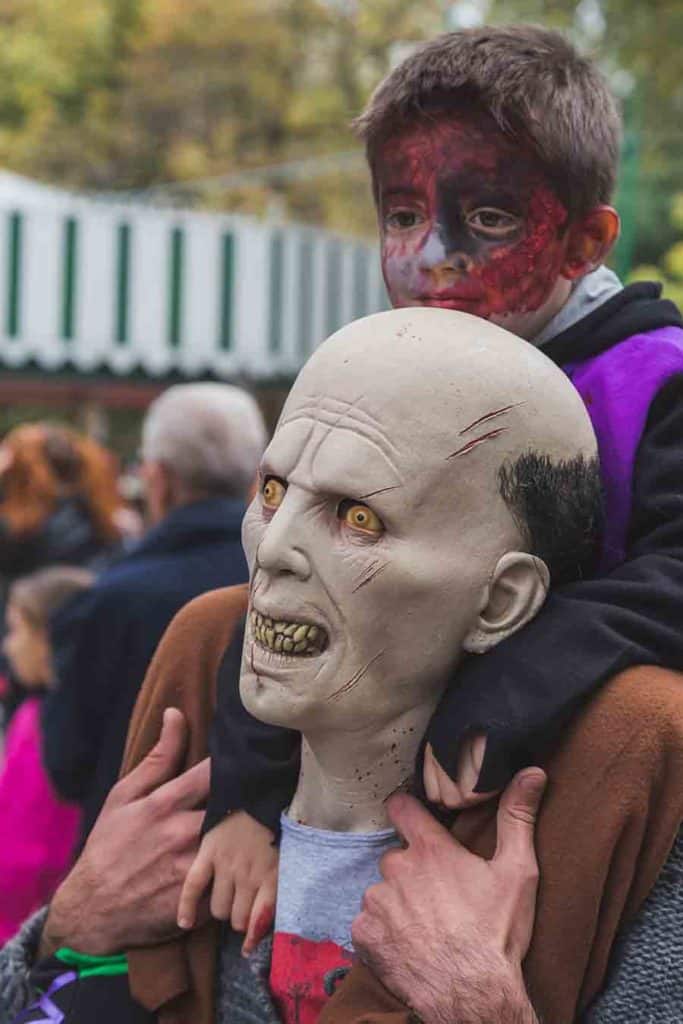 14. Go a little older with your fun father and son costume combination by making an Elliot and ET basket costume set for the two of you!
15. For some fun and super low-effort costuming on dad's part, you can make this fun shark-attack costume set for you and the boys.
16. Check out the fun father and son Batman and Robin costume set. What an awesome way to fight crime together on the coolest night of the year.
17. If you want a more gaming-inspired father and son costume set, check out this Minecraft duo where the little one gets to be the creeper…so awesome.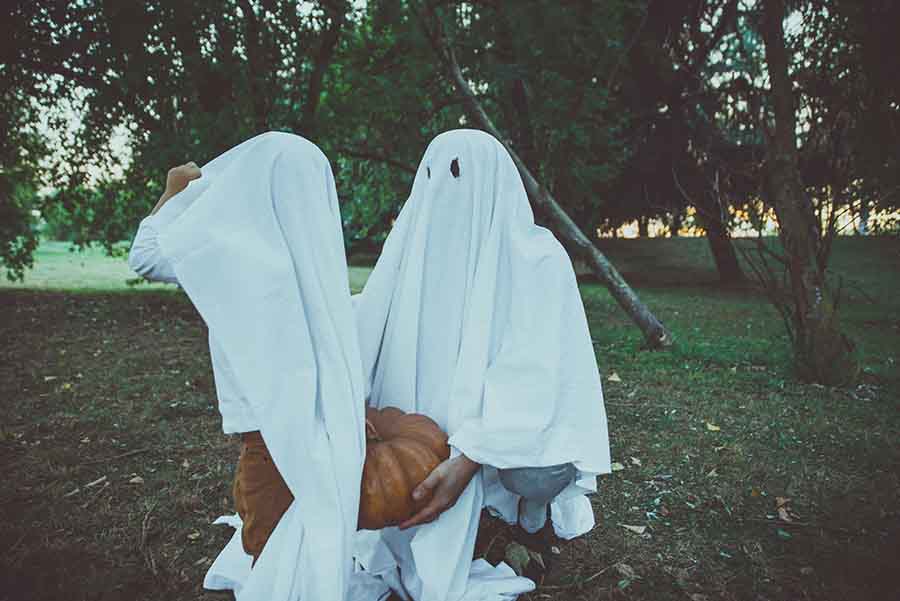 18. Being on the more crazy-creative side, this Edward Scissorhands and Shrub father and son costume idea is insanely fun.
19. Or, go old-school full alien with these awesome Xenomorph costumes for fathers and sons. So cool, you will be wanting to wear them again in July.
20. This Goku and Gohan costume set is seriously going to make your own Chi-Chi super jealous that she's not a Sayan.
21. If you need a grittier take, with a soft side, you can always hit up a Batman and Joker combo that the kid is sure to love–and you will too.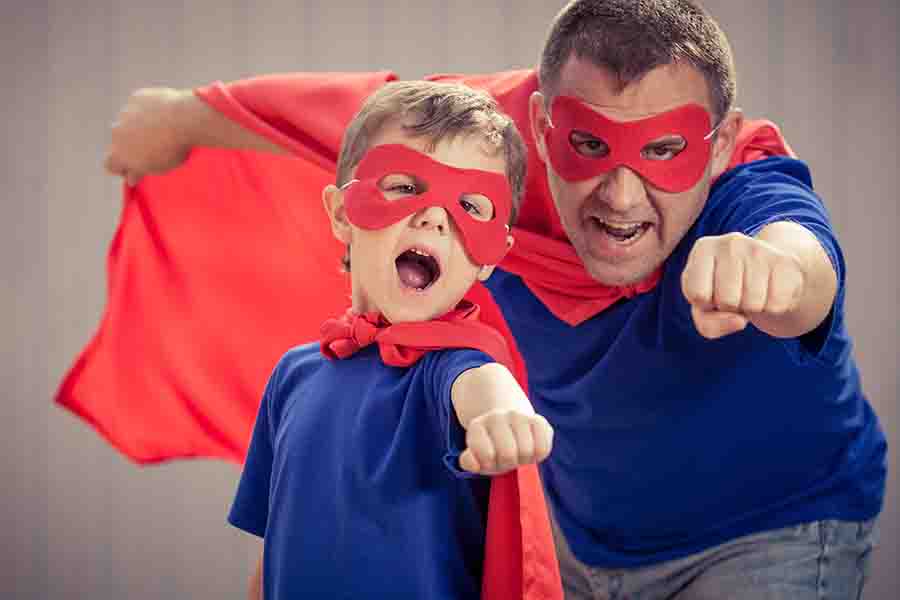 Weren't those father and son costume ideas epic? I can't tell you how many of them I sincerely want to make with the kids. We can do so much damage to a craft together, imagine what kind of fun we'll have making costumes?!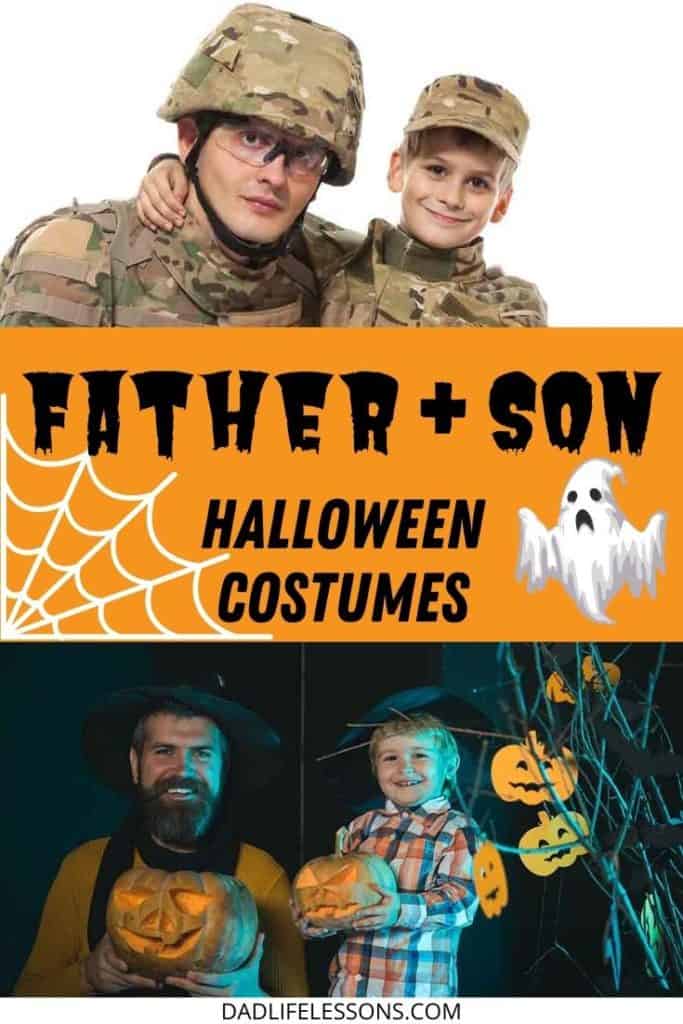 If you loved these fun father and son costumes, be sure to pin this post to your favorite "make this" Pinterest board so you can find it again fast when you're ready to actually put your costume together.
Then, be ready to get out there with the kid and show your halloween spirit.
More Fun Halloween Ideas: