As a family, we love having parties with other families and friends. Our kids love to invite their friends over for parties as well. Especially once it gets close to Halloween because our kids love to dress up so they love having a Halloween party because it always has friends and candy. I am frugal and didn't want to buy invitation cards when I can print them myself for cheaper. I decided to have 5 sets of free printable Halloween party Invitations made and want to share them with you! As a bonus, all have 5 sets of the party favor bag tags to go with the invitations should you choose to print them. Have fun with the party and these great Halloween party invitations.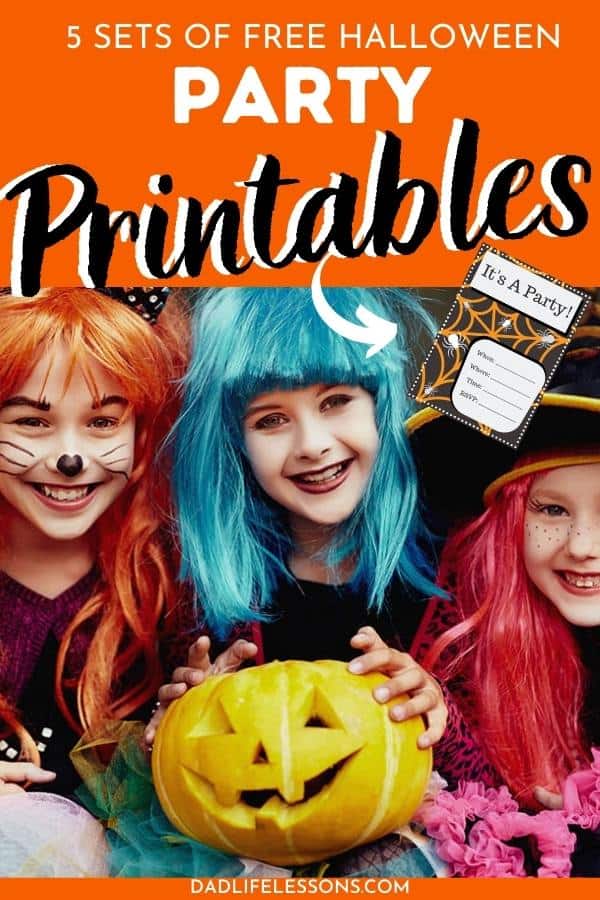 5 Sets of Free Printable Halloween Party Invitations
Just click on the links below to download the printable Halloween invitations that you want to use for your party. The invitations are designed to fit and print on the size you want, small or big. I suggest you print them on 5×7 card stock as they are the right size for handing out an invitation to your Halloween party. For the Party invitations, you can choose to handwrite the information for the party or use an editor on your Mac or PC to add in the text with your party details before you print. The party favor bag tags are designed to be printed as one page then cut out. I suggest using full page card stock for print the party favor tags. There are 5 sets to choose from so I am sure you are going to find one that you like for your Party.
Free Printable Halloween Party Invitations
Halloween Cat Invitation / Halloween Cat Party Favor Tags
These cute invitations will have the receivers of this Halloween invite excited for a fun Party!
Halloween Spider Invitation / Halloween Spider Party Favor Tags
These spider-themed invites make a great Halloween invite that isn't too scary for the kids.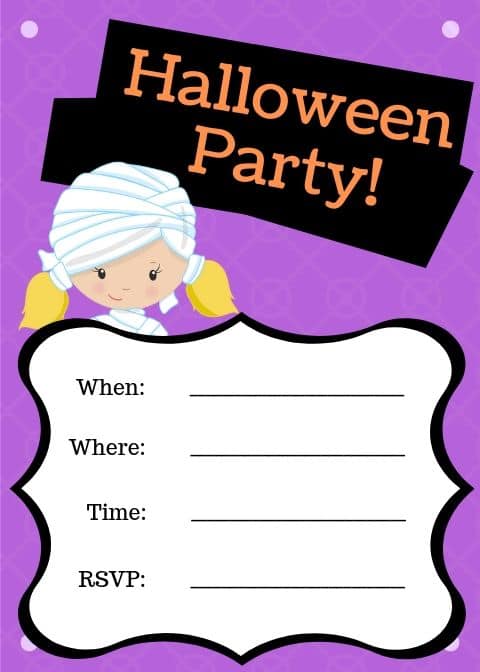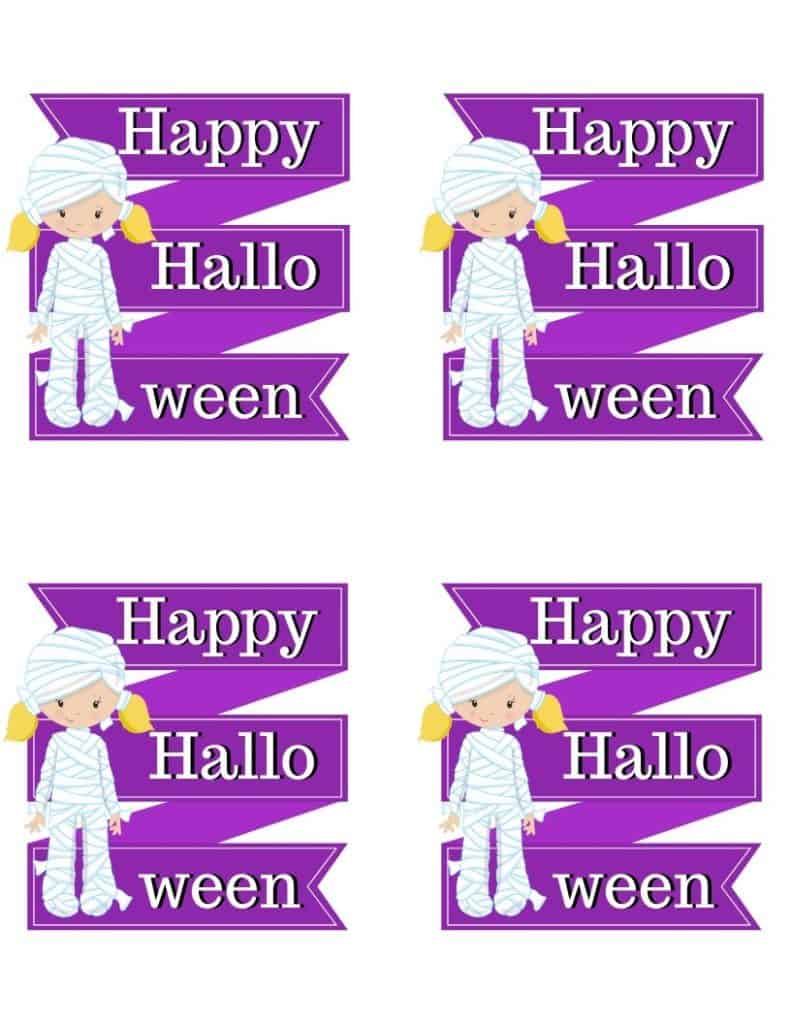 Halloween Mummy Invitation / Halloween Mummy Party Favor Tags
These Mummy invites and tags are too adorable. This is a cute spin on the Halloween invite and party favor tags.
Halloween Bat Invitation / Halloween Bat Party Favor Tags
These are perfect invitations for a Bat themed Halloween party. The kids will go batty when they see them!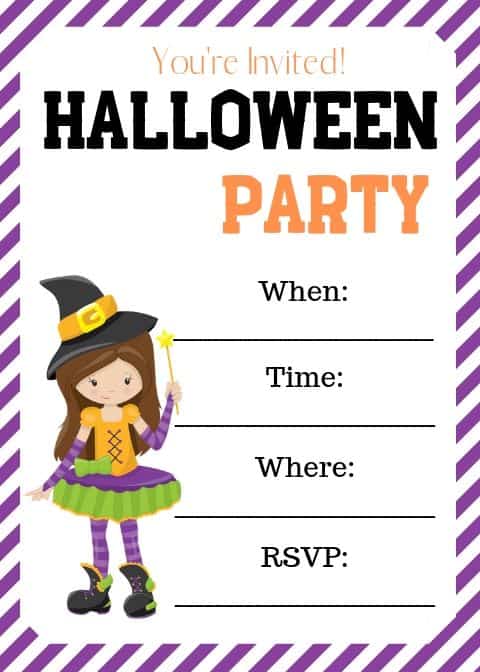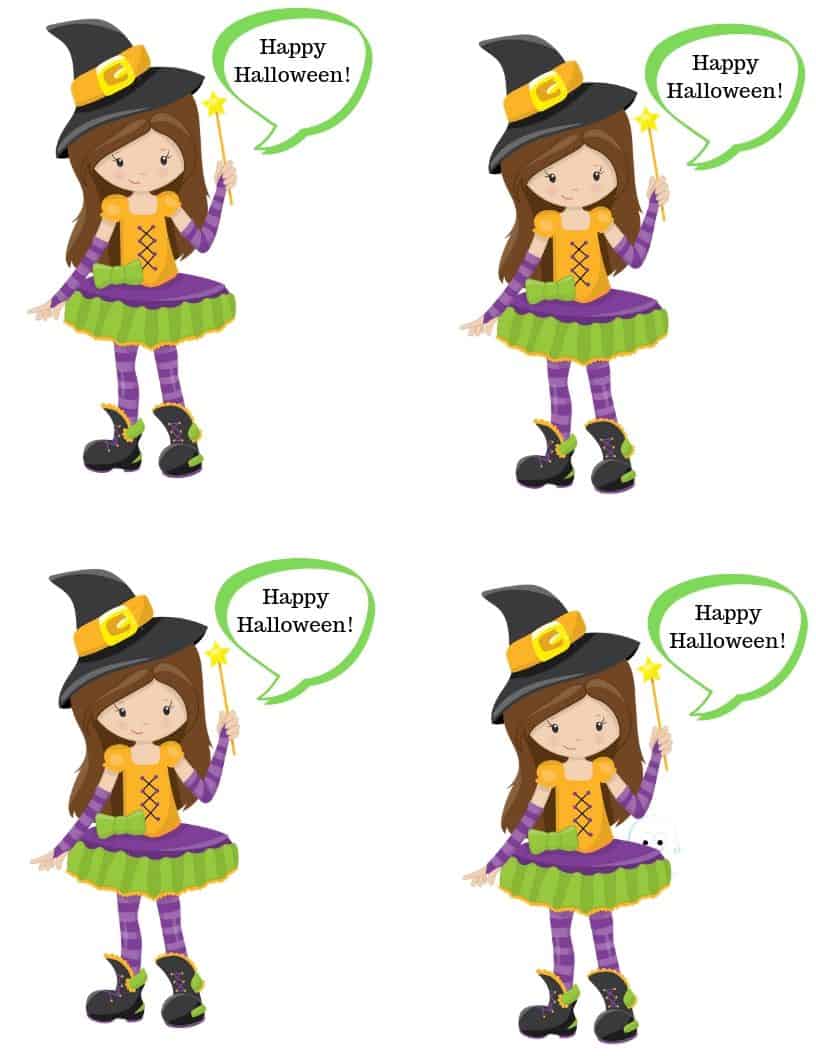 Halloween Witch Invitation / Halloween Witch Party Favor Tags
Last but definitely not least is the Halloween witch invite cards that will have the kids smiling as they open their invite. For the party favors have a simple bag full of candy or trinkets.
Tips For Having A Successful Halloween Party
Now that you have the invites and the party favor tags printed and ready to go you need to decide on who you will invite as well as what you plan to serve. First up who will you invite, is your party for the kids, the family or the adults? Your answer will make a difference in how you plan the party. For kids, I would suggest simpler snacks and drinks but have some fun crafts or games to play like make Halloween slime with them or in advance for them to play with. For family, I would suggest heavy hors d'oeuvres and drinks for everyone to enjoy, plus throw in some sweet treats for good measure. For adults, I would suggest serving up some of your favorite dishes and drinks to keep the conversations flowing. As with any Halloween party, you have to make sure you have some bowls of candy spread around for people to just grab and enjoy no matter where they are at during the party. You will also need to decide if the party is a dress-up party or just come as you are party. Some people enjoy dressing up while others may not enjoy it as much so make sure to set the expectations. Not sure what to have your kids wear to the party then check out our 20 DIY Halloween Costumes Ideas for Kids. If it is a family or kid party you may want to advise the guests depending upon the age if scary costumes are allowed or not. For ours, we always suggest kid and family-friendly costumes as the last thing we want to do is cause any of the kids or families to have nightmares that night, but if you enjoy a good scare, by all means, have a spooky Halloween party. We also have a great list of 20+ Father & Son Halloween Costumes for you to check out!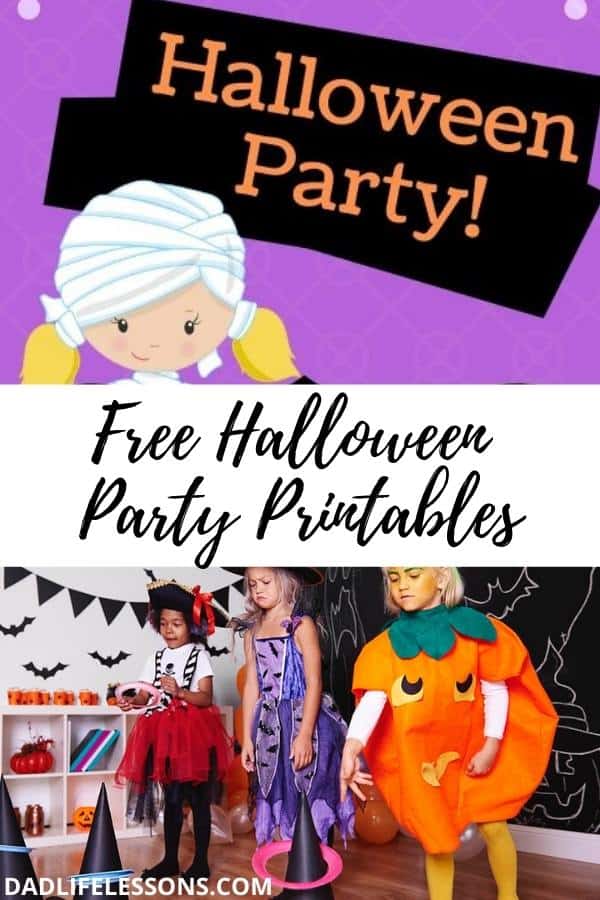 If you loved these Free Printable Halloween Party Invitations, be sure to pin this post to your favorite Halloween Pinterest board so you can find it again fast when you're ready to actually plan your next Halloween Party!
More Fun Halloween Ideas: